Fatal traffic collision in Formby
ON Saturday, 12 December 2015, a fatal road traffic collision happened out side the One Stop Shop, on the Cross Green roundabout, in Formby, Merseyside. The crash killed a 54 year old, father of 1, Stephen McCambridge, from Formby.

The collision is said to have happened following what Police say, "was an earlier argument at the junction of Cross Green and Altcar Road." Merseyside Police have reported that Stephen McCambridge had then returned to his car and drove off, in a black Landrover Freelander. The accident happened soon after, when he collided with a lamppost and pedestrians railings, further up the road, on Cross Green roundabout, at about 7.50pm. No other cars are as of yet said to have been involved in this collision. The Home Office post mortem on Stephen McCambridge concluded that the 55 year old died:- "died as a result of a heart attack."

We are told by a witnesses that the emergency services (Merseyside Fire and Rescue Service, North West Ambulance Service and Merseyside Police) attended at the scene within minuets. The 55 year old driver of the car was then attended to, at the scene and taken to Southport and District Hospital where he died a short time later.

On Saturday, 12 December 2015, a 19 year old, from Southport, was arrested a man on suspicion of manslaughter in connection to the fatal road traffic collision.

The family of Stephen have issued the following statement:- "We as a family are completely devastated by the death of Stephen. Stephen was a loving husband, father and more recently a grandfather. He was a well respected kind, caring, loving man who doted on his family."
Suspected indecent exposure incident on a train, at Liverpool Central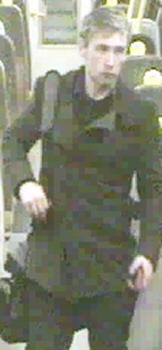 AN incident has been reported to have taken place at around midnight on Monday, 7 December 2015, on a Merseyrail Train, in Liverpool Central. Investigating officer PC Ian Williamson said:- "We're looking to trace a man we believe can help our investigation after a report of indecent exposure was made. A man followed a 21 year old woman onto a train at Liverpool Central at around 11.55pm on Monday, 7 December. He then sat opposite her and placed his bag on the seat next to him, before indecently exposing and touching himself. The victim was understandably left shaken and scared by what happened. It is vital we find the man responsible. Unwanted sexual behaviour like this will not be tolerated on the rail network. Everyone has the right to travel in safety without fear or intimidation." Officers have managed to isolate a CCTV image of a man we would like to speak to in connection with this incident. Do you know who he is? PC Williamson added:- "I believe this man will have vital information which could greatly assist our investigation." If you know the man pictured, or have any information about the incident, please give us a call on:- 0800 40 50 40 or text:- '61016' quoting reference:- 'PSUB/B4 of 17/12/2015.' Alternatively, information can be passed to the independent charity Crimestoppers on:- 0800 555 111.

Should we expect a "Gas Rush" on Merseyside and Lancashire?
ON 17 December 2015, the UK Government's Oil and Gas Authority (OGA) issued licenses for 159 new areas for shale prospects to be explored and tested. The announced stated that:- "159 onshore blocks under the 14th Onshore Oil and Gas Licensing Round are being formally offered to successful applicants. These blocks will be incorporated into 93 onshore licences." This could now mean that in 2016 fracking exploration could start to take place across, North Merseyside, in and around Southport and Formby. The move also lets companies look closer at West Lancashire, like Banks and Burscough, along with areas in and around Fleetwood, Preston, Leyland, and Chorley.

If the conventional drilling sites prove successful, Francis Egan, CEO of Cuadrilla, said:- "The massive potential for the natural gas to be extracted in these areas could help to drive the Northern Powerhouse by securing the low carbon energy future of the UK as well as creating investment and local jobs across the region."

This could mean a massive financial and job boost to some of the local economies, that has up to now have been struggling to pull out of the damage inflicted by the recession.

OGA Chief Executive Andy Samuel said:- "I'm pleased that the 14th Onshore Round attracted strong interest and a high quality of proposed work programmes. This round enables a significant amount of the UK's shale prospects to be taken forward to be explored and tested. Upon acceptance of these offers, applicants will be issued with licences and will be able to begin planning their future strategies for exploration activities. These will be subject to further local planning, safety, environmental and other authorisations."

Energy Minister Andrea Leadsom after the announced said:- "We have set out the vital role gas will play in the UK's transition to a low carbon future. The licences offered today move us a step closer; driving forwards this industry which will provide secure, home grown energy to hardworking families and businesses for decades to come. Alongside conventional drilling sites, we need to get shale gas moving. As the Task Force for Shale Gas report found earlier this week, with the right standards in place fracking can take place safely. Now is the time to press ahead and get exploration underway so that we can determine how much shale gas there is and how much we can use."

But others like Frack Off are worried about the environmental and safety issues of the process. So are you for Shale Gas exploration or not? Please email us to:- News24@SouthportReporter.Com.