Liverpool's Lord Mayor helps Nugent Care provide some Christmas cheer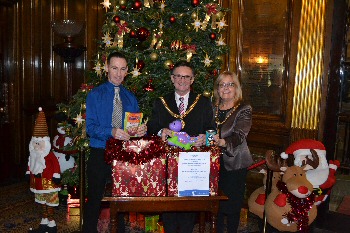 LIVERPOOL'S Lord Mayor, Tony Concepcion and Mayoress Ann Concepcion received food and toy parcels at the town hall from Carrington's Caterers for Nugent Care's food appeal.

The food appeal helps to support people in need and continues the Work Nugent Care carries out across the city working at the heart of some of the most vulnerable and disadvantaged communities.

One of their services, based in north Liverpool, is currently working with families and pensioners who have no access to money and are facing the festive season without food.

Lord Mayor, Tony Concepcion said, it is an honour to be able to work with Nugent Care and Carrington's to help provide such basic essentials for families at this time of year.

Marie Reynolds, Nugent Care's Fundraising Manager, said of Carrington's Catering, We have been overwhelmed by their support, they have yet again pulled out all the stops to help us support vulnerable families.

Nugent Care are Carrington's Catering preferred charity for the second year running and their support has included Carrington's staff completing the Manchester to Chester bike ride challenge and walking up Snowdon at a time when we had really bad weather to raise over £2,000.

Nugent Care is a charitable organisation which offers a diverse range of support and care to adults and children across Liverpool and throughout the North West of England. Nugent Care work with children, adults and community groups through homes, schools and community based projects throughout the North West.

Find out more at click on here.
Southport Sainsbury's Car Park Crash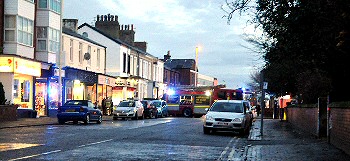 ON Hill Street, opposite Southport Sainsbury's Car Park Exit, 2 cars were involved in a collision, blocking the junction of Hill Street and Castle Street.
A male and a female, both aged 46, were in 1 of the vehicles, the driver of the other car was a female, aged 57. Fire crews gave 1st aid and made both vehicles safe. As this happened, shops praised the efforts of the local traffic wardens who also assisted.
We are told that the fire crews gave oxygen to the 57 year old woman, as she was an asthma sufferer. She was then assessed by paramedics and we are told that she didn't require any further 1st aid. The 46 year old male, we are told, had complained of chest pains, so firefighters gave him oxygen as well. He was then assessed by paramedics. None of the people involved required further hospital treatment. We are informed that the 2 appliances were at the scene for around 40 minutes.
Many locals are asking, how long before this happens again, only this time worse. "This area is an accident waiting to happen. I see problems all the time on this road." said a local who did not wish to be identified. Do you agree that this section of road is dangerous?
If so, why and what could be done to prevent accidents? Please email us to:- News24@SouthportReporter.Com with your suggestions and views.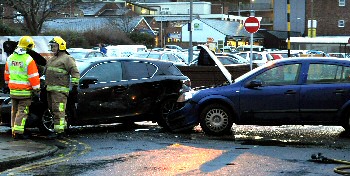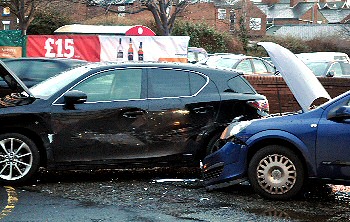 8 out of 10 disabled people and carers concerned about the future, new Christmas survey finds
LOCAL disabled people's charity Revitalise, which runs the Sandpipers respite break centre in Southampton, has unveiled the results of its new survey, entitled:- 'A Revitalise Christmas Carol'. Echoing the timeless story of Scrooge in the Charles Dickens classic, the study examined the past, present and future of disabled people and carers.

The survey found that 83% disabled people and their carers are concerned about what the future holds, with 43% saying they were either very worried or had never been so worried about what is in store for them. Only 5% said they were unconcerned about the future.

Of the majority of disabled people and carers expressing concerns for the future, 63% were concerned about diminishing respite and social opportunities, 53% said they worried about getting less support from statutory services and 43% expressed fears about ending up isolated and alone. Highlighting their financial worries, 32% of disabled people and carers said they had no idea how they would make ends meet in future.

When asked by Revitalise what measures would do most to improve their quality of life in the future, a categorical 65% said more or better respite and/or social opportunities would make a difference. 46% said they needed more practical support and 39% said they wanted to feel more financially secure.

Turning a spotlight on the past and present, the survey unveiled an apparent deterioration in the quality of life of disabled people and carers, compared with the past. 32% of disabled people and an emphatic 66% of carers agreed that their experience of giving and receiving care was better in the past.

In regard to the current worries of the disabled people and carers surveyed, fears about feeling isolated and stuck in one place came top of the list, shared by 46% of the respondents, followed by worries about the practical support they get from social and other services (44%) and an increasing lack of empathy and understanding of their situation (40%). A shocking 26% of disabled people and carers said they were scared to speak up about their situation for fear of repercussions.

In light of the survey's findings, Revitalise is renewing its call for more practical and financial support for disabled people and carers in order to alleviate their fears for the future. The charity is calling on social care decision makers to take a cue from Scrooge's redemptive story and help ensure that disabled people and carers can look forward to the future with more confidence.

Revitalise Chief Executive Chris Simmonds commented:- "Just as the Ghost of Christmas Yet to Come gave Ebenezer Scrooge a disturbing glimpse into his future, our survey has given us a glimpse into the future expectations of disabled people and carers. While most people are looking forward to the New Year with at least some degree of optimism, the reality for disabled people and carers is that they have never been more fearful of what the future holds for them. For many disabled people and carers, the support they receive is an absolute lifeline, enabling them to maintain an adequate quality of life and make a meaningful contribution to society. But our survey has revealed that disabled people and carers have very little confidence that they will continue to receive the support they need into the future. Those who took part in our survey have also made it very clear just how important regular respite is for disabled people and carers alike. That's why we will keep on repeating that access to regular, good quality respite breaks for disabled people and those who care for them should never be considered a luxury but an absolute essential. Scrooge's story teaches us that we must believe in the possibility of change. In the story, Scrooge was able to change his ways and alter the lives of all those around him. We should take inspiration from this lesson and give disabled people and carers the support they need to look to the future with renewed confidence."

Disabled survey participant Fiona added this Christmas wish to Revitalise's campaign:- "I would like people with disabilities to be included in society more, in work, leisure and social activities. I would like people with disabilities to not have to worry so much about their finances and for society to recognise the ability in disability."

Revitalise is a local charity providing respite holidays for disabled people and carers at Sandpipers in Southport and 2 other accessible centres in Chigwell in Essex and Southampton. Each centre provides short breaks, with 24 hour nurse led care on call and personal support, with a wide range of accessible activities and excursions in a holiday environment.

People wanting to support the charity or for more information about Revitalise respite holidays are requested to visit:- Revitalise.Org.UK or call:- 0303 303 0145.
Warning over fake IDs
PARENTS of young people have been warned about the consequences of them using fake ID to get access to clubs and bars. The warning, from Liverpool Council's Alcohol and Tobacco Unit comes after 150 ID cards have been confiscated in the city centre in the past few months. These include:- fake driving licences, passports and PASS cards as well as altered passports and driving licences. All bars in city have received training to identify fake ID cards and door staff use UV light scanners so they can weed out false documents. Councillor Emily Spurrell, Mayoral lead for community safety, said:- "We know that in the Christmas season some underage people will try to get into clubs and bars but they need to be aware that there are severe consequences if they do so. They can be prosecuted for using a fake ID. And we are asking parents to make sure their teenagers know that using fake IDs is a serious issue. They have to let them know that it is simply not worth risking getting a criminal record for a Christmas night out. And they need to tell them If you try to get into a club or bar with an altered driving licence, passport or other fake ID you will be caught; so don't risk it."

Offences for using false IDs are:-

► Identity Cards Act 2006 / Identity Cards Bill – Possession of a Passport or Driving Licence which doesn't belong to you.

► Fraud Act 2006 – Possession of Counterfeit ID.

► Forgery and Counterfeiting Act 1981 – use of counterfeit ID.