North West Councils receive over 31,000 pleas for help from people on the brink of homelessness
SHELTER appeals for urgent support as advice helpline is stretched to its limits. In the last year, local councils in the North West have been inundated with over 31,000 requests for help from people on the brink of homelessness, new analysis from Shelter reveals.

The shocking findings, based on government statistics, show that the number of requests has risen by 96% in the last 5 years. In the last year, more than 3,600 households in the region ultimately lost their struggle and were made officially homeless.

Sadly, the figures come as no surprise to housing and homelessness charity Shelter, whose advisers have been inundated with calls for help.

In the last year alone, the number of calls to Shelter's free helpline from the North West reached more than 40,300. And shockingly, 1 in 5 of the calls they were able to answer came from people who faced losing their home within a month.

The charity is calling on the public for urgent support, as its advisers brace themselves for even more calls this Christmas season. With many councils feeling the pressure of England's affordable housing shortage, having a Shelter adviser to support families can make the difference between them losing their home and keeping it.

Campbell Robb, Shelter's Chief Executive said:- "It's truly devastating to hear that so many people; including families with children; are teetering on the brink of homelessness. It's heart breaking to imagine one child waking up homeless and in unstable temporary accommodation on Christmas morning, yet we know that over 100,000 children across the country are facing exactly that fate. Sadly, the combination of our affordable housing shortage and cuts to welfare means that more and more parents are finding themselves struggling to keep a stable roof over their children's heads. That's why we desperately need the public's support this Christmas, to help us be there so that no family has to fight homelessness on their own."

For example Francesca and her 2 children became homeless after her mother, who they were living with, unexpectedly became a guardian to 2 young family members and there was no longer room for her family. With nowhere else to go, they were forced to live in 1 room of a hostel for 7 months. Luckily, with the help of Shelter advisers, she was able to leave the hostel and create a better future for her children. "It was an incredibly difficult time for us. My daughter's grades suffered because the baby would keep her up all night. It was also hard for her to keep her friendships going because she couldn't bring any of them over to play. When you're in a hostel it doesn't feel like you've got a future, you can't look ahead, you can't see a way out. It's like being in a big black hole and there's no light. Luckily I spoke to an adviser from Shelter who eventually helped us find a better place to live. If it wasn't for them, I don't where we'd be now; we're so grateful to have had their support."

To support Shelter's emergency Christmas appeal please visit:- Shelter.Org.UK or text:- 'SHELTER' to 70060 to donate £3.
Hospitals lift restrictions on visiting hours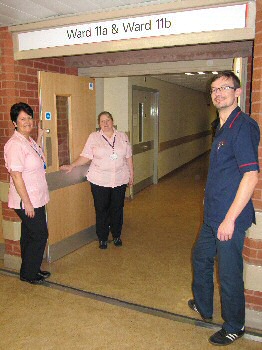 FRIENDS and family will be able to spend much longer with patients at Southport and Ormskirk hospitals from 18 December 2015. Wards will open for visiting at midday and stay open until 8.30pm, 7 days a week. The decision by Simon Featherstone, Director of Nursing and Quality, follows a successful trial at Southport hospital earlier this year.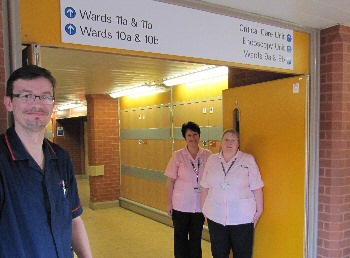 "The support and company of friends and family is an important part of any patient's recovery but traditional visiting times don't always fit round people's working lives and personal commitments. We also know some visitors want to play a more active role in the care of the patient they're visiting, such as helping at mealtimes and providing a familiar voice in unfamiliar surroundings, so I hope this more flexible approach will help them. To make this work, we also need visitors to help us too. We ask that there should be only two visitors per bed and, from time to time, we may ask visitors to leave the bedside during personal care for patients or consultant ward rounds." said Simon.

Historic Blackpool Theatre Wins Share of £3m Restoration Funding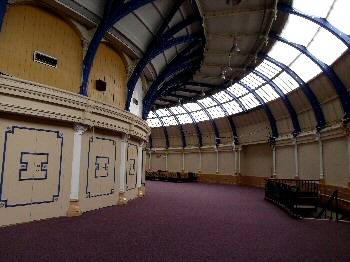 BLACKPOOL Winter Gardens has won £50,000 funding from the Government to help restore the historic Pavilion Theatre, it was revealed. The 137 year old theatre was placed on the Theatre's Trust's 'At Risk' register in 2014; an indication of the vital need for investment to protect the venue's long-term future. Communities Minister Brandon Lewis today announced the Pavilion Theatre; part of the world famous Grade II Winter Gardens building; is among 77 projects across Great Britain to receive a share of £3 million coastal revival funding. The £50,000 granted to Blackpool Winter Gardens will be used to restore the walls of the Pavilion Theatre which is the proposed location for the Blackpool Museum.

Michael Williams, managing director of the Winter Gardens, said:- "This is wonderful news and testament to the hard work done in putting together a compelling bid. It is also recognition of how vital such historic theatres as the Pavilion are. Although still a very beautiful and atmospheric place, the Pavilion is in need of significant repair and restoration. The roof needs attention to protect the interiors and this funding will ensure the works are completed as soon as possible to prevent any further issues."

Cllr Gillian Campbell, Deputy Leader of Blackpool Council, said:- "This funding is a welcome boost towards our long term aim of creating a museum for Blackpool which would be located in the Pavilion Theatre. Not only will the museum create a new tourist attraction to boost the Blackpool economy, it will also safeguard this beautiful theatre to ensure it continues to be used for decades to come."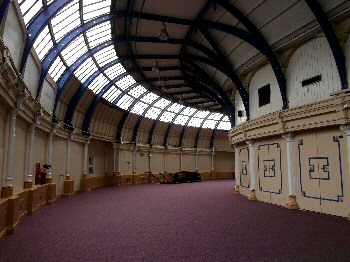 Created as a concert hall in 1878, the Pavilion was converted to a theatre in 1889. A major re-building took place in 1897, resulting in a splendidly opulent apsidal ended music hall. The beautiful plasterwork, designed by J M Boekbinder, was completed in 1904. In the 1920s it became a picture palace and by the 1950's was used for summer shows. Household names such as Morecambe and Wise and Tommy Cooper performed there.
Blackpool Council is currently formulating plans for a multi million pound, interactive heritage museum; situated within the Pavilion; which will tell the story of how Blackpool became 1 of the world's biggest tourist resorts.
The announcement by the Government sees 77 national projects; ranging from theatres to piers and lidos to lighthouses; each receive coastal revival funding grants of up to £50,000 to kick-start restoration work.
Duncan Wilson, Chief Executive of Historic England said:- "Many of the projects which will be funded through the Coastal Revival Fund will help to conserve our special coastal heritage. The historic buildings and places around our shores tell the story of our nation, from fishing ports and defensive structures to pleasure beaches and parks. Several of the sites are on our Heritage at Risk Register and require urgent action before they are lost. This government funding will help a variety of community groups who look after these wonderful places to take important steps to revive them and ensure they play a continuing role in seaside economies."
Marina Rescue in Crosby
ON Thursday, 10 December 2015, at Crosby Marina, Waterloo, 2 fire appliances and Merseyside Fire and Rescue Service Rescue Team attended the location at around 2.05pm. A small dinghy had overturned and the male occupant was trapped by a piece of wire. Firefighters used water rescue gear and assisted the man to the shoreside. He was uninjured, but was monitored at the scene by paramedics and did not need further treatment. No more information is available at this stage.
5 Vehicle Road Collision M53
MERSEYSIDE Fire and Rescue Service attended a 5 vehicle road collision, on the Southbound carriageway of the M53, between Junctions 2 and 3 (Woodchurch), just after 9.00pm on Tuesday, 8 December 2015. We are told that 1 of the vehicles was on its side and firefighters had to stabilised the vehicle. They then had to used cutting equipment to remove the door and roof of the vehicle. The male passenger, aged 35, was then removed safely from the vehicle and taken to Royal Liverpool Hospital Trauma Unit, with suspected head, ankle and spinal injuries. The 4 other vehicles involved remained upright. Occupants of the vehicles were assessed at the scene by paramedics and although suffering from shock and minor injuries we are told they did not need further treatment.