20 year vision for Mersey Ferries to go to Merseytravel Committee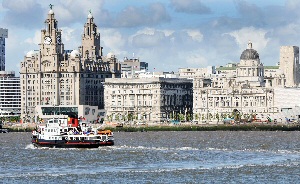 A 20 year vision for the Mersey Ferries, aiming to secure their future for generations to come, will be put to the Merseytravel Committee for approval in January 2016.

The strategy is centred around bringing down the cost of the Mersey Ferries to the public purse, while building on their commercial potential, ensuring they are sustainable well into the future. It suggests a focus on growing the local leisure market and highlights some far reaching proposals.

Proposals include the procurement of at least one new vessel, better suited to the needs of the leisure and event market; resources focussed into one Wirral landing stage with the closure of the other, and a later start to the commuter service to allow the ferry to be docked overnight to significantly reduce operational costs.

While endorsement will be sought for the overall strategy in January, Members will not be taking any decisions on any of the proposals outlined at that stage. These will be presented to Members at future meetings with detailed evidence to support each approach, so informed decisions can be taken.

While their public subsidy for operational costs has been reduced by around £1m over the past four years through such measures as taking The Royal Daffodil out of service and increasing leisure sailings, the Mersey Ferries still have to be subsidised by around £1.5m a year for day-to-day costs.

In addition, an average of around just under £2.5m a year of public money has been spent on capital programmes over the past 6 years including investment in maintaining the current Vessels and a new Pier Head Landing Stage.

These costs are despite them being the most popular paid for attraction on Merseyside.

The strategy recognises that fundamental changes are needed to tackle increasing costs and the challenges that come with an aging fleet; now approaching 60 years old; and to go some way to reversing the trend of falling passenger numbers.

Over a number of decades the market has changed from a buoyant cross river 1 to 1 focussed on leisure sailings, as people choose the Mersey Tunnels or rail to 'short hop' across the water.

It is intended that the strategy will be reviewed every 2 or 3 years to ensure that it remains current and takes into accounts developments and potential opportunities in the wider Liverpool City Region such as through Wirral and Liverpool Waters.

Said Gary Evans, Merseytravel's head of customer delivery:- "Our success in winning Ferry Operator of the Year at the National Transport Awards recognised the strides we have taken in making the Mersey Ferries a more efficient operation, whilst continuing to get customers on board. It also recognised us making the most of opportunities, from the key role the ferries played in welcoming Cunard's Three Queens to the launch of the 'Dazzle Ferry' an art and history project of national significance. Should Members approve the strategy, there will be some exciting decisions for them to take and some difficult ones. However, to secure the Mersey Ferries for future generations to enjoy we have to think big and differently. Efficiency has to go hand in hand with looking at the wider economic benefits the Mersey Ferries bring to the Liverpool City Region; looking at how we can build passenger numbers and their commercial potential."

Some of the key recommendations outlined in the strategy:-

► An overall focus on building and growing the Mersey Ferries' leisure market, not least as demand for cross river services continues to decline and the number of leisure passengers goes up.

► Moving towards a new fleet of Vessels; recognising that the current Vessels are over 50 years old and that introducing new ones would support a reduction in operational costs. New vessels would also mean that the leisure market could be better catered for. The existing ferries were built for largely 'short hop', cross river journeys. It is hoped that the names of the Vessels can be retained.

► Recognising the major investment needed in the terminals and landing stages over the next 5 years, by looking to review the terminals with the possibility of moving from 3 terminals to 2.

► Considering retaining one of the existing vessels and operating it in the Manchester Ship canal only, therefore offering canal style cruises that are not tide dependent outside of peak times.

► Considering changes to the commuter service which would remove the need to have the vessel on the river overnight; including starting later.

► Looking to increase ferry presence on the river with a second vessel during peak times such as school holidays. Moving from an hourly river explorer to maybe every 30 minutes.

Edge Hill University shares Christmas spirit with those who need it most
EDGE Hill University is proud to spread Christmas cheer in Ormskirk and surrounding communities this festive season, donating food items and more than 300 wrapped gifts to those who need it most. This year the University 'Giving Tree' will support the Liverpool's Crisis centre; the national charity for single homeless people, and the Birchwood Centre's work with young people to prevent homelessness and improve wellbeing. Aisling Benson, Edge Hill Staff Wellbeing Manager said the generosity of staff and students has meant the University can support more community groups than last year. "Every year the staff and students at Edge Hill University dig deep to support our local community, especially those who otherwise may not get a hot meal or a gift during the festive season. The enthusiasm for this years' appeal has meant that we can reach more members of our local community than last year; a feat that our staff and students are proud to celebrate," she said. Staff events in the lead up to the Christmas break will also support the Ormskirk Foodbank and the Southport Soup Kitchen.
Walton fundraising celebrated
HOMELESS people and young children are to benefit thanks to fundraising by older people in Walton. People who attend Walton Social Club have been raising money all year at cabarets, bingo nights and raffles organised by Councillor Gerard Woodhouse, Mayoral Lead for Older People. There have also been bucket collections at the recent Christmas parties in the Florrie and across the city. Over £2,500 has been raised so far, with the money going to the Whitechapel Centre, Everton Nursery School and Liverpool Homeless Football Club. They have also given out hampers and shopping vouchers to local families. On Wednesday, 16 December 2015, they are came together for a Christmas Party where they handed over the money to organisations who benefit from this celebrative fundraising. Youngsters from Everton Nursery School sang Christmas Carols at the event, while Lord Mayor, Councillor Tony Concepcion and Assistant Mayor, Councillor Nick Small, also handed over some of the cheques.
Councillor Woodhouse said:- "This is something our older people have done for the last 6 years. They want to give something back and take great pride in being able to support the local community and those who are vulnerable."

Assistant Mayor, Councillor Nick Small, added:- "It is great to see older people in Walton doing so much to help other sectors of the community."
Make it a Happy Christma-ths!
THE maths expert tasked with increasing standards in mathematics and numeracy in Liverpool is urging parents to buy mathematical games for their children this Christmas. Dr Graham Lawler, Director of Liverpool Counts, hopes it will encourage teenagers to improve their grades and accomplish the aims of the scheme. Dr Lawler; who created the highly acclaimed:- 'BBC Bite Size GCSE' revision guide for advanced maths and wrote a book with the late Sir Arthur C Clarke about understanding maths; believes mathematical games are integral to this. He said:- "Games are a brilliant way to encourage children and young people to improve their mathematics. They are learning and having fun. The best types of games are strategy games; these are where the players have to think ahead. If we can get more children and young people playing these strategy games then it can have an amazing impact on their mental skills capacity and that is important in improving their maths. There are many apprentice jobs in Merseyside that are going to people from outside the area because they have higher maths grades. If mums and dads encourage their teenagers, and improve their maths grades at school, these are jobs our young people can have. That is why this is so important."

Liverpool Counts was launched in October with the objectives of:-

► Raising standards in mathematics and numeracy with fun and joy of numbers at its heart.

► Challenging perceptions and changing attitudes toward numeracy and mathematics.

► Raising the profile of numeracy using activities, events and resources based on real life.

► Bring relevance to numeracy through problem solving, demonstrating it as an essential skill.

It is based on the successful model of Liverpool City of Readers, which is contributing to the raising of standards in reading and writing and aims to improve attainment in maths at all levels of education. Liverpool Counts is spearheaded by the Liverpool Learning Partnership, which represents all education sectors and all learners in Liverpool.
Liverpool man wanted by Lancashire Police following attack a on 20 year old woman!
THIS week Lancashire Police said:- "We are trying to trace a man from Liverpool in connection with an assault that took place in Preston in 2015. Liam Field, 20, is wanted in connection with an incident which saw a woman lose consciousness after she was violently attacked on 28 February 2015. His last known address is in Kirkby and he has links to Skelmersdale, Ormskirk and Preston, as well as Barrow in Furness in Cumbria. He is known to go by various other names including John Casey, Fernando, Morgan McKenzie and Liam Fields."

PC5833 Lucas Curnow added:- "We are keen to trace Field and so I am asking anyone who has seen him or knows of his whereabouts to get in touch with us. We are actively looking for him so it is only a matter of time before he's found. If Field himself sees this appeal I would urge him to hand himself in to the Police. He is described as white, 6ft, slim build with dark brown hair and blue eyes. He speaks with a distinctive Liverpool accent."

Anyone with information can contact Police on 101 quoting crime reference:- 'SA1502162'. Alternatively Crimestoppers can be contacted anonymously on:- 0800 555 111 or online at:- CrimeStoppers-UK.Org.