Award for man who turned his life around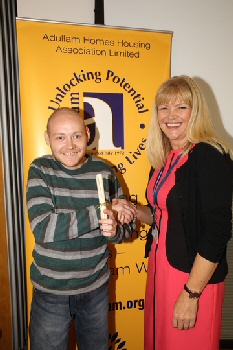 A Southport man who turned over a new leaf to put his troubled past behind him has received an award in recognition of his achievement. Tom Wilson received the Moore Award for Personal Achievement at Adullam Homes' Moore Awards, in recognition of his personal journey.

Launched in 2013, the Moore Awards recognise the work and inspirational tales of service users and residents, as well as staff, volunteers and students working for, or receiving treatment from socially-conscious housing association Adullam Homes.
In 2010, a then 25 year old Tom was jailed by Liverpool Crown Court following a blaze at his former residence after a disagreement with his landlord. After leaving prison Tom moved into supported accommodation with Adullam and, with the help of support workers Steven Floyd and Phil Mackie, set out to make amends for his prior behaviour. They worked with Tom to identify the changes he needed to make in order to stay on the straight and narrow. As part of his personal journey, Steven and Phil, along with Tom's step father Bruce Soden, accompanied Tom on a 25 mile charity bike ride to raise almost £300 for 'Action for Children' a charity that ran the Westdene children's home where Tom spent a portion of his childhood. Tom said:- "The Moore Awards were an amazing experience for me. I took part in a play in front of everyone at the beginning of the ceremony. I wouldn't have had the confidence do that 18 months ago. It's a great feeling to know that my journey has been noticed by the staff. After an amazing few months winning this award is the icing on the cake for me. I would like to thank all the staff at Adullam Homes for their support and guidance. They've helped me turn my life around. I feel like a new person. And new Tom is definitely here to stay."

Janet Taylor, regional manager for Adullam Homes in Merseyside, said:- "The Moore Awards are an opportunity for us to highlight and reward the great achievements of our staff, residents and service users, of which Tom is a prime example. He has come a long way from when he first started working with us. His commitment to keep up a better, healthier lifestyle has impressed us all. But it is the change in his confidence that has impressed us the most. He definitely deserves his Personal Achievement award."

Big Freeze leaves lasting legacy in Liverpool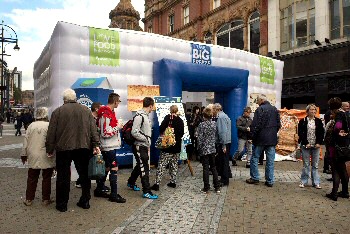 THE people of Liverpool were hit with a snowstorm of facts and advice for reducing food waste when Love Food Hate Waste came to Town in 2015. The event was part of a national campaign designed to educate and inform the general public about making the most of their freezer, and provided a fascinating insight into the foods you can and can't freeze. More than 8,000 people from across the UK learned about the importance of reducing food waste at events in Belfast, Birmingham, Cardiff, Glasgow, Leeds, Liverpool, Manchester, Newcastle, Nottingham and Sheffield. Through interactive games, giveaways and competitions, people of all ages and backgrounds were challenged to make the most of their freezers and to discover how freezing and defrosting food can help to save money and reduce food waste.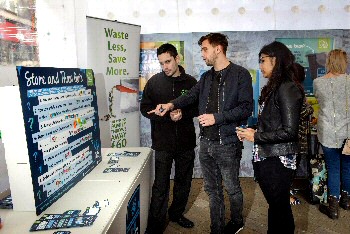 Emma Marsh, Head of Love Food Hate Waste, said:- "This national campaign, across ten cities, made a huge impact on the habits and understanding of the general public. We believe that the campaign has enlightened many to the possibilities of freezing. For example, many people didn't know it was possible to freeze eggs!"

More than 10% of attendees completed a 'pledge' form and vowed to change their habits towards wasting less food and drinks. Almost 50% of the 15 million tonnes of food thrown away in the UK comes from our homes. Together we throw away 7 million tonnes of it and more than half could have been eaten. Buying and then throwing away good food and drink costs us £12.5 billion a year. If we ate it, instead of wasting it, the impact on our environment would be the equivalent of taking 1 in 4 cars off the road.