High risk of flooding crippling value of many homes in North of England, HML finds
THE "hidden cost" of flooding in the North of England has been uncovered by the UK's leading ⅓ party mortgage administration provider, HML.

In a comparison of the category of risk of flooding assigned to each postcode by the Environment Agency and average house price sales in each area, HML found that the value of many homes in the North of England has been crippled by a high risk of flooding.

Its analysis found that properties classified as at high risk from flooding in the North West and Yorkshire and Humber regions of England increased in value half as fast between 2005 and 2014 than those at no flagged risk (17.04% compared to 8.58%).

Andrew Jones, Chief Executive Officer at HML, said:- "A flood can devastate a community, but there is a huge hidden cost to those at high risk in much of the North of England. The high risk of flooding for some areas accentuates the regional disparity of property price changes, meaning other, safer areas, particularly Greater London, are seeing far greater increases than areas at risk. As well as the threat of damage and of course injury from floods, households at risk also therefore face a greater chance of falling into negative equity and reduced chances of sale."

In Yorkshire and Humber, the difference was starkest, with the value of properties in high risk postcodes growing at 5.101% compared to 16.210% for no flagged risk.

In the North West region, the value of properties in high risk postcodes increased at 6.20% compared to 15.33% for no flagged risk.

By far the greatest rate of increase for property values was in Greater London, where the value of properties at no flagged risk of flooding have increased 100.71% during the same period; more than 10 times faster than the combined average for high risk properties across Yorkshire and Humber and the North West.

HML manages around £32 billion of assets across the UK and Ireland, and uses advanced analytical instruments and its knowledge of mortgages and property to develop a deep insight into understanding trends within the market, particularly on negative equity, repossessions, arrears and interest only mortgages.

The company employs over 1,200 people across the UK and Ireland, with around 650 based at its headquarters in Skipton, Yorkshire.

The company recently committed itself to helping Yorkshire become the capital of a new "Northern Powerhouse" through substantial investment in existing staff members and the specialist training of new recruits to help the region grow and prosper.
National Police and Fire Services Tugby Union Teams to play in Charity Game
THE British Police Rugby team are getting set to turn up the heat as they train for a bluelight battle royal against the British Fire and Rescue Service at Firwood Waterloo Rugby Club in memory of PC Dave Phillips.

The game, supported by Merseyside Police Federation, is set to take place at 6pm on Wednesday, 27 January 2016, and spectators can expect an action packed game as the 2 teams battle it out on the pitch.

Tickets for the game are available from the club (Firwood Waterloo Rugby Club, St Anthony's Road, Blundellsands), or on the gate on the day, and are available for a £5 donation.
All money raised will go to the PC Dave Phillips Memorial Fund.
Tickets are available before hand from the club, contact via their website.

There will be a hog roast on the night provided for by Firwood Waterloo sponsors Hatfield Land Rover, all proceeds will go to the family.

Chief Constable David Shaw of West Mercia Police, Chief Constable David Shaw of West Mercia Police, Chair of British Police Rugby:- "It is a fitting tribute to the life and work of PC David Phillips that emergency service colleagues are coming together through the medium of sport for this event. We celebrate his life and acknowledge with his family the huge sacrifice given in service of the local community of Liverpool. Rugby is a great means to build friendship and respect and we ask that people offer their support as in the heat of competition we naturally pause and reflect."

George Moore, Director of Firwood Waterloo Rugby Club added:- "Firwood Waterloo Rugby club are honoured to be hosting the rugby match between the British Police and Fire and Rescue service in memory of PC David Philips and to have the opportunity to show our support for his family. We have members in the emergency services and the event will allow us all to remember a hero and recognise those who are putting their lives at risk every day to protect our community."

Peter Singleton, Chair of Merseyside Police Federation, said:- "On behalf of Dave's family, friends and colleagues, I would like to thank everyone at British Police Rugby, British Fire and Rescue and Firwood Waterloo Rugby Club for organising this game. The support shown by everyone, not only within the Police family, but from our emergency service colleagues, and not least the public, has been quite incredible and truly humbling. I am sure the event will be fantastic and everyone who attends will have an enjoyable night. Finally, I am sure the whole occasion will be a fitting tribute to remember an exceptional Police officer, and a loving and much missed husband, father, son and brother."

Station Manager Dave Scully, Great Britain Director of Fire Service Rugby, said:- "This is the annual fixture we always look forward to. We are proud to support our colleagues in the Police Service by honouring PC Dave Phillips and supporting his family. We are sure the game will be an exciting event and an excellent tribute to PC Dave Phillips."

More photos of of the flood risk in Formby area over Christmas

THESE are a few more photographs taken of the flooded fields and the River Alt over Christmas 2015.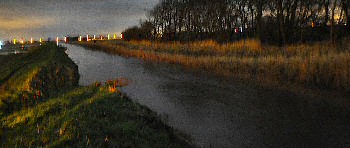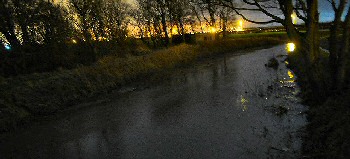 Funding boost for heritage and health projects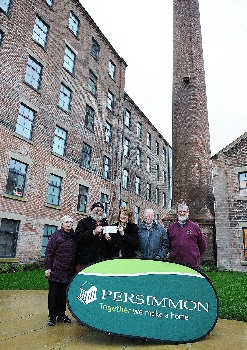 THE preservation of the region's industrial heritage and the provision of emergency medical support in rural areas are the latest 2 projects to receive a house builder's funding boost. H&R Ainscough Barge Restoration and the Douglas Cardiac Trust have each been awarded £1,000 from the Persimmon Homes Community Champions scheme. The national match funding programme seeks to support groups and charities working to improve the quality of life or environment for local people. Diane Finch, sales director for Persimmon Homes Lancashire, said:- "Our Ainscough Mill development overlooks the canal in Burscough, offering unique views for people living there. Just like the mill itself, the historic waterway is a lasting reminder of the industrial heritage of the area and something to be treasured. We worked tirelessly to restore and renovate the mill and are pleased to support the group preserving the last 2, 11033 barges. The Douglas Cardiac Trust is a local charity providing medical support in the villages of Tarleton, Bank and Hesketh Bank. As well as helping to fund 1st Responder and 1st Aid provision, the group has placed more than 30 defibrillators in public buildings and supported individuals with complex medical needs. Such a service in a semi rural area is a lifeline for local people and very deserving of our help."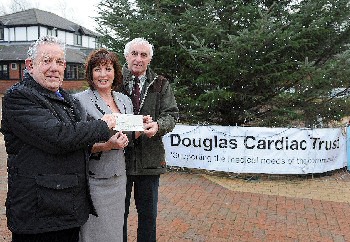 Community groups, charities and good causes across the county have benefited thanks to the donations from Persimmon Homes. Organisations can apply for funding by completing a simple online form. The scheme invites local groups and charities to bid for cash from a £750,000 national fund, with 2 donations of up to £1,000 being made locally every month. Persimmon Homes Lancashire operates new homes developments throughout Lancashire and Cumbria.