Tranmere Rovers FC players score with Christmas visit to local children's charity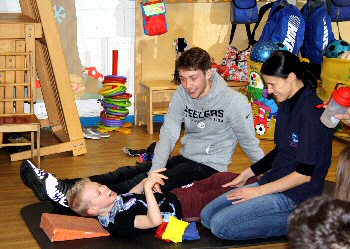 CHRISTMAS arrived early for Wallasey charity Stick 'n' Step, on the 18 December 2015, players from Tranmere Rovers Football Club called in to spend some time with the children. Stick 'n' Step provides free conductive education and support services to children with cerebral palsy and their families. 3 of Tranmere Rovers' players dropped by, including Martin Riley, Liam Davies, Mitchell Duggan.

Stick 'n' Step gave the players a tour of the centre in Wallasey, where the children and families come for the conductive education sessions and to see their friends. The players spent time socialising with the children, seeing what is involved in the various different sessions and having a Christmas party, where the children were given Christmas gifts. The afternoon was enjoyed by all, as the children met some of their local professional footballing heroes.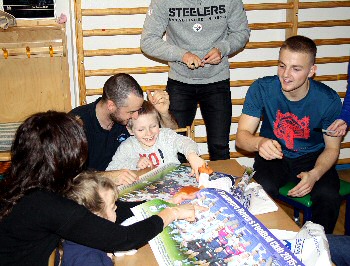 Commented Sarah Smithson, Operations Manager at Stick 'n' Step:- "We had a great afternoon. The children thoroughly enjoyed talking and playing with some real life sporting heroes. The club has a great history and heritage on the Wirral and we want to thank Tranmere Rovers FC for being so kind in giving up their time to visit everyone here at Stick 'n' Step. It was some of the children's last days before we break up for Christmas and it was made very special and memorable by the players' generosity."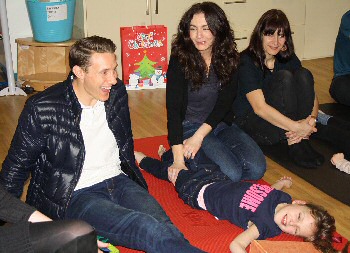 Stick 'n' Step provides free conductive education sessions, which are not offered by the NHS, to help children with cerebral palsy learn vital life skills, like walking and talking, through participating in group activities. It's a place where they can make friends and grow in confidence, and where parents have access to respite and support. Families travel each week from across the North West and North Wales to the Stick 'n' Step Centre in Wallasey to receive this life changing service. Stick 'n' Step receives no government funding and relies completely on fundraising to cover its annual running cost of £370,000.

For more information about Stick 'n' Step and how you can help, visit them online or call them on:- 0151 638 0888.

Survey reveals a quarter of Brits abandon flat pack furniture projects before completion
THE Cumbria based film Oak Furniture UK has just discover nearly a quarter of us (24%) abandon our flat pack furniture projects before completion!

So have you ever received a piece of furniture as a Christmas present? Maybe you've spent Boxing Day wrestling with that new bed frame your parents gifted to you, or that new bookcase to display all your lovely gifts?

Oak Furniture UK asked a simple question saying:- "We all love to save some money, but how much do we really sacrifice or save by opting for the cheaper flat pack furniture option? Many of us choose to build our own furniture, but are we really getting a better deal when it comes to time, money and personal DIY skills?"

The 'flat pack vs solid pre-built furniture survey', commissioned by Oak Furniture UK, highlighted the amount of time, money and injuries sustained when committing to a piece of flat pack furniture. With an increasing number of handyman services born from flat pack furniture, including:- both pickup and flat pack construction services, that said:- "you may end up forking out as much for flimsy goods as you would for a piece of solid furniture." Do our readers agree?

"We learned that the older generation tend to read the instructions much more than the younger end, out of those surveyed. Those in the East Midlands seem to have the poorest DIY skills, with almost 20% of them experiencing a furniture collapse of malfunction shortly after assembly. So, do we really get what we pay for, when 35% of us have found that flat pack furniture could not be completed due to missing parts?" Director Samantha Harris added.

Survey questioned 1,000 respondents and from the results they concluded that:-

► On the issue about Time:- "It became apparent that we spend around 3 to 4 hours, on average, building each piece of furniture. 64% of people have purchased between 1 and 6 pieces of flat pack furniture in the last 2 years, meaning that people are losing up to 24 hours a year constructing furniture; just think of all the things you could be doing with that extra day?"

► On the issue about Health:- "Accidents happen, but when trying to strategically build, keep pieces and screws organised and read instructions all at the same time, you can't help thinking, is this worth it? East Anglian citizens tend to be the most cautious; or lucky? With only 6% sustaining an injury during the construction of a furniture piece. West Midlander's are the most accident prone, with nearly 18% getting a bump on the head; closely followed by the Scots and the folks in Yorkshire getting into a scrape or 2 at 15%. Nearly 18% of UK flat pack projects have been abandoned due to heated arguments between friends and couples; 33% of those residing in Northern Ireland admit to having a bust up over the assembly (or non assembly of a product. Others admitted to 'needing help from someone with a better understanding (of flat pack assembly) to help', struggling with 'Foreign instructions' and 'realising they were totally cack handed'."

► On the issue about Solid vs Flat Pack:- "When it came down to it, 75% of people across the UK admitted they favour solid and pre-assembled over flat pack furniture. 83% of over 55's preferred solid furniture in comparison to 56% of 18 to 24's, with the remaining 44% preferring flat pack or either option. This could very well be a reflection on lower income and more time available to spend on such projects. 810% of those in the North East prefer solid furniture; with those residing in London and surrounding boroughs having the highest preference for flat pack furniture; at nearly 11%. With space at a much higher premium in the capital, it's no wonder that residents there are opting for the cheaper, more malleable flat pack furniture option."

So please do email your views on Solid v Flat Pack to our newsroom as we would love to find out if you agree with these findings. Our email is:- News24@SouthportReporter.Com.
Warning about lost Prescription drugs in the Bootle area
MERSEYSIDE Police are appealing for the public to be cautious after some prescription medication was lost in Bootle area between Wednesday, 16 December and today, Monday, 21 December 2015. The medication comprises the following tablets:-

► Gabapentin 100 x 300mg.
► Citalopram 100 x 2mg.

Officers are warning people that taking any medication which hasn't been prescribed for them can be dangerous and, in some circumstances, can prove fatal. Anyone who finds any of the medication should hand it in to any Pharmacy or Police Station or call officers on:- 101 number.