Win a place on a special tour of the Bombed Out Church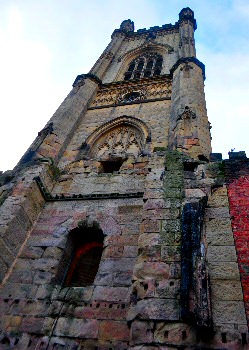 TWENTY 'Golden Tickets' are up for grabs for people to get a view of restoration work on the historic St Luke's 'Bombed Out' Church in Liverpool. Liverpool City Council and Historic England are jointly funding a £150k programme of structural works, which has meant the Church and gardens have been closed since October 2015.
Now a restoration open day is to be held on Thursday, 14 January 2016, from 1pm to 2pm, where a few lucky people will have the opportunity to take a look inside the Church while the work is underway and learn about the restoration process from the architect, specialist contractors and heritage officers. People wishing to request a place must send email to:- Melanie.Lamb@Liverpool.Gov.UK, by midday on Wednesday, 6 January 2016, with tickets limited to 2 per application. For health and safety reasons, only people who have been notified that they have been successful and issued with a ticket will be allowed admission to the site.
Councillor Mark Norris, the Council's Heritage Champion, said:- "St Luke's Church is 1 of the City's most loved landmarks and we know that people feel very strongly about it. The Open Day is a chance for people to find out more about the expertise and skills that are used to carry out important heritage projects, as well as seeing the historic structure close up."
The majority of the 6,300 people who responded to a recent consultation over the future of the Church were supportive of limited development and events taking place at the site including the installation of toilets, food and drink facilities, seating and a performance area.
In the new year, the City Council will invite expressions of interest from operators to run the site.

Job creation still a priority for North West SME's, despite National Living Wage concerns
SMALL and medium sized businesses in the North West will continue to create new jobs in 2016, despite concerns the introduction of the National Living Wage may increase wage bills. According to research by Yorkshire Bank, nearly ¼ of SMEs (24%) will invest additional funds into hiring new staff in the next 12 months. 1 in 4 (27%) North West SMEs will also invest more money into staff training to support their belief that skilled people are the key to innovation, creativity and business growth. However, more than ½ (55%) of small and medium sized businesses believe the introduction of the National Living Wage in 2016 will lead to an increase in staff costs. 1 in 5 SMEs (22%) expect their salary costs to go up by as much as 10% as a result of the National Living Wage introduction. From April 2016, employers will be required to pay all staff over the age 25 a National Living Wage of £7.20 an hour, a 50p increase on the current national minimum wage of £6.80. By 2020 this will rise to £9 an hour. Just under ½ of SMEs in the North West (46%) think the National Living Wage will have no impact on their salary costs at all. Across the UK however, the belief that salary costs will increase is most acutely felt in businesses with between 50 and 100 employees, suggesting larger enterprises (100+ employees) may be able to absorb increased wage bills. It also suggests the National Living Wage may not have as much of an impact on micro businesses and sole traders, which make up around¾ of all businesses in the UK.

Simon Wright, Regional Director for Business and Private Banking at Yorkshire Bank in the North West, said:- "We know businesses are investing in their most precious assets; their people. Having the right people and skills is a big issue for businesses to manage as our economy shifts from 1 of traditional manufacturing to being knowledge led. It's crucial for all businesses to be equipped with talented, creative and innovative people to drive innovation and growth. There are many benefits brought about by raising basic salaries; improved staff retention, increased productivity and staff satisfaction. While businesses will need to manage this increase in costs in what is already a competitive, albeit growing, economy, there is support available both in terms of funding and advice."
GMB is worried about keeping the lights on!
WHEN your electricity supply has:- "Gone with the Wind" the response of the renewable energy suppliers that:- "frankly my dear we don't give a damn" is just not acceptable says GMB. Since the start of winter 2015/16; since the beginning of October to 21 December 2015; there has been 12 days when the output of the installed and connected wind turbines in the UK have produced 10% or less of the installed and connected capacity of 8,972MW. Paul Kenny, GMB General Secretary said:- "There were 12 days so far this winter when wind was supplying 10% or less of the installed and connected wind capacity to the grid. On 4 November 2015, the National Grid had to invoke special measures to keep the lights on. There can be up to eight to ten days per month when there is not a lot of output from the 8.9GW of installed and connected wind capacity in the UK. GMB will publish a regular wind watch to assist public debate. The renewables lobby has to face up to the need for a base load electricity capacity that is reliable and clean on the days that the wind does not blow and the sun doesn't shines. When your electricity supply has:- 'Gone with the Wind' the response of the renewable energy suppliers that:- 'frankly my dear we don't give a damn' is just not acceptable. 639,000 GMB members want the keep the lights on. Unless there is a scientific breakthrough on carbon capture nuclear and gas are the only shows in town. Those advocating renewable energy have to accept this." Let us know what you think about this GMB view, via emailing us to:- News24@SouthportReporter.com and let us know what you thoughts are!