As freezing weather hits Southport, British Gas predicts a rise in household appliance breakdowns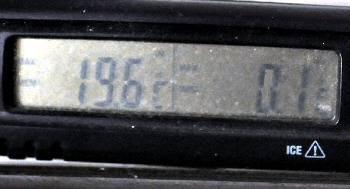 WITH temperatures expected to dip below freezing (-1 degree Celsius) this week, British Gas has predicted a surge in engineer visits to repair broken boilers or fix issues with appliances across Southport.

Across Merseyside the Home Services provider is predicting to visit more than 1,600 homes to help people experiencing a problem with their household appliances. UK calls are predicted to rise by over 22% (from 234,126 to 287,335) when compared to the same period last week.

To ensure it can meet this increased demand for support, British Gas has upped the number of staff in its call Centres for the winter months and has 10,000 engineers ready to go out to customers who might be experiencing difficulties.

British Gas has an in-house meteorologist, whose role entails monitoring up to 30 different weather stations across the UK and reviewing the number of jobs British Gas has attended to in the past. By keeping an eye on sudden changes it is possible to make sure there are engineers prepped and ready to go out to customers as quickly as possible.

Peter Knowles, a British Gas engineer serving homes across Merseyside, said:- "Our top priority is to keep our customers' homes warm, safe and working during the winter months. As Southport prepares for a cold snap and potential snow fall, we are on standby to reach customers' homes quickly if anything goes wrong."

Practical advice....

1. Love your boiler - Check to make sure that your boiler is working properly before the cold sets in. The older your boiler, the more inefficient it will be. If you have a pressure gauge make sure the boiler is at the right pressure and top up as necessary.

2. Bleed your radiators - to make sure they are working properly. If your radiators have cold spots, this means you have air in the system, so you will need to bleed them to get them working efficiently.

a. To do this, turn the system off and then turn the radiator key until the air stops and water runs consistently. Once you have turned the system back on, the problem should be solved.

b. Bleeding your radiator may result in pressure dropping. If you have a pressure gauge make sure the boiler is at the right pressure and top up as necessary.

3. Block the breeze - Make sure all of your home's windows and doors seal properly to stop warm air escaping. For those that don't, fitting draught excluders, which you can buy from most DIY stores, is a quick and cheap way to cut down on your energy bills.

4. Save money on bills by insulating your home free of charge - If your home is suitable, you could save your cash by getting your cavity walls insulated and your loft insulated. Find out more here.

To pick up some extra tips to help keep your home warm and working this winter, click on here.

Generous supporters raise over £24,000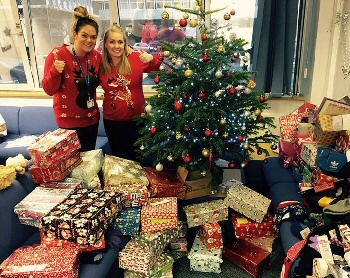 DURING December 2015, Nugent Care's fundraising team appealed to the people of Merseyside to donate food, clothes, toys and money to help support individuals and families in need during the festive period. So far Nugent Care has collected £12,000 in financial donations and toys and clothes for families and parcels for people living in poverty to the value of £12,000, making a combined total of £24,000.

The support came from local schools who held sponsored Christmas Jumper days, Nugent Care supporters running in Liverpool's Santa Dash, Carol Concerts at St Peter and Paul and St Benet's churches, and children from The Epsom Centre in Vauxhall holding a sleep out to raise money for the Homeless.

51 schools from across the City attended carol concerts in the Metropolitan Cathedral and donated gifts of toys worth over £5000 and supporters donated 660 shoe boxes for the homeless (with an estimated value of over £6600), containing toiletries and other goodies which were delivered through Nugent Care's volunteers, who gave the gift of time to visit isolated and vulnerable people.

The Lord Mayor, Tony Concepcion, along with Nugent's charity partner Carrington's Catering, put their support behind the appeal to businesses in the City to donate food, so that staff could make up hampers for families and older people who are struggling to make ends meet.

Many schools made up shoeboxes filled to the brim with toiletries, hats, scarfs and Christmas goodies, and one kind lady even knitted and donated 5 bags of hats, scarfs and gloves to help keep people warm this winter.

Marie Reynolds, Nugent Care's Fundraising Manager, said:- "The support of local people, and of our volunteers is testament to the caring area we live in. I can't thank everyone enough for the gift of time, skills, friendship, and financial donations."
Vandalism and Racist graffiti in and around Southport
A spate of vandalism and racist graffiti across Southport is being reported to have taken place. On Post Office Ave, a door was 'tagged' along with many other buildings and walls, with reference to Polish people. This was quickly painted over by the property owners. Most of this offensive language is said to be making reference made to the English Defence League (EDL), as well as ISIS. We have not posted photos on editorial grounds, as we do not want to highlight the property targeted. A spate of businesses having windows smashed have noted that some say could very likely be the same group. This anti social behaviour is being blamed, by some residents on gangs of local youths. If you know who could be to blame for this vandalism, please contact Merseyside Police or alternatively you can call Crimestoppers anonymously on:- 0800 555 111.