New cycling projects for North West's biggest roads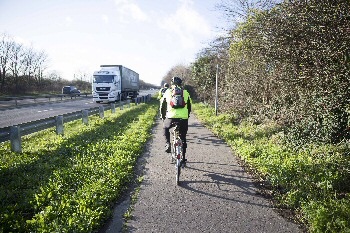 WORK has started on 19 cycling schemes across the North West to make it easier for cyclists to cross motorway Junctions and use major A roads. Highways England is carrying out over 200 projects across the country over the next five years after the government set up a £100 million dedicated fund for cycling in its Road Investment Strategy.

More than 40 schemes have now begun and are set to be completed by this spring. Work will continue on other projects between now and 2021. The schemes will provide new cycling facilities which are safe, separate from traffic and can be used by cyclists of all abilities. The 1st Phase of the cycling programme will see cycle lanes and crossings created or improved at 7 motorway Junctions in the North West, and improvements will also be made on major A roads in the county.

Transport Minister Andrew Jones said:- "Our investment in cycling infrastructure will make cycling safer and ultimately cut congestion on the roads. Highways England is well on the way to delivering £100 million worth of improvements to cycling facilities around major roads over the next 5 years. This important work is part of a transformational programme to make travelling by bike a more attractive option; great news for cyclists and motorists."

The North West improvements include new cycle lanes on a 2 mile stretch of the A663 between the M60 and the A627(M) near Chadderton, which will link up with existing cycle routes.

New signs are being installed on a 12 mile stretch of the A590 in Cumbria between Brettargh Holt Roundabout and Newby Bridge, on a 5 mile stretch of the A66 between Great Clifton and Papcastle, and on the A595 near Egremont.

Improvements will also be made to the safety barriers and lighting on the bridge which carries the A574 Birchwood Way over the M6 near Warrington, and on the footbridge over the M58 close to Junction 4 near Skelmersdale.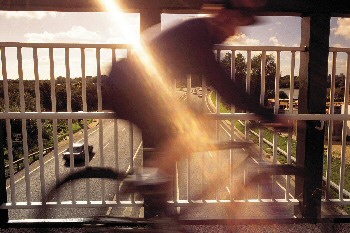 Highways England's Cycling Champion, Richard Leonard, said:- "These improvements will make cycling easier around major A roads and over motorway Junctions across England. They will contribute towards a connected, comfortable, attractive and high quality cycling network, suitable and safe for use by people of all ages and abilities. We want to provide safe, accessible and integrated cycling facilities that give people a genuine choice about whether to travel in their car to get on a bike instead. If we can encourage more people to use their bikes for local journeys then this should also improve the flow of traffic for drivers travelling longer distances."

New cycle lanes will be created at motorway Junctions at the following locations in the North West:-

► M6 Junction 29, Blackburn.
► M53 Junction 4, Bebington.
► M57 Junction 2, Prescot.
► M58 Junction 1, Maghull.
► M58 Junction 4, Skelmersdale.
► M60 Junction 13, Worlsley.
► M62/M57 interchange, Tarbock Island.

The investment in cycling schemes supports the government's ambition to encourage walking and cycling so that it becomes normal for short journeys or as part of a longer journey. More details on Highways England's Cycling Strategy are available online.

Trainee teacher publishes kids' book to support Brain Tumour Research after father's diagnosis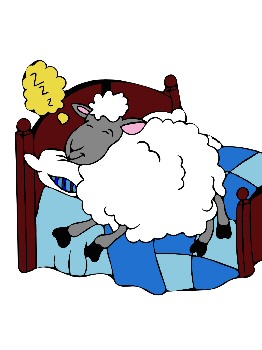 TRAINEE teacher Nicole Proffitt is making her publishing debut with a children's picture book which will be sold in aid of the Brain Tumour Research. Nicole, 20, of Wigan, has been inspired to create the volume after her father's diagnosis and treatment with 3 brain tumours.

Profits from the book:- "Slade The Sleepy Sheep", will be split between the national charity Brain Tumour Research and helping to support the family, which is living under reduced circumstances since her father Richard first became ill in 2003.

Nicole, a former pupil at St John Fisher Catholic High School, who is currently studying to become a teacher at Edge Hill University, Ormskirk, said:- "Seeing my dad being so poorly has really made me want to do something positive to help him and others like him. Brain tumours kill more children and adults under the age of 40 than any other cancer... yet just 1% of the national spend on cancer research has been allocated to this devastating disease. I will be donating 50% of the profits of my book to this very worthwhile cause with the other half helping our family finances."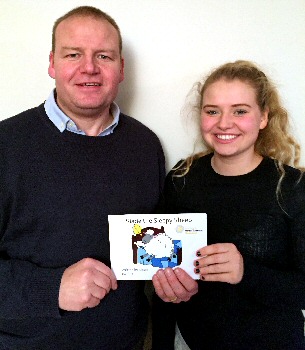 Her dad was formerly a transport supervisor, but like many, brain tumour patients, has been unable to drive since his diagnosis. He now works as a postman. Mum Amanda, 48, an accountant, also supports son Jack, 16, a pupil at St John Rigby College, Wigan, as well as Nicole and looking after her husband.

Richard was 1st diagnosed with a brain tumour after suffering headaches. A scan revealed a tumour the size of a kiwi fruit. Although this was successfully removed, he has suffered 2 further recurrences and undergone a number of surgical procedures. "At the moment my dad is doing OK although he has been left with epilepsy and disturbed vision. I wanted to do something to help, so I set my mind to creating this book which I will be self publishing." said Nicole.

In the book, Slade the sheep is too sleepy to go to school but when his parents eventually convince him he must go, he discovers a whole world of adventures and new friends. Written as a rhyming narrative, it is illustrated by Nicola Hayes, who is currently studying Fine Art at Liverpool Hope University.
Slade the Sleepy Sheep is priced £6.00 and can be purchased online at:- SladeTheSleepySheep.com.

Sue Farrington Smith, Chief Executive of Brain Tumour Research, said:- "We are striving to fund a network of seven dedicated research Centres whilst challenging the government and larger cancer charities to invest more in brain tumour research. We admire Nicole's creative approach to help her dad and others like him. Help us fund the fight. Together we will find a cure."

Brain Tumour Research helps fund an annual £1 million programme of research at its Centre of Excellence at the University of Portsmouth. Further partnerships announced last year with Plymouth University, Queen Mary University of London, and Imperial College pave the way for a £20 million investment in brain tumour research over the next 5 years.