Residents in the North West most likely to treat themselves on a Saturday afternoon
RESEARCH reveals residents in the North West treat themselves for everything from bad days in the office to pay day. Whether it is because of bad weather or a hard gym session, residents in the North West are partial to a little self-indulgence to reward themselves. This self rewarding behaviour is totalling up to more than a £2,166.72 spend a year on treats, according to new research from TopCashback.co.uk.

The study found that consumers spend an average of £180.56 each month treating themselves for everything from waking up on the wrong side of the bed and not feeling well to having a productive week. The majority of residents in the North West (75%) tend to treat themselves, on average, twice a week with the most popular time for a little self gratification being a Saturday afternoon.

Perhaps somewhat unsurprisingly, the most popular form of self indulgence is alcohol. Heading to the pub for a pint of beer or relaxing at home with a glass of wine comes in as the top treat for a bad day at work (24%), a productive week (20%), and a hard gym session (9%).

With the January blues setting in and cold nights not letting up, hibernation has officially gripped the nation. 19% of residents in the North West claim their favourite way to entertain themselves when bad weather hits is a new DVD, switching from nights out on the town to cosy nights in on the sofa. Sticking with snug treats, 41% of those feeling under the weather prefer to pull the covers over their head and spoil themselves with a lie in.

When it comes to being in a bad mood, around 17% of residents pander to tasty treats, listing chocolate as their ultimate pick me up. Boredom also sees consumers turning to food as a source of comfort with 17% saying goodies such as crisps and cupcakes fill the void when they are feeling disinterested or fatigued.

The research also reveals that residents in the North West look to retail therapy for a treat. 26% of consumers find most satisfaction in hitting the shops when they get paid at the end of the month. Buying new clothes and accessories is also the top treat for 41% of those who have lost weight.

The carrot on the stick for residents in the North West who have achieved a specific goal such as hitting a savings target, passing a test or getting a new personal best, is heading out for dinner with family and friends (24%).

Despite spending a hefty amount of money on treats, residents see it as a justified spend with the majority feeling happy and content with their indulgent choices. 12% confess to feeling guilty. Of the small percentage of consumers who say they don't treat themselves at all (12%), 43% say it's because they're sticking to a savings budget and 23% say they're simply too busy.

Hot bubble baths, massages and holidays were amongst the top 'treats of all time' for Brits... Those in Merseyside feel the most guilty about treating themselves (26%), compared to those in Greater Manchester who see no harm in a little indulgence (10%).
Southport's Mad Dog 10k is heading back for 6th year!
IF you like to run, take note as the Southport Hesketh Round Table Mad Dog 10k returns for the 6th year on Sunday, 7 February 2016. The challenge is a firm favourite with budding athletes, attracting around 2,500 entrants each year. Skelmersdale based Salads to Go, part of the popular bagged salad brand and headline sponsor Florette, will also be entering a team into the race, with preparation already well underway. Ideal for beginners through to pros, the run will start at 10.40am, from Marshside Road, Southport, with the course taking runners along the Southport's shoreline. Niki Webster, marketing manager at Forette, said:- "This year's Mad Dog 10k is set to be bigger and better than ever, and 'Team Florette' is already looking forward to joining local runners on the start line at this feelgood event!"

The Mad Dog 10k has been crowned Best 10k Race in the UK by a range of running organisations throughout the years, including Runners World and the National Running Awards. It is organised by the Southport Hesketh Round Table, with proceeds from the race donated to local charities. Race Director, Adrian Shandley, of the Southport Hesketh Round Table, adds:- "The dedication and enthusiasm of the local community is what makes this 10k run such a special event, and year after year, there's a real buzz around the course. We look forward to seeing 'Team Florette' and our other local runners in action on the day."

For more information on the Mad Dog 10k, please visit:- MadDog10k.Co.UK. Plus if you are taking part, please let us know via emailing us to:- News24@SouthportReporter.com.

Bluebell Lodge opens to take pressure off A&E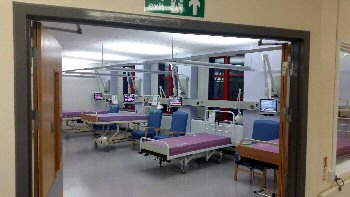 A new ward opened at Ormskirk Hospital this month to provide extra beds for patients over winter. Up to 22 patients can be accommodated at Bluebell Lodge in what was an unused ward. Contractors worked round the clock on the £120,000 project to ensure it was ready for cleaning and furnishing just before Christmas. Bluebell Lodge is for patients who are ready to go home from Hospital at either Southport or Ormskirk, but whose care package or other arrangements are not yet in place. No patient will spend more than 3 days there and care will be led by nurses.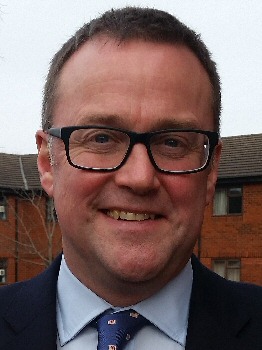 Simon Featherstone, Director of Nursing at Southport and Ormskirk Hospital NHS Trust, said:- "Like many Hospitals we often have patients whose discharge is delayed because the continuing care they need isn't ready at home. These delays reduce our bed stock, slow the admission of new patients and put pressure on care in A&E. Bluebell Lodge is a key plank of our winter plan. It keeps patients ready for discharge safe and cared for while freeing up valuable medical beds for those who need them."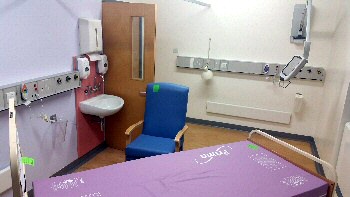 Simon added that everyone has a role in keeping Hospital care for people who really need it. "Coughs, colds, sore throats, upset stomachs, general aches and pains, and flu will usually clear up on their own. Keep warm, drink plenty of fluids and, if appropriate, treat with over the counter painkillers such as paracetamol. You should contact a GP or the GP out of hours service for help with injuries or illnesses that won't go away."

A&E was for people facing emergencies and life-threatening situations such as serious accidents, serious burns, breathing problems, heart attacks and strokes. Simon added:- "That's why you might be better examining your options 1st and choosing another NHS service; or even treating yourself."

Alternatively, West Lancashire Health Centre at Ormskirk Hospital is open from 8am to 10pm, all year round. Skelmersdale NHS Walk in Centre at The Concourse is open from 7am to 10pm weekdays and 9am to 5pm, on weekends. Plus local pharmacies and NHS Choices are also a good source of information and advice.