Are you going to the Candlemas Coffee Afternoon, in aid of Clatterbridge?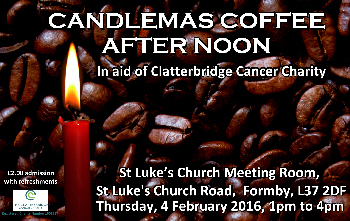 A coffee afternoon has been arranged in aid of Clatterbridge Cancer Charity. (Charity No. 1051727) This will be held on:- Thursday, 4 February 2016, between 1 to 4 pm. The Venue is St Luke's Church meeting room, adjacent to the Church in St Luke's Church Rd . Formby, Merseyside L37 2DF. Admission price:- £2 on the door and includes refreshments. There will also be a raffle with a variety of donated prizes and other activities. Please do come along and help us aid a charity which gives much needed help to those facing difficulties occasioned by cancer, and to their families... If you can display a poster, please click here, print out and put it up, to help spread the work. Also please visit our Facebook Event Page and say you plan to attend!
Christmas drink and drug driving campaign results now in
MERSEYSIDE Police are pleased to announce that the majority of motorists in Merseyside drove responsibly over the Christmas period. During the Christmas drink and drug driving campaign that ran from 1 December 2016, until 31 December 2015, Officers carried out a total of 7,925 breath tests and arrested 224 people for drink or drug driving related offences. It is the 1st Christmas drink and drug drive campaign since legislation was introduced in March 2015 to make it easier for Police to tackle drug drivers. The law made it illegal to drive with certain drugs above specified blood levels in the body whether driving is impaired or not. These limits are set at very low levels for 8 illegal drugs, including cannabis and cocaine, and 8 medicines that have been set at a higher limit. Merseyside Police have been using roadside testing kits to trace drugs in drivers. If the test result is positive, a blood or urine sample is taken, with no need to call a doctor to confirm the presence of a condition due to drugs. Sergeant Paul Mountford, from the Roads Policing Unit said:- "I am really encouraged to see that 98% per cent of the people we tested were driving responsibly. However, it is disappointing that we have seen a slight increase in motorists drug driving or over the drink drive limit. While they represent a small minority of drivers, I cannot stress enough the danger that these people present, not just to themselves, but to other road users too. We are committed to tackling drink and drug driving throughout the year, not just during the Christmas period. Any driver involved in a road traffic collision, or who commits a traffic offence, can expect to be breathalysed at any time in the year, and may be required to perform an impairment test. During the month long campaign, 66 people were arrested on drug driving offences. This was largely the result of the new drug driving legislation and shows a significant increase compared to last year when there were only 8 arrests. A total of 158 people were arrested for drink driving; a decrease on last year when 207 were arrested. Again, it's encouraging that people have listened to our messages over the Christmas period. However, the overall figures for 2015 do indicate an increase in drug driving. We made 325 arrests in 2015, compared to 110 arrests in 2014. Drugs were found in 98% of the specimens that were submitted to the forensic labs (between March to November 2015) and 73% of those cases resulted in drivers being prosecuted. The current drug driving legislation makes the process of prosecuting drug drivers much simpler. Our message to those drivers would be don't risk it. The consequences of being caught can be long lasting and life changing. We will remain vigilant throughout 2016 to detect those drivers who present a risk to others."

St Luke's Church work set to be completed faster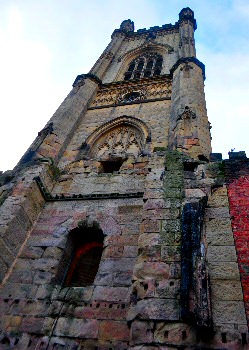 A half a million pound scheme to repair the crumbling stonework of St Luke's 'bombed out' Church in Liverpool is set to be completed by the end of 2016. The 1st Phase of the work, costing £150k and funded by Liverpool City Council and Historic England, is already underway to safeguard the future of the much loved landmark.

Now a report to the council's Cabinet on Friday, 22 January 2016, is recommending that; subject to securing funding from Historic England; work on further phases costing an addition £350k are completed by November 2016, rather than being phased over the next 2 years as originally planned.

Speeding up the work will be more cost effective and mean that the new operator that will be appointed to run events at the venue will not face ongoing disruption.

The majority of the 6,300 people who responded to a recent consultation over the future of the Church were supportive of limited development and events taking place at the site including the installation of toilets, food and drink facilities, seating and a performance area.

Cabinet Member for Regeneration, Cllr Malcom Kennedy said:- "There is a great love for St Luke's Church, demonstrated by the incredible response we had to a consultation last year over its future use. We really want to give the new operator that is appointed the best possible chance to establish an events programme, and finishing the work before they start will mean they can plan without being constrained by repair work going on. This is a really exciting time for St Luke's Church as we are determined to secure its future and make sure that future generations can continue to visit it and enjoy it."

The next phase of work is expected to start in April and will include repairs to the tower, lower level stonework and perimeter railings.

In February, the City Council will invite expressions of interest from operators to run the site with the successful applicant having to demonstrate that they can offer a viable future in line with the results of the public consultation.

A new operator is expected to be appointed in the summer, with repair work completed in November and the building reopening to the public by the end of 2016.

The cost of the work is being split between Liverpool City Council and Historic England.