EasyJet Delays Dealing with Delays
"LOW cost carrier EasyJet is continuing to make it as hard as possible for its passengers to obtain compensation when their flights are delayed." reports passenger delay specialist Fairplane UK. EasyJet recently announced a business milestone when it flew its 45 millionth passenger, but does not normally respond to requests from its customers for compensation; instead it waits for court proceedings to be issued.

Unless there are exceptional circumstances, airline passengers are generally entitled to fixed statutory compensation of between €250 and €600 if their flight lands more than 3 hours late, and airlines are under a duty to let their passengers know about their right to this payment. In FairPlane's experience however, when Easyjet receives a claim, it almost always ignores it, and customers are forced to sue in the courts if they want to recover their compensation. Not surprisingly, many give up and never receive recompense for a flight which may have landed many hours late or have even been cancelled.

Daniel Morris, Director at FairPlane UK, commented:- "We have an enormous number of live cases against EasyJet and we have been in regular contact with them. In some cases EasyJet have even confirmed in writing that they owe this money, and have agreed a timescale to pay it, but have simply failed to do so. I find it disheartening that EasyJet are announcing milestones highlighting the loyalty of its passengers and yet feel it is in order to fail to pay a debt to the very same people who use their airline."

He went on to say:- "There are even 1 or 2 cases where we have needed to instruct the court bailiffs to seize goods from EasyJet's headquarters. It sounds ridiculous, but it is the only way that we can obtain compensation for passengers within a reasonable timeframe. We are simply looking to provide everyday travellers with money that is rightfully theirs."

EasyJet, despite having a net income in 2014 of £450 million, appears in some cases to be doing all it can to resist paying compensation amounts ranging from £190 to £450, and there is concern that the airline may have lost sight of its need to retain customer loyalty.

Under EU regulations, passengers who suffer a 3 hour flight delay or flight cancellation are entitled by law to fixed levels of compensation. The trouble is, airlines often don't pay despite them being liable. Indeed, airlines often come up with invalid excuses not to pay the EU delayed flight compensation sums at all.
Dare to wear your onesie for Blind Veterans UK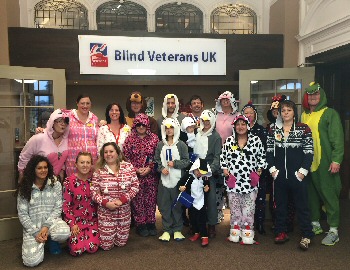 A local military charity is inviting people to:- 'Zip up and Carry on' this February by wearing their onesie to work, school, or the local shops.

Staff and volunteers at Blind Veterans UK's Llandudno Centre are looking for individuals, schools, colleges and local businesses to support the work done at the centre by wearing onesies during the 3rd annual:- "Wear Your Onesie Week." They will be leading the way by daring to wear their onesies between 11 February and 18 February 2016.

Blind Veterans UK was founded in 1915 and the charity's initial purpose was to help and support soldiers blinded in World War I. But the organisation has gone on to support more than 35,000 blind veterans and their families, spanning World War II to recent conflicts including Iraq and Afghanistan.

Victoria Beech, Regional Fundraiser at Blind Veterans UK, says:- "Wear Your Onesie Week is a fun way to raise funds for Blind Veterans UK while being comfy in your workplace, classroom, living room or wherever you dare to wear your onesie."

To pre-register and receive a pack including sponsor forms, poster templates and collection boxes, contact Blind Veterans UK before Friday, 5 February 2016.

Or simply post a picture 'Wearing your Onesie' by snailmail or on the Blind Veterans UK Wales Facebook page and make a donation of £1 per person on the Just Giving Page.
Contact Victoria via email or call her on:- 01492 864574 for more information or to pre-register. wearing onesies, visit the Blind Veterans UK Wales Facebook page.

There's 'Snow' Better Time to Hit the Slopes with Jet2.com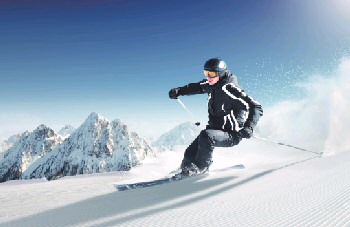 JET2.COM are 1 of the UK's leading leisure airline and they have just added extra flights to Geneva from Leeds Bradford and Manchester Airports... Jet2.com is giving eager skiers and snowboarders even more opportunities to make the most of the snow this ski season, by launching extra flights to Geneva.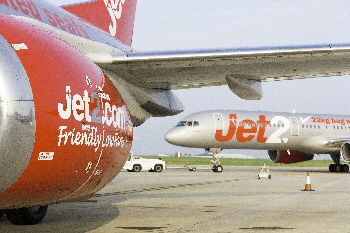 An additional Saturday afternoon flight is now operating from Leeds Bradford Airport and there is also a 2nd afternoon service available from Manchester Airport on both Saturday and Sunday. All three flights are perfect for skiers wanting to maximise a weekend break. Details are as follows:-

Leeds Bradford

► Saturday flight will be departing 15:00 and returning back to Leeds Bradford Airport 19:45. Running until 27 March 2016.

Manchester

► Saturday flight will be departing 15:50 and returning back to Manchester Airport 20:55. Running until 9 April 2016.

► Sunday flight will be departing 16:00 and returning back to Manchester Airport 21:05. Running until 10 April 2016.
Estate agents doubles fundraising target for local Children's Hospice services
LOCAL property specialist Leaders will once again support children's charity 'Together for Short Lives' in 2016 and has doubled its fundraising target after a successful partnership in 2015.

'Together for Short Lives' supports all 53 Children's Hospice services across the UK, including Zoe's Place.

Employees of the estate agents raised a total of £45,000 for the charity last year, comfortably exceeding the company's goal of £25,000. As a result, Leaders has pledged to raise a further £50,000 over the next 12 months.

Clare Tobin, chief operating officer at Leaders, says:- "Together for Short Lives is a wonderful cause and we are delighted to be supporting it again this year. Our staff really got behind the charity last year by running, cycling, rowing, abseiling, baking, skydiving and much more to raise money and we are sure they will find even more creative ways to show their support again in 2016."

Children's Hospice Week, which runs from 23 May to 29 May 2016, will be the focus of the firm's charitable efforts. All 111 Leaders branches across the Country will take part in fundraising activities over the course of the week. Staff are also encouraged to tackle personal challenges at any time throughout the year to generate funds. 2 employees have already signed up to run in the London Marathon in April and have each pledged to raise at least £2,500. Nick Appleby, corporate fundraising manager at 'Together for Short Lives' , says:- "We are thrilled to have Leaders' backing once more in 2016 and we are sure the enthusiasm and commitment of its employees will make it another successful year. Children's hospice services rely on the support and fundraising efforts of companies like Leaders to deliver specialist care to seriously ill children and their families."

All 1,000 plus Leaders employees have been given permission to take a day off work in 2016 to volunteer at their local Children's Hospice.