Liverpool's Colin Vearncombe (aka Black) has died
PROMOTER Manilla PR have informed us of the death of Colin Vearncombe, who never regained consciousness following a road traffic accident that he had earlier this month. Colin died peacefully, on Tuesday, 26 January 2016, surrounded by his family who were singing him on his way. His wife Camilla and his 3 sons paid tribute to the staff at the Intensive Treatment Unit of Cork University Hospital saying:- "Colin received the best possible care from the expert and highly professional staff there and we are deeply grateful for everything they did. The funeral will be a private one, but we will be holding a memorial service for him in Liverpool in the near future as we know there are many, many people who will want to celebrate Colin's life and work. The date and time will be announced in due course, along with details of a charity to which any donations in memory of Colin can be made." They also added:- "No need to laugh or cry... It's a wonderful, wonderful life..."

Colin Vearncombe enjoyed mainstream success in the late 1980's under the name Black when 'Wonderful Life' became a massive hit worldwide. The album of the same name, released in 1987, had similar success, reaping commercial, critical acclaim and in the process selling over two million records worldwide with Comedy (1988) and Black (1991). In 1991 he launch his owned independent label Nero Schwarz. 15 albums followed in the intervening 25 years. His most recent album:- 'Blind Faith', was funded by a popular crowd funding campaign. Released in the summer of 2015 it received glowing reviews across the press, including 4 stars in The Guardian and showed the Liverpool born singer was back to his creative best. The Guardian said:- "Blind Faith is an album by a man very much in control of his gifts."
You can see the video's to the double A single 'Womanly Panther / When It's Over' from the album 'Blind Faith' released last year at:- 'Womanly Panther' on YouTube and 'When It's Over' on YouTube.

In the past 3 years Vearncombe had made a successful return to touring, having completed 5 headline tours in the UK as well as across Europe. His most recent TV appearance was in November 2015 when he recorded a Catalan version of Wonderful Life as a fundraiser for the Catalan telethon La Marató de TV3. His recording has helped raise over seven million pounds for the charity. You can see the performance on YouTube.

Other interesting pages to visit are:- ColinVearncombe.com his Facebook page and his Wikipedia listing.
Thomas Cook Children's Charity supports therapy tricycle initiative for disabled children
CAUDWELL Children, the national charity that provides practical and emotional support to disabled children and their families, has announced that it has been awarded a grant of £10,000 by the Thomas Cook Children's Charity, to provide specialist therapy tricycles for disabled children across the UK. The award will enable Caudwell Children to support 30 disabled children throughout 2016.

Julia Hayne, Head of Community Programmes, at Caudwell Children says that the equipment is potential life changing. As she explained:- "The tricycles are individually designed to meet the needs of each disabled child and they assist them in their physical development. They have been engineered to make pedalling much easier and they are extremely stable and safe. They reduce the need for painful physiotherapy; they flex, extend and stretch muscles and build muscle tone and they promote play, which gives children a renewed sense of inclusion, improving self esteem and confidence."

Caudwell Children recently supported 2 year old Ryan Cunningham, from Ebbw Vale, with the provision of a specialist tricycle. He has hemiplegia cerebral palsy, a condition that affects his movement and posture, and he doesn't have the muscle development to ride a standard bicycle.

His Mum, Cassandra, aged 28, says that the tricycle has not only helped her son, but has also had a positive impact on the whole family. She said:- "I can't really put into words what it means to Ryan. He's a very active little boy, despite being unable to walk or stand without support, and he used to get so frustrated when he couldn't go outside. So the tricycle has been fantastic and he simply loves it. He's been out peddling after his dad with a huge smile on his face. It's made everyone so happy. Now he doesn't have to sit on the sideline anymore, he can join in with his 4 year old brother Isaac and his friends. Not only that he's exercising without really noticing, ensuring that his muscle development keeps up with his bone growth."

The Thomas Cook Children's Charity was established with the intention of improving children's lives. Since 2009 it has raised more than £7 million for charities that work with children in the UK and overseas by offering customers the opportunity to donate when they book a holiday; collecting unwanted coins in store and on return flights to the UK with their airline; and through employee fundraising efforts.

Julia says that support from Thomas Cook Children's Charity is vital in ensuring the wellbeing of disabled children. She said:- "A staggering 78% of disabled children have no access to activities outside of their home, whilst 75% of families with disabled children say that they feel so isolated that it has caused anxiety and depression. This grant will ensure the health and wellbeing of other children like Ryan, and the 30 children that we support will get huge physical and emotional benefits from having a specially adapted tricycle."

You can donate to Caudwell Children at:- JustGiving.Com/Caudwell.

Joe Bonamassa to Headline Lancashire's Symphony at the Tower 2016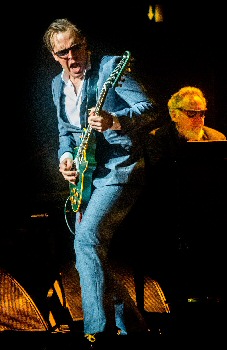 US blues and rock musician Joe Bonamassa is to headline at Lancashire's spectacular Symphony at the Tower event as part of only 5 UK dates in 2016. Billed as:- 'Joe Bonassa in Concert - A salute to the British Blues Explosion', Bonamassa will pay homage to some of the best blues rock guitarists playing the music of Eric Clapton, Jeff Beck and Jimmy Page.

The concert is part of St Catherine's Hospice Symphony at the Tower weekend at Hoghton Tower and will take place on Saturday, 2 July 2016.

Joe Bonamassa's love of the British Blues is at the heart of his musicial inspiration; and, for the 1st time, he will perform this unique concert tribute giving music fans across the North West and beyond the opportunity to hear some of the finest Blues ever produced.

"If it wasn't for certain British musicians of the early 1960s, the Blues may well never have exploded into Rock music as we know it today, and indeed may have passed into history." says Bonamassa.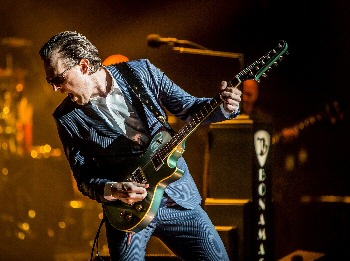 Eric Clapton, Jeff Beck and Jimmy Page are some of the greatest guitarists of their time that influenced Joe Bonamassa's career. All 3 are Yardbirds alumni, and indeed actually all played together at one time in the same band. Jimmy Page went on to form Led Zeppelin, which became the ultimate electric Blues band and both Eric Clapton and Jeff Beck became international superstars in their own right.

The announcement Bonamassa is to play Symphony at the Tower comes after it was revealed pop favourite Will Young will headline the opening night of the 3 day event, on Friday, 1 July 2016.

It will close on Sunday, 3 July 2016 with the Symphony Spectacular; a classical Proms style concert for all the family to enjoy; going back to the roots of the original event featuring a live orchestra, picnics, family fun and fireworks. Presented by music promoters Cuffe and Taylor, Symphony at the Tower, which celebrates its 21st birthday this year, is a huge fundraiser for Lostock Hall based St Catherine's Hospice with all profits used by the hospice.

Lorraine Charlesworth, Director of Income Generation at St Catherine's Hospice, said:- "We're very excited to announce Joe Bonamassa as our Saturday night act as he'll bring something a little bit different to our 21st birthday Symphony. We hope lots of St Catherine's supporters, along with rock and blues fans from across the region, will turn out for a great night of music in aid of a wonderful cause."

Cuffe and Taylor are responsible for sourcing the acts for Symphony at the Tower and Director Peter Taylor added that 2016 is shaping up to be a great event.

Peter Taylor said:- "Joe Bonamassa for Symphony at the Tower is a once in a lifetime concert experience not to be missed and, coupled with the fact it is in support of St Catherine's Hospice, this is going to be a very exciting evening."

St Catherine's Hospice 1st started Symphony at the Tower back in 1995 as a 1 day live music event. Cuffe and Taylor came on board in 2013 extending it to a 2 day event and this year it becomes a 3 day event for the 1st time.

In 2015 Symphony at the Tower celebrated its 20th anniversary while the hospice celebrated its 30th birthday.

For more information about Symphony at the Tower and to register for updates go to:- CuffeAndTaylor.com Tickets are available from Planet Rock as well as from:- SymphonyAtTheTower.Co.UK, TicketMaster.Co.UK and JBonamassa.Com, also by calling:- 0844 844 0444.

They are also available direct from St Catherine's Hospice or via:- The Mill Cafe in Lostock Lane, Lostock Hall, Preston, PR5 5XU, UK.