Midwives countdown to delivering Charity Ball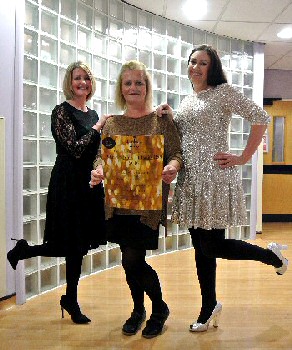 LOCAL NHS Midwives, at Ormskirk Hospital, are counting down to their grand charity ball next month. Tables and tickets are still available for the event which takes place, on Friday, 26 February 2016, at Up Holland's Lancashire Manor Hotel. All proceeds will go towards the Southport and Ormskirk Maternity Bereavement Fund which improves the services to parents who have lost a baby. Midwife Stephanie Atherton said:- "It is 1 of the most heartbreaking things for parents to lose a baby. We wanted to stage an event to help raise funds to improve our maternity bereavement suite for families who have suffered such a loss. This is such an important cause and we would love to see more support on the night. Ticket sales are going well but we would love to sell more tickets in the forthcoming weeks."

The charity ball will feature red carpet arrival, fizz and 3 course dinner. There will be live entertainment plus raffle and charity auction. Mighty Southport Radio comedy duo Dave Quinn and Trevor Ford have agreed to compere the event for free. Auction prizes include a weekend break at Hilton hotels, a match in the corporate box at Wigan FC, LFC and EFC signed items, Victoria Leisure gym membership, a hamper, and other goodies. Local businesses who want to contribute prizes can get in touch with Stephanie or Heather. Funds raised will help redecorate the bereavement suite at Ormskirk hospital and develop a memorial garden. The ball starts at 7.30pm. Tickets are priced at £34.50 and are available on:- 07544 172601.
Deacon Blue to play in open air concert at Aintree Racecourse
AN Evening At The Races and Aintree Racecourse are proud to reveal that:- "Deacon Blue" are to be the 1st act to be playing a brand new series of live concerts at the course this summer. Featuring a full headlining show, the band will be taking centre stage on Friday, 13 May 2016.

Deacon Blue are 1 of Scotland's most successful musical exports, having sold over 6 million albums worldwide. Their impressive chart record includes twelve top 40 singles and eight top 20 albums, which includes 1989's 'When The World Knows Your Name' and 1994's 'Our Town', both of which hit the #1 spot. Having originally formed in 1985, the band recently celebrated their landmark 30th year. Expect to hear many of their timeless hits including:- "Real Gone Kid", "Fergus Sings the Blues" and "Dignity" when they rock the racecourse.

Deacon Blue said:- "We're really looking forward to seeing our North West fans on 13 May 2016, at Aintree Racecourse Liverpool. It's a real treat to be performing a headline open air show after evening racing!"

An Evening At The Races' offers a value for money experience unlike any other this summer. Alongside a show-stopping headlining performance by some of the worlds biggest artists, the action kicks off earlier in the day with a 6 race card; giving fans the chance to witness powerful equine athletes who are stars in their own right, and enjoy the thrilling drama and spectacle of them racing for glory. Whether you fancy a flutter or a dance with friends and family the event is certain to be an odds on favourite for all.

John Baker, Regional Director for Jockey Club Racecourses North West, said:- "We're delighted to bring Deacon Blue to Aintree Racecourse for the first Evening at the Races that we plan to hold over the summer months. Deacon Blue is one of the most successful Scottish bands and sold millions of records worldwide so I'm sure they're going create a superb atmosphere after a thrilling afternoon of racing at the home of the Crabbie's Grand National."

The Jockey Club Live are leading promoters on the UK live scene. From delivering a spectacular line up of some of the hottest chart talent and legendary household names in 2015, this year is set to continue the incredible success. Acts already announced for 2016 include Bryan Adams (Sandown Park), Little Mix (Newmarket) and Tears for Fears (Newmarket) with more announcements imminent. The events are renowned for combining a fun filled evening at the races with a spectacular evening concert in the informal and relaxed open air setting of some of the World's most famous racecourses.

The racecourses have world class customer facilities, featuring an array of award winning restaurants that cater for all tastes, be it Fine Dining through to delicious bistro food. The Jockey Club venues welcome over 2million people a year for some of the UKs biggest racing events so you can be sure a fantastic evening.

Tickets can be obtained via the Jockey Club's website, with a presale available to customers on Tuesday, 19 January 2016.

Tickets are priced starting at:- £30 adult /£15 child (under 18).

Please note child tickets are limited. All TandC's are available on online. There will be hospitality packages available to suit all budgets. Join in the conversation online with the tag #JCLive16. In addition to Aintree, The Jockey Club Live will be hosting live concerts across:- Newmarket, Epsom Downs, Haydock Park, Market Rasen, Carlisle, and Sandown Park racecourses this summer.
People with sight loss in Southport invited to attend free online skills session
RNIB's Online Today project will help people with sensory loss get online... Blind and partially sighted people in Southport are invited to attend a free online basic skills session to help them get online and benefit from technology. The event is part of RNIB's Online Today scheme to get 125,000 people with sensory loss online. The workshop is being delivered by partner organisation Action for Blind People, at Galloway's Society for the Blind, 22 Wright Street, Southport on Wednesday, 10 February and Wednesday, 24 February 2016, from 2.30pm to 4.30pm on both days. Anyone with sight and/or hearing loss is welcome to attend on one of the days. The session will include how to get the most from products such as tablets, smartphones and eReaders. There will also be the chance to be hands on and try out these gadgets and ask questions. Internet use in the UK has significantly increased over recent years with 76% of adults accessing the internet every day in 2014, compared to just 38% in 2006. Millions of us rely on the internet for everyday tasks such as shopping, banking and staying in touch with friends and family. However, getting online and using technology can present many challenges for someone who is blind, partially sighted or has hearing loss.

Andrew Coleman, Assistive Technology Coordinator at Action for Blind People, said:- "Being online can make a huge difference to someone's life. We hope people with sight or hearing loss in Southport will come along and find out how technology can open up a whole new world of discovery and independence."

To find out more and to book your place call Carl Moore on:- 01704 534555 or send them an email to:- carl.moore@galloways.org.uk. You can also learn more about Online Today by visiting:- RNIB.Org.UK/OnlineToday.

Pride Liverpool stands up in 'celebration of LGBTQ Sporting stars'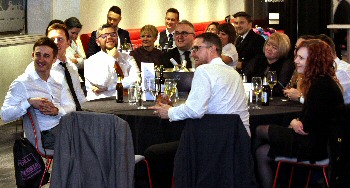 PRIDE in Sport the inaugural celebration of LGBTQ Sporting Personalities and their Allies, was held last night at Liverpool Football Club (the 1st premiership football club to officially march at a PRIDE event) showcased role models from across the multi disciplines of sport.

With a number of LGBTQ sporting stars in attendance Claire Harvey, Paralympian; Sophie Cook, the Premiership's first Trans Photographer; Suzanne Smith and Nicola Hobbs, FA Women's' Super League, Philippa Tulliett, Welsh Rugby Player, Sally Walton, GB Hockey Bronze Medallist and semi-professional boxer Debbie Mills, together with over 100 members of Liverpool's diverse community, both young and old alike, celebrated the visibility of high achieving LGBTQ athletes and the message that their choice to come out sent to whole of Merseyside and beyond.

Inspirational speeches from keynote speakers Sophie Cook, Barclays Premiership's 1st Trans Photographer and Paralympian Claire Harvey told of the importance of being true to oneself and how transferable skills in sport can help when faced with adversity in other areas of life.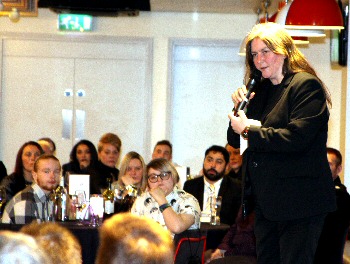 Sophie Cook gave a heart warming account of her transition to an out and proud transgender person working within the Sports industry, as the official photographer of AFC Bournemouth. Having initially decided not to come out, just in case the news affected her team's chance of progressing to the Premier League, Sophie, then living by the name of Steve, thought that making the decision to tell her employers that she was transgender would mean the end of her sports photography career.

Sophie couldn't have been more incorrect, having received full support from her club, her friends and her family. This story has a very positive ending and Sophie is very happy as an out transgender person working within the sports industry. A thought from Sophie's 12 year old daughter summed up the feeling "You are my hero. Steve was good but Sophie is better."

Sitting volleyball Paralympian Claire Harvey added in her equally inspirational speech, that she had spent a lot of her career trying to fit in. It was within a team, where individuals work together for a common goal, that Claire found her place. It was in sport (originally Rugby) where Claire fitted. Having experienced a life changing accident in 2008, where Claire lost the use of her legs, Claire switched her sport to sitting volleyball and again found herself in the situation, questioning whether to come out to her new team.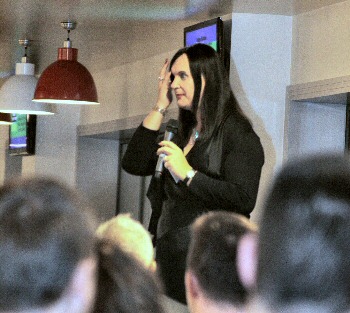 In a speech full of wit and humour, Claire received a huge round of applause after the account of her experience as one of only two out LGBTQ team GB Paralympians together with her call for everyone to be inclusive. "It is your responsibility to consciously include all members of society because if we don't consciously include we unconsciously exclude." she urged.

Deputy Mayor Ann O'Byrne said that we must have visible LGBTQ role models within sport to:- "inspire the next generation" and that we:- "all have a role to play."

Liverpool Pride's Joan Burnett and Diversity Role Model's Phil Nicol, spokespeople for the charities benefitting from the evening's fundraising activities, echoed the message of Claire, Sophie and Ann adding that we can all be role models within our community.

A representative from headline sponsors Amy Stanning Co-Chair of Barclays Spectrum (LGBT Colleague Network) said:- "Barclays is proud to sponsor this inaugural event celebrating LGBT role models in sport. Barclays supports diversity and inclusion in all aspects of society as people give of their best when they can be themselves. Barclays is a leading employer in Liverpool, last week opening its refurbished Wavertree Centre for 1300 colleagues."

Additional sponsors include Co-operative RESPECT, Football v Homophobia, Broken Rainbow, PurpleTie Promotions, Hannah MacKenzie and the British LGBT Awards. Planet L Event's holistic approach ensured engagement of both local and national sporting personalities, Corporate Social Responsibility and LGBT youth and organisations; in a bid to be inclusive, eradicate discrimination and bring people together through the power of sport.

Phil Nicol together with drag performer Cheddar Gorgeous glamorously auctioned donated items by Barclays, Everton FC, Sue Perkins (TV Presenter), Claire Balding (Broadcaster and Presenter), Debbie Mills (Boxer), Kellie Maloney (Boxing Promoter), AFC Bournemouth, Liverpool Football Club, Sally Walton, Wigan Football Club, Claire Harvey (Paralympian) and The Smith Brothers (Boxing) and together with a raffle, the evening raised over £1000 to be shared between Liverpool Pride and Diversity Role Models.

Emma Baldry event organiser form Planet L Events said:- "I am thrilled with the success of tonight's event and thank everyone who helped to make evening such a wonderful occasion. We plan to make Pride in Sport an annual event and already have plans for 2017 and 2018. Continuing to celebrate the achievements of LGBTQ athletes in sport is very important for society in general, but sport in particular in order to readdress the balance of equality. Everyone should be able to compete at their chosen level regardless of sexuality and we will work tirelessly until the only factors that matter when it comes to sport is aspiration and dedication."