A Gala Opera Concert

ST. George's Hall is being transported to a world of opera to celebrate the 20th anniversary of Una Voce Opera Company, with a special Gala Opera Concert featuring the voices of internationally renowned singers.

The Gala Opera Concert, with piano accompaniment, will reflect Una Voce's past productions as well as some classic opera favourites in the splendour of St George's Concert Room on Saturday, 12 March 2016.

A whole host of singers will perform as part of the anniversary concert, carefully selected by Una Voce to guarantee a fine evening of opera. Featuring Mezzo soprano Natasha Agarwal, Eilin O'Dea, a successful world class actress and Soprano, they both join up and coming Tenor, Benjamin Sweeney, who has performed a variety of roles across Europe and Russia and Darwin Leonard Prakash, Baritone singer, who brings a new style to the concert after making his debut with UVOC in 2015.

Eilin O'Dea, a classically trained singer, is sure to be the star of show as she is best known for her performance of James Joyce's iconic Molly Bloom, which she has performed across Europe as well as many other productions. Her love of music has influenced many of her performance choices and, ultimately, her wish is to combine both abilities by performing opera, which represents the ultimate merging of both arts.

Young and fresh talent will be welcomed to the stage for some jaw dropping performances; starring Soprano singer, Natasha Agarwal. The 19 year old singer has already won many awards such as 'Liverpool Voice of the Year' and 'Young Singer of the Year' at the Alderley Edge, Blackpool and Huddersfield Music Festivals. Her roles have included Dorothy (Wizard of Oz), Cosette (Les Misérables) and Christine (The Phantom of the Opera) as well as many breath taking performances across the UK. Ehren Agarwal, who is just 14 years old, will also entertain with his saxophone, bringing beautiful music to the event. Ehren takes part in school productions and is a member of the Concert Band, the Swing Band and the Sax Quartet. The Merchant Taylors' school student is a global superstar in the making as he also won the Instrumental Class at Southport Festival last year as well has many other awards from the age of 10.

The singers will appear by kind invitation of Dr. Robert Alderson, Una Voce's Vocal Advisor. All singers will be accompanied and directed by the international Pianist, John Peace, a former member of the Liverpool Chamber Music Group in the 1980's. John has performed in a variety of Liverpool venues such as the Philharmonic Hall, Liverpool Cathedrals and Liverpool Parish Church.

The company was founded by the McAulay Family and Friends on 26 September 1996, with the mission of:- "bringing opera to all and all to opera at affordable prices and in accessible venues" whilst educating and entertaining the public and giving singers a platform to express their art and demonstrate their voices. Since that time, Una Voce Opera Company has produced 8 fully staged Operas and one musical play, featuring professional principals, semi professional singers and the Una Voce Chorus. This production will feature classical favourites as well as young and fresh talent so don't miss this special evening of opera. For further information, please visit:- StGeorgesLiverpool.Co.UK.


In the past 3 years, Vearncombe had made a successful return to touring, having completed 5 headline tours in the UK as well as across Europe. His most recent TV appearance was in November 2015 when he recorded a Catalan version of Wonderful Life as a fundraiser for the Catalan telethon La Marató de TV3. His recording has helped raise over seven million pounds for the charity. You can see the performance at on YouTube. Other interesting links:- ColinVearncombe.Com, Facebook and Wikipedia.
Witnesses wanted following assault in Litherland, Sefton
MERSEYSIDE Police in Sefton are appealing for witnesses following an assault in Litherland on Sunday, 24 January 2016. At about 7.30pm Police received reports of an assault near the roundabout at the junction of Moss Lane and Kirkstone Road North. The 47 year old victim was taken to hospital and is being treated for an injury to his neck consistent with a knife wound. His condition is described as stable. A forensic examination of the scene is taking place and CCTV opportunities are being explored. House to house enquiries will also be carried out. There are a number of temporary road closures took place to allow investigations to be carried out. Detectives are appealing to anyone who may have witnessed the incident, or who has any information which could help them with their inquiries to contact Sefton CID on:- 0151 777 3833, or Crimestoppers on:- 0800 555 111.

Tentacular Spectacular! Houdini of the seas to land in Manchester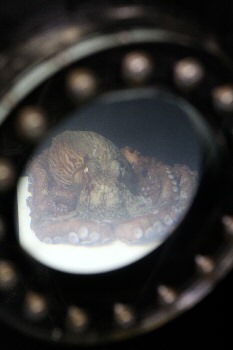 SEALIFE Manchester's newest resident, Hank, is different to most as there's not a fin in sight. Instead he has 3 hearts, blue blood, 8 arms and is 1 of the marine world's most intelligent creatures; a Giant Pacific Octopus.

Hank is the starring member of the brand new Octopus Hideout exhibit that will be opening at the family favourite attraction in time for February half term and will give visitors a unique opportunity to come face to sucker with a collection of super brainy, multi legged creatures, including the Giant Pacific Octopus and his cuttlefish cousins.

Providing a real insight into the lives and intelligence of these quirky creatures, Octopus Hideout takes visitors on a journey into the deep, where they can marvel at the fascinating antics of these incredible cephalopods and try to spot the octopuses as they disguise themselves in their new home, fitting into spaces that didn't seem possible!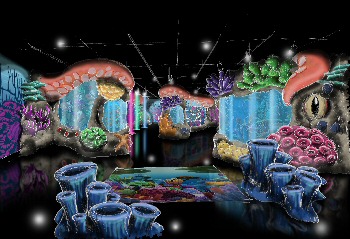 Among the new residents, pride of place will be given to perhaps the brainiest of them all; Hank. One of the biggest octopus species in the world, the Giant Pacific Octopus can weigh up to 50 kg and can grow to a huge 5 m in length! In addition to its jaw dropping size, these invertebrates are unbelievably smart; solving mazes and opening jars, disguising themselves along the way by matching their skin to the colour, pattern and texture of the environment surrounding them. They can even grow spikes in a fraction of a second! James Thomas, General Manager at SEA LIFE Manchester commented:- "Hank received a warm welcome from all the team here at SEA LIFE Manchester and already he has taken quite a liking to Dan, our Curator here at the attraction! We're sure he's going to be a firm favourite with visitors."

Alongside Hank, Octopus Hideout will house the jet propelled, gas fuelled prehistoric nautilus; a primitive octopus in a spiral shell that uses its own bodily gases to propel itself around! Visitors will also not want to miss the cuttlefish, a captivating type of mollusc which can change colour to give itself the perfect camouflage against any background or the teeny tiny Atlantic Long Arm Octopus, a small sea creature with arms longer than its 90 millimetre body! With specially designed tanks, brightly coloured and reminiscent of the psychedelic 60's, visitors will be able to test their own wits with challenging puzzles and interactive features, illustrating the unique talents of the octopus family. James added:- "We continually strive to offer something new and exciting for our visitors to enjoy and Octopus Hideout really is one of the best feature exhibitions we've ever had. It gives people the opportunity to see these fascinating creatures up close too. We want to help educate and inform our guests about the challenges these creatures face in the wild whilst getting to see some of their incredible skills as they thrive in their carefully created environment. We can't wait to see the reaction from visitors when the octopuses use their master skills of disguise and escape to fit through holes as small as a ten pence piece!"

The Manchester based attraction is home to hundreds of creatures including a shiver of different shark species such as Black Tip Reef Sharks, family favourite Ernie, a Giant Green Sea Turtle and an incredible bay of rays, which is home to beautiful Blue Spotted Stingrays.

For further information or to pre-book tickets online. Reduced prices are available for tickets booked in advance.