Hospital fundraisers launch largest dish of Scouse World Record attempt!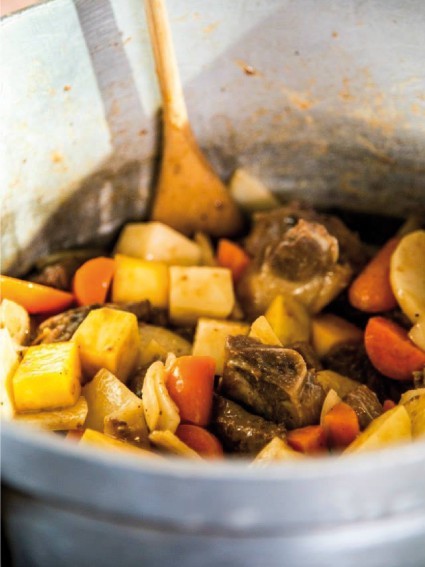 CHARITY fundraisers at the Royal are launching a world record attempt to create the biggest ever batch of Scouse, served up to staff, outpatients and visitors on 1 February 2016.

Hospital catering firm ISS will cook up 500 portions of steaming Scouse, using 35kg of steak, 20kg of chopped onions, donated by Prescott Farm Produce, near Ormskirk, and 20kg of carrots and 50kg of Maris Pipers, donated by Church View Farm, in Lydiate. Liverpool Community College will also donate freshly baked bread loaves.

Serving the Scouse from a bubbling pan in the restaurant of the Royal Liverpool University Hospital, will be the Lord Mayor of Liverpool Councillor Tony Concepcion, Royal Liverpool and Broadgreen University Hospitals NHS Trust Chief Executive Aidan Kehoe, senior staff from Hospital Caterers ISS and the R Charity mascot Roy of the Royal. Scouse will be served 12.30pm to 1.30pm, in exchange for a suggested donation.

The Lord Mayor of Liverpool, Cllr Tony Concepcion, said:- "Scouse is a dish very close to the heart of the people of Liverpool, especially in the chilly month of February. This is a wonderful opportunity to serve up steaming dishes of Scouse to patients, families and supporters of R Charity at the Royal Liverpool University Hospital, and fundraise to make the new Royal even better."

Leanne Williams, research and development support at caterers ISS, said:- "We've all been really excited to get involved with the 1st ever world record attempt to create the World's largest batch of Scouse, and to work hand in hand with such a great cause. Hopefully we can inspire others to join in the fun and together raise money and awareness for R Charity."

Aidan Kehoe, chief executive of Royal Liverpool and Broadgreen University Hospitals NHS Trust, said:- "This is the launch of our month long Scouse at R House, fundraising campaign. So come along to see how it's done and get inspired to hold your own event and help us reach our £10m target to offer patients facilities beyond those that NHS funds can provide."

To register for your Scouse at R House pack or to find out more contact the fundraising team via email or call them on:- 0151 706 3150.
Public urged to use A&E wisely
HOSPITAL officials are urging people to avoid using A&E unless their condition is serious or life threatening. Southport and Ormskirk Hospital NHS Trust is experiencing a high demand for Hospital beds. This is resulting in some patients experiencing long delays in A&E and in waiting for admission to a Hospital bed. In these challenging circumstances, anyone thinking of using A&E should examine their options carefully and consider using other NHS services.
Jeanette Abraham, Assistant Director of Operations, Southport and Ormskirk NHS Hospital Trust said:- "We are experiencing a high demand for Hospital beds. We urge people to use A&E wisely and think carefully before calling an Ambulance. A&E is for people facing life threatening and serious emergencies such as serious accidents, serious burns, breathing problems, heart attacks and strokes. Coughs, colds, sore throats, upset stomachs, general aches and pains, and flu will usually clear up on their own. Keep warm, drink plenty of fluids and, if appropriate, treat with over the counter painkillers such as Paracetamol. Contact a GP or a GP out of hours service for help with injuries or illnesses that won't go away. Alternatively, West Lancashire Health Centre at Ormskirk Hospital is open, from 8am to 10pm all year round. Skelmersdale NHS Walk in Centre at The Concourse is open, from 7am to 10pm, on weekdays and from 9am to 5pm, on weekends. Local pharmacies and the NHS Choices website are also a good source of information and advice. We would also always ask people to 'Choose Well' when it comes to selecting the most appropriate health services for their need."

AMAZON Prime Now launches in Liverpool and surrounding areas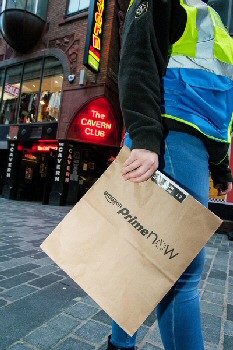 PRIME Now Expands; 1 Hour Delivery on over 15,000 Items now available for Prime Members in Liverpool and surrounding areas...

Amazon's ultra fast delivery service is available to customers in selected areas in Liverpool including:- Knotty Ash, Stoneycroft and Garston 2 hour delivery windows available in Birkenhead, Warrington and Wigan...

Prime members in selected postcodes can order daily essentials from fresh milk and batteries to the latest video game or Kindle delivered right to their door in an hour or less.

Customers in Liverpool can choose from more than 15,000 items with Prime Now, including essentials such as nappies, coffee, chocolate and fresh milk, as well as other popular items like games consoles, toys, gifts and sports equipment, all via a simple and easy to use mobile app. Prime Now customers in selected postcodes can choose delivery within 1 hour of ordering for £6.99, or free delivery within a choice of 2 hour, same day delivery slots between 8am and midnight, 7 days a week.

"Prime Now is our fastest delivery option ever and we are excited to make it available for customers in Liverpool. Whether it's essentials like fresh milk, nappies or even a last minute gift, customers love the convenience of delivery straight to their door in less than 60 minutes." said Jason Weston, director of Prime Now.

Amazon introduced Prime Now into Manchester in December 2015 having launched into London, Birmingham and Newcastle earlier in the year. 1 of the fastest Amazon Prime Now deliveries in the UK to date was Call of Duty: Black Ops III (PS4) which was ordered at 10:06am, shipped from Amazon's Erdington delivery station in Birmingham and delivered at 10:21am to a postcode in Castle Vale.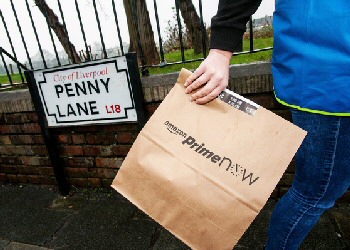 Prime Now customers also have access to a range of chilled and frozen items from:- yogurts, bread, fresh juices and eggs to pizzas, fish fingers and ice cream. The most popular Prime Now purchase of 2015 was the Fire TV Stick; closely followed by bottled water, Pepsi Max and Terry's Chocolate Orange. FIFA 16 (PS4) has proved the most commonly purchased video game since Prime Now launched in the UK in June 2015.

Prime Now is made available through Amazon Logistics which empowers independent local, regional and national delivery companies across the UK to deliver Amazon parcels to customers 7 days a week. Deliveries will be made from the Amazon Logistics' delivery station in Speke, Liverpool.

All Prime members can immediately download the Prime Now app, available on iOS and Android devices, to find eligible delivery postcodes and request notification when the service is available in their area. But will this have a major impact on small businesses locally? Already as you have read, Tescos are suffering from the online trade, via the likes of Amazon. Is this going to close down our corner shops? Please email us your views and thoughts to:- News24@SouthportReporter.com, as we would love to hear what you think of this move by the US based form Amazon.