Free Music at The Atkinson during this Year's Love Folk Festival
COME along and enjoy FREE folk music on with 'The Busk Love Folk Event'. It's a new to the 'Love Folk Festival' that will be running throughout the afternoon and evening of Saturday, 13 February 2016. The event will consist of a 20 minute showcase appearances from artists across the country looking to play their music during The Atkinson's Love Folk Festival, sponsored by Fatea Magazine.

Emma Lloyd, The Atkinson's Principle Manager: Programmes; Audience Development and Enterprise said:- "The Love Folk Festival is about bringing the best folk music to The Atkinson and the North West and we feel that it's not just about the well known acts, but about supporting and giving new talent the opportunity to be seen. Many people have not heard much folk music, so by having music available for free in the venue during the festival; we hope to introduce this genre of music to a potential new fan base. The line up across the stages is fabulous and hugely encouraging for the future of folk music! We encourage people to come in, have a coffee and a piece of cake in the Bakery, visit The Lord Street Exhibition and listen to some really great music. The acts will be selling their CD's; so it's a chance to discover something different that you may not of otherwise been privy to."

Rob Lane (12pm to 12.20pm) was inspired to write and perform by the likes of The Beatles, Pete Townshend, Rufus Wainwright and Ron Sexsmith, Robert played with various bands as a guitarist before taking the decision to perform as a solo artist.

He was chosen by the LG Arena to perform before concerts from Dire Straits frontman Mark Knopfler, BBC Sound of 2010 winner Ellie Goulding and international superstar singer/songwriter John Mayer.

In May 2013 he returned to the Forum Live to play before Eric Clapton's main stage appearance. In August 2013 he was one of 15 songwriters selected to attend a songwriting retreat/course with Kinks frontman Ray Davies.

Richard Knott (12.40pm to 1pm) plays music rooted in the style of his early blues and folk fingerpicking heroes like Mississippi John Hurt, Leo Kottke and Ralph McTell. But when he took up songwriting after years as an instrumentalist, a new set of influences; from the dry wit and sophisticated chord voicings of Steely Dan to the romantic jazz inflections of Michael Franks; came to the fore to create a unique and original blend. From roots to ragtime, blues to bossa nova, his quirky story songs and deft wordplay engage hearts and minds, while his guitar style creates driving and infectious rhythms on both his own material and classic covers.
Skinner and Twitch (1.20pm to 1.40pm) are an original folk duo from Leeds. Music to melt the heart, with driving rhythms, strong vocals/harmonies, and a flamenco-inspired guitar style.

An eclectic range of styles and influences, including the music hall, musical theatre, and the tradition of Great British satire.

Iona Lane (2pm to 2.20pm) has performed with big names across the North West and at just 17 years old she has always had a passion for music but never really found her footing until about 2 years ago when she stumbled across folk music. Submerged herself in it, she picked up a guitar, and never looked back! Along the way she has also picked up mandolin and slide guitar. Her influences include; Blair Dunlop, Larkin Poe, The Lovell Sisters, howdenjones, KT Tunstall, Luke Jackson, Jeff Buckley, Punch Brothers and Kacey Musgraves.

Neil Stanton (2.40pm to 3pm) combines elements of folk and blues with a hint of indie-rock. Neil writes and performs subtle blend of original songs covering aspects of life and fantasy. A gritty blues song like:- "We're Not the Undead" may be followed by a light tongue in cheek folk song such as "Prometheus". The blend of song styles is complemented by the combination of instruments (guitar, blues harp and, occasional ukulele) giving a constantly changing set with a variety of tones, dynamics and flavours.

Neil has been involved in live music in Hertfordshire and the surrounding areas for many years. Having performed as half of a duo (Tomsk) and as guitarist for the Sheds before joining Watford based band Wicca as a bassist who played London venues such as the Mean Fiddler, The Underworld and The Garage as well as popular local venues.

Neil can be found supporting the local acoustic music scene as well as performing further afield in festivals and London venues.

Kneel Roddy (3.20pm to 3.40pm) is best described as a raw textured blend on indie/folk/rock with a message of meloncholic hope for the broken soul. Neil C Roddy is the central nervous system behind the creativity that drives KNEEL (signed to MMLJ Records in 2015). Kneel's debut offering Tales from the Secret Garden of Cobwebs and Grapevines is a seminal masterpiece.

His musical journey has been a coloured one, from owning his own recording studio, to working from Mark E Smith of The Fal, to busking the streets of Manchester to keep the wolf from the door, Neil has never lost his passion to create. Some of Kneels work has been used for advertising and television.

Kneel is well known on the Manchester music scene and performs on a regular basis throughout the UK and works with an array of session musicians for his studio work and live shows.

Mullholland (4pm to 4.20pm) their fresh take on alt country / folk back to The Atkinson after playing at the Americana Festival last year. They fuse the'sounds of the city' and the'spirits of the backwoods'. If you like Johnny Cash, Willie Nelson, James Taylor? You'll like Mulholland.

With their influences reaching back to the heyday of singer/songwriters in the 60/70s, York based Mulholland bring their own take on acoustic americana with their close harmonies, self penned country / rootsy material and reinterpreted songs from the past.

Originally formed in 2012 as a 5 piece americana covers band, in July 2015 Mulholland morphed into an alt country duo consisting of Stan Smith (lead vocals, acoustic guitar, harmonica) and Ann Dunford (harmony/backing vocals, fiddle, accordion, keyboards).

Their new album, North Country, is due to be released at Easter 2016.

Paul Openshaw (4.40pm to 5pm) has been playing guitar and writing songs since his early teenage years. He finds music to be more to do with self expression and creativity, than commercial gain.

Ashland (5.20pm to 5.40pm) are an acoustic duo based in the Midlands, with Kathryn Marsh on vocals and David Sutherland on guitar. The idea for the duo was born from Kathryn's search for a musician willing to learn songs penned by her father; songs which helped form many of the musical memories of her childhood. David, a multi instrumentalist and songwriter with an impressive history of collaborating with others, (Kim Lowings and Chris Cleverley) was happy to help. Both musicians soon realised that Kathryn's accomplished vocals worked well with David's own material and so in October 2015, Ashland was formed.

So far they have opened for BBC Radio 2 Folk Award nominee, Ange Hardy, and multi award winning singer songwriter Steve Tilston.

Salwar Azar (6pm to 6.20pm) was brought up on a mixture of classical and world music and only really branched into folk in her early 20's. Listening to the album, although you can hear many different genres within, the mainstay of the album definitely lies in folk, although there are hints of Americana, Country, Bossa Nova and even a taste of laid back Jazz thrown in for good measure which add colour and variety throughout.

Before Seth Lakeman signs off another Love Folk Festival, please check out Jolly Jock's session in Theatre bar from 8pm. Jolly Jock plays guitar, banjo ukelele and rock ukelele as well as singing unaccompanied, he revisits music hall songs with a modern twist, marmalises some of our best known rock tunes that the audience can sing along to, desecrates favourite folk tunes keeping the audience on their toes wondering what on earth is coming next.

Bothy Folk Club are also playing in the Theatre Bar at the start of the festival on Saturday and then again at 5.30pm after Sheelanigig. Grab yourself a drink from the bar and let one of the oldest folk clubs in the country entertain you!

The Love Folk Festival features names such as Seth Lakeman, Michael McGoldrick, John McCusker and John Doyle, Elbow Jane, Will Pound & Eddie Jay, Ange Hardy and Sheelanagig and is becoming recognised as the season opener for the extended festival season.

Love Folk - the little festival with a big heart invites you to spend the most romantic weekend of the year singing, dancing drinking, eating and generally loving folk!

Festival tickets are £41*, daytime gigs are £10*, McGoldrick, McCusker and Doyle £17*, Seth Lakeman £15* plus booking fee.
Tickets are available online at theatkinson.co.uk or by calling the Box Office on:- 01704 533333. They are also available over the counter during The Atkinson opening hours. Individual gig tickets are limited.

* Please be advised that there is a £1 per ticket booking fee for telephone and online sales and a 2% fee for credit cards at the Box Office.

Could your business support NHS heroes?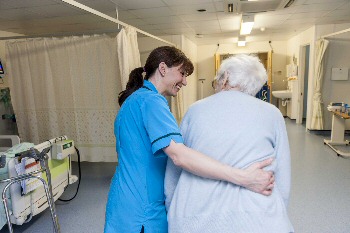 BUSINESSES are invited to sponsor an award scheme which recognises excellence in the NHS. The Southport and Ormskirk Hospital NHS Trust Pride Awards are in their 8th year. They are for hospital staff and teams or those working in community health services who deserve special recognition for their excellence and professionalism. There are several awards categories including a Patients' Award. This gives the opportunity for patients and families to show their individual appreciation to a particular member of staff or team. The Trust is keen to hear from businesses across Formby, Southport, West Lancashire and wider north west, interested in supporting this year's Pride Awards. Sponsorship opportunities are available for each of the award categories, starting at:- £750.

Ann Marr, interim Chief Executive, Southport and Ormskirk Hospital NHS Trust, said:- "The annual Pride Awards offer a fantastic opportunity for the community to support their NHS heroes. We are grateful to our existing sponsors for helping to finance this event but would love more companies to come on board. The Pride Awards are designed to celebrate the contribution made by NHS workers in delivering outstanding care to residents across Formby, Southport and West Lancashire."

Companies interested in sponsorship should email joanne.chorley@nhs.net.
Huge public support for Merseyside PCC's proposal for a modest precept rise to protect the Police budget
MORE than 80% of respondents to a public consultation have supported Merseyside Police Commissioner's proposal to raise the Police 'Precept' by a small amount to defend the Police Force from a further government cut. A total of 2,051 people responded, either in person or online, to the consultation undertaken by the Commissioner, Jane Kennedy, to find out whether residents would be prepared to contribute a little extra to protect Merseyside Police's budget from a government shortfall. Despite the Chancellor promising to protect Police budgets, when confirmation of the Police grant was provided to Police Commissioners it had been cut by 0.6%, with government ministers assuming local people would pay more through the'Police Precept', part of the Council Tax. This cut is the equivalent of £1.35m or about 26 Police Officer posts. While the government expected taxpayers to foot the difference, the Commissioner has spent the last two weeks consulting local people to find out if they would be willing to contribute a little extra to make up the shortfall and protect Police Officer jobs. The results revealed that 82.69% of people were willing to approve the Commissioner's proposal to increase the Police Precept by 1.95%, with just 16.23% of the public saying they were not prepared to pay more and 1% of people being unsure.

The increase amounts to 4p a week, or £2 a year, for a Band A household; the category which includes the majority of homes on Merseyside. Even after this small increase, the Police element of Council Tax Bills on Merseyside will still be among the lowest in the Country. Jane said:- "Once again local people have reminded me just how strongly the residents of Merseyside support their Police Force. At the same time there are a significant number who feel they are taxed too much. It is my responsibility to work with the Chief Constable to ensure every pound we spend is effectively and efficiently used. When the Government set the budget for the police, they failed to ask people their view and just assumed local taxpayers would be prepared to make up the shortfall. I wanted to find out whether people would genuinely be willing to do so. These results demonstrate beyond doubt that people on Merseyside are prepared to pay a little more; we even had members of the public offering to give us donations there and then. I'd like to thank everyone for their feedback and for the support they have shown. I know everyone is feeling the pinch at the moment and I don't make such a proposal lightly."

During the consultation, the Commissioner held a community consultation event in each local authority area, with 2 in Liverpool, in order to hear the views of many people as possible. She also conducted an online survey on her website. A total of 1,581 people said they would be prepared to contribute a more, while 333 people said they did not think it was reasonable to ask tax payers to pay more for Police services. 22 people were undecided. The Commissioner will now present her proposed budget to the Police and Crime Panel, on Tuesday, 2 February 2016, for consideration and approval. In order to balance the budget she is also intending to use £3.4m from reserves.
Older people in North West encouraged to get shingles vaccine
PHE North West is reminding eligible older people to get the shingles vaccine to help prevent the painful infection. The shingles vaccine is offered to people aged 70 years, on 1 September 2015 and people aged 78 years, on 1 September 2015. Shingles is caused by the reactivation of the varicella zoster virus (chickenpox), which is commonly caught in childhood. After a person has had chickenpox, the virus can lie dormant in the nervous tissue but may reappear as shingles. An episode of shingles typically lasts around 2 to 4 weeks. The main symptoms are pain, followed by a rash. It is possible to have shingles more than once. Although shingles vaccination is often offered at the same time as the annual flu vaccination, shingles vaccine is available at any time throughout the year to eligible people. Those who were eligible for immunisation in the 1st 2 years of the programme but have not yet been vaccinated against shingles remain eligible until their 80th birthday. These are people aged 71, 72 or 79, on 1 September 2015. Dr Mary Ramsay, Head of Immunisation at Public Health England said:- "It's worth taking the time and effort to visit your doctor to get the shingles vaccine as it protects you against a painful condition. You only need to be vaccinated once and it's important that you get it while you're the right age. We offer the shingles vaccine routinely to individuals at the age of 70 years to boost their immunity to prevent the development of shingles and significantly reduce the incidence of post herpetic neuralgia; persistent nerve pain that can occur at the site of a previous attack of shingles. Since the introduction of the shingles vaccine there has been a considerable reduction in the number of cases of this debilitating and painful condition."
New poll shows more children in the North West recognise Beatrix Potter than Zoella
ACCORDING to a new poll of 1,000 children from all over the UK, Enid Blyton and Beatrix Potter were some of the most widely recognised names when children were asked about significant cultural, artistic and literary figures. The poll asked children aged from 5 to 16 years about their artistic tastes and which authors, artists, writers and even vloggers they recognised by name. Revealing which of these famous names may be'extinct' within a generation and exposing what modern parents are likely to be reading and showing their children on TV, in books and in galleries, the names that children were asked to identify that they recognised were:-
| | | |
| --- | --- | --- |
| Enid Blyton | Zoella (Zoe Sugg, vlogger) | Steven Spielberg |
| Beatrix Potter | Van Gogh | Dr Seuss |
| Lewis Carroll | Quentin Blake | |
| Rudyard Kipling | Claude Monet | |
Results in the North West showed that authors Beatrix Potter, Enid Blyton and famous artist Van Gough were ranked 1st (with 76%), 2nd (74%) and 3rd (62%) respectively when asked which people they had ever heard of; while Roald Dahl's famous illustrator Quentin Blake was ranked last with 28%. Surprisingly, as she has just under 10 million subscribers online and a best-selling book herself, YouTube sensation Zoella came in 9th (31%) behind authors Lewis Carrol (58%) and Rudyard Kipling (41%) ranked 6th and 7th respectively. 3% of all the children polled in the North West didn't recognise any names on the list which may take teachers by surprise as many feature on the national curriculum. The online poll was commissioned for holidaycottages.co.uk to learn more about children's cultural tastes ahead of the launch of a new competition they launched to find Britain's best young authors, artists and video film directors. Launched in January 2016, holidaycottages.co.uk's'Young Creatives' competition asks schools, Scouts, Brownies and other youth groups to enter their best work. They have the chance to win part of the £2000 prize which includes books, holiday vouchers and photography prizes. The competition is in partnership with Penguin books and is being judged by celebrity children's authors, Jeremy Strong and Chris Bradford, alongside MD of Photobox, Robert May. There will be two age groups for entries, under 11's and under 16's. James Morris, managing director of holidaycottages.co.uk said:- "It's very encouraging that many children recognised the authors and artists widely renowned as'classic' names. However, the poll suggests that many of the most famous painters may be starting to slip off the radar. Our aim with the'Young Creatives' competition is to encourage children to paint, write or produce short films and express their creativity. As providers of holidays, we know that when children's imaginations are stimulated by a great day at the beach or on a long forest walk, the best creative moments happen. We hope that by giving children an outlet such as the Young Creatives competition to show their best work, it will remind each of us to value the creative and artistic elements in our lives."