Are Liverpool's efforts to drive up standards for people rented accommodation "embarrassing?"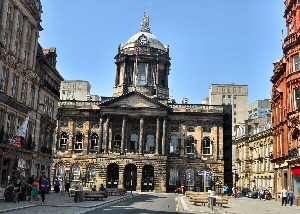 THE National Landlords Association (NLA) has claimed that Liverpool City Council's (LCC) the Citywide Landlord Licensing Scheme and it is an "embarrassing" mess. Yet Liverpool City Council say that the NLA itself is making the scheme difficult to implement. We would like your views on this Landlord Licensing Scheme... Please send them to:- News24@SouthportReporter.com.

The Citywide Landlord Licensing Scheme is compulsory for all private landlords within the Liverpool City area, and was introduced back in April 2015. It requires all private landlords in the City to apply for a 5 year licence for each of their rented properties. The idea is to ensure a level of quality assurance and proper practice among Liverpool's Landlords and that they are "fit and proper" people. So before any Landlord is granted a licence, they must declare convictions for dishonesty, violence or drug related offences, or breaches of housing or landlord and tenant laws. On top of this all the properties must meet fire, electric and gas safety standards and be in a good state of repair, as well as them being able to deal effectively with any complaints about their tenants. On paper this sounds fantastic. More about it and how to apply can be found on the Liverpool Council's website.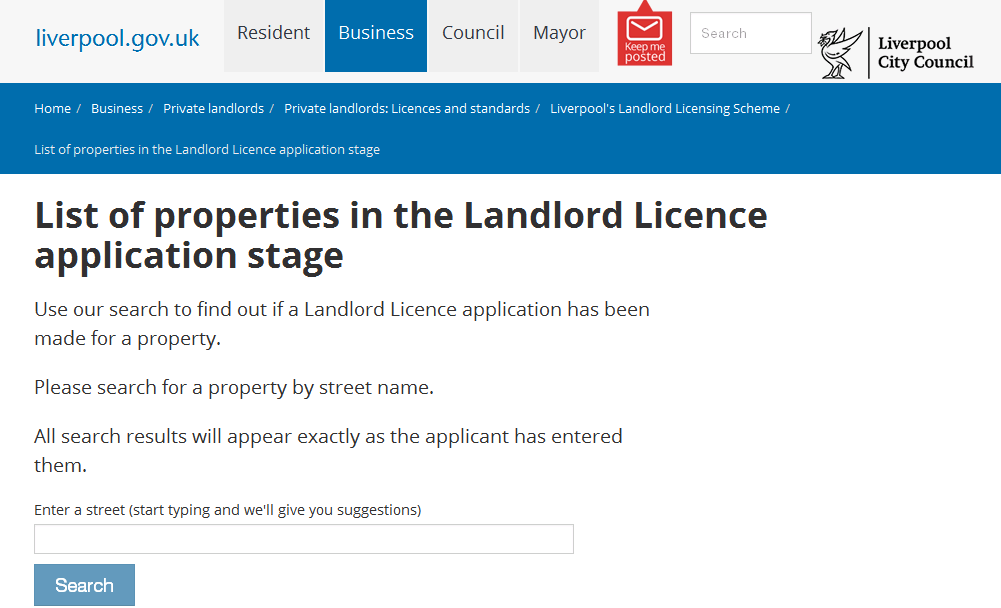 In a press release sent to us from the NLA, they stated:- "Liverpool City Council has issued just 2%* of licensing applications (648 of 39,100) since they launched the Citywide Landlord Licensing Scheme, back in April 2016." According the NLA, this information was released to them by the Council, following a Freedom of Information request. As a result the NLA press statement then says:- "In comparison of Liverpool's efforts, the London Borough of Newham (LBN) processed 24% of their applications in the same time, and their licensing scheme has resulted in over 600 prosecutions, over 500 arrests, more than 100 rent repayment orders along with 26 banning orders since launching in January 2013. That's 20000 of 27000 of licence applications in the 1st 6 months and LBN have worked with the 7000 landlords, due to problems filling in the applications."
Councillor Frank Hont, Cabinet for housing, added:- "The NLA has fought Landlord Licensing tooth and nail since day one and have conspired against us to make it as difficult as possible to introduce it and drive up standards for people living in private rented accommodation. We deliberately introduced a staged process for applications and payments because it was what landlord organisations asked us to do, and we listened to their feedback and acted. It is really disappointing that the NLA simply complain about the scheme rather than getting on board as a co-regulation partner and helping us drive up standards. It is costing their members a £200 discount on each property they own."

Carolyn Uphill, Chairman of the NLA, added:- "These findings show that Liverpool City Council can't cope with this scheme, which is precisely what we said would happen when they proposed it almost 2 years ago. Quite frankly it's embarrassing. If the Council can't process applications or inspect properties, then how can it improve property standards for tenants? At this rate, it will take 13 years to inspect the City's private rented housing, and 38 years to license them all, so the scheme's co-regulation partners have got their work cut out. The NLA has opposed this scheme from the very start. We do not regulate our members, so it would be inappropriate for us to play any part in a scheme that effectively polices landlords on the Council's be½."

A Liverpool City Council spokesman also commented:- "Following extensive consultation, Landlords and National Landlord Associations requested that the licensing process be staged over a period of time to assist landlords with preparing for licensing, to comply with the conditions and make sure they didn't have to pay too much money at once. So far, over 8,600 proposed licence holders who are responsible for over 41,000 properties have commenced the staged application process and we thank them for their co-operation. We've issued licenses to all of those applicants who have made a full and valid application. We are now starting compliance checks to ensure licence conditions are being met and management standards for tenants are being maintained. We have identified and received information about 1,200 unlicensed properties and over ½ of them have now started the application process with the remainder subject to ongoing investigation, enforcement action and possible prosecution. We have 3 organisations signed up to our co-regulation scheme and it is surprising that the NLA have refused to come on board, to the detriment of their members who would have been eligible to take advantage of the £200 per property discount."

So is the Central London based NLA's views:- "to opposed this scheme from the very start" correct or could that be connected to the issue the NLA is commenting on? Is Liverpool Council view:- "NLA has fought" them proof of this? Also we spotted within the NLA's release an interesting comment:- "comes as the Council recently announced its co-regulation partners to administer the scheme." Then add:- "it would be inappropriate for us to play any part in a scheme that effectively polices landlords."

Please let us have your views. Are you 1 of the NLA's "almost 65,000 landlords", of which the NLA says:- "over 30,000 are paying members" that the NLA represent? Are you a full or part time landlord, with large property portfolios, or do you just have a single letting that is affected by the Landlord Licensing Scheme, as we would love to hear your views, even if you're not a member of the NLA. Are you a tenant who is affected by the Landlord Licensing Scheme...?
Of course, also needed is a clarification of the benefits and draw backs for the Landlords because if this lacks transparent equality, with protection for the Landlords from irresponsible or down right malicious tenants or any real, or perceived attack on landlords, the vast majority of whom are not latter day Rackmanns, or any undue financial pressures from without, society may see private cheaper rental provision drop to the detriment of many: the law of unintended consequences! If you have any comments about the Landlord Licensing Scheme, please do send them to us at:- News24@SouthportReporter.com.

Fake Microsoft doing the rounds. How to spot it and others…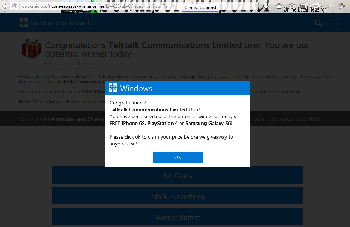 THESE sites are common place sadly, so if you type in the wrong URL, it can take you to fake websites very quickly.
The latest being reported to us is an URL that has been sent out on emails and which can also be found if you enter in the wrong URL. This often happens on'phones, when the auto correction or suggestion system takes over. But it can also happen when you get a call from fake company representatives, who tell you, what looks to be a correct URL when you type it in, but it turns out not to be! In this case, we have changed it slightly, to stop you using the link, but how do fake sites like this work? Microsoft,com-rewards-winner,online Interestingly, if you enter an URL via the address bar, it comes up as cannot be found… but you can see it, Sometimes it may occur as a direct result of you accidently typing in the wrong URL for Hotmail or Microsoft Live… We have had reports that this has also been seen on emails as well!

or is it?

Is Microsoft,com-rewards-winner,online a fake site or legit and trustworthy?
You can take a guess, but we have posted a warning about it… It's a fake!
The URL you get to see looks like it might be a Microsoft site and says you have been "selected" or you are a "Winner" or similar wording... You check the URL and if you don't look closely, you might miss that the URL is not quite correct!
Well, it might look like Microsoft, but be assured it is a fake site, so how does this scam work? Look closely at the URL and you might spot the new top level domain extension, .online that came about in 2015. The real website is in fact com-rewards-winner,online The URL is an .online site not a .com... Microsoft is a sub domain of the URL.

So what is a sub domain and why and how should I look out for them?

All of us who use the web tend not to notice the simple file system that the web is based around. It's like your computer. On your Desktop you have folders, but are unaware of the location of them. For example, if your computer was the web and you wanted to access photographs in a folder on your Desktop, say Pictures, then you would go to the Desktop directly and then you would have access to the folder Pictures, but in the case of the internet, you can only go back to the Desktop. Any other folders or files before Desktop cannot be accessed, only those within Desktop. So the true structure of your desktop would be C:\Public\Users\User\microsoft\Desktop\Pictures\ and the file you wanted is me.jpg In the case of the web, you would only see Desktop then have access to the folder Pictures and then the file me.jpg but me.jpg is in C:\Public\Users\User\microsoft\ and not C:\Public\Users\User\microsoft\Desktop\Pictures, however you would not find it on the web, without knowing the sub domain. In this case it would be:- microsoft\Desktop\Pictures so you could access the files in the Microsoft folder.

It's like having a 2nd, 4th or 6th website. The existing domain name becomes the same as a .com or a .info and you can do this as many times as you like. But that sub domain always then has access to all the folders after it, but not before it! Unless you use a hypertext link. It's a cheap way of using a domain you already own to hide things. The sub domain name looks like forum.domain.com, help.domain.com, help2.domain.com . You can get www2.domain.com and www3.domain.com . The characters www2 and www3. are also used for load balancing in web server farms for popular websites, for example a URL's domain name might be on more than one computer, therefore just typing in www.domain.com would take you to the default computer and not the area you want. For example, if, shall we say, computer 2 has the photo on it, but you enter www.domain.com, you will just get domain.com, but no photo. It is correct information, but not what you see, so you enter www2.domain.com and you get your photo which you wanted.

So how does this relate to Microsoft,com-rewards-winner,online In this case the com-rewards-winner,online is the real default, and Microsoft is the hidden sub domain level to com-rewards-winner,online.

Sub domains are lower level access points on the route of the domain website's host computer. Just as is the folder structure on your computer or phone. The key to spotting sub domains is to look out for the use of the . (dot) for example folder. domain.com would be a sub domain of domain.com The key idea is the use of the . (dot) to break up the levels! Any folders higher than the default then use / (forward slash) Think of a lift in a building.. You enter on ground floor, but you might not realise you have other floors below you in the foundations. Plus, you can't get to them without a key, so you only know about and have access to those about ground level that you can see! But if you get given a key then this allows access to the basement, and that gives you access to all the stuff within it. In this case the sub domain is the key to that elevator.

The use of the sub domain when it comes to this website, is not to hide the information or separate the load on a computer, but to fool you into seeing what you think is the correct URL domain you wanted. In this case your eye is expecting to a Microsoft website and the people who set this up hope you will see it as such. A classic deception trick, just as are the colours and format of the site… Other things that are used to trick you can be the use of the wording etc.
Oddly, hotmail now goes to Live.com and not to Microsoft.com, but sadly, people are falling for this all the time! If you look very closely at the link Microsoft.com it does not end with a / that represents a high level folder. So without realising it, you see it as Microsoft,com/rewards-winner, online... and not Microsoft,com-rewards-winner,online…. To reiterate, in reality you are not on a Microsoft website at all, but you can easily be tricked into seeing it as a real Microsoft website!

The rule is always to check what you are entering in for a URL and what you are clicking on is always important! Also, if it looks wrong or out of place…. Stop, close the browser and clear your history, especially cookies, when you re-enter… Also, check to see if the home page you are entering is the home page you set as your home page….