Crosby Police Officer braved sub-zero temperatures in Siberian ˝ marathon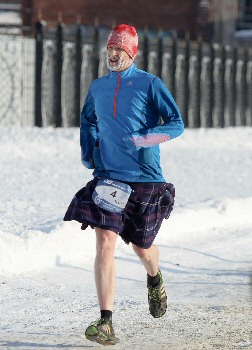 A Merseyside Police Officer braved sub-zero temperatures in Sibera to run a ˝ marathon, while dressed in a kilt. Inspector Scott Crighton, 38, who is based in Crosby, undertook the Siberian Ice ˝ Marathon, in the Russian City of Omsk, in temperatures of -26 degrees with wind chill making the temperature plummet to a chilly -34 degrees. The ˝ marathon was the 1st of 9 months of challenges that Scott is undertaking for Kidneys for Life, a charity which aims to raise money for life changing kidney research. His 1st challenge was in Siberia participating in the 1 of the World's coldest runs.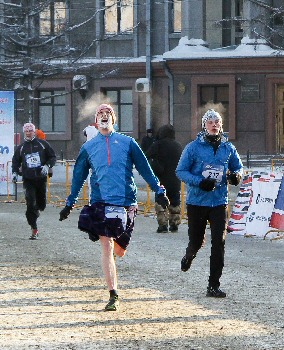 Scott, who moved from Aberdeen to join Merseyside Police 14 years ago, said:- "I decided to do the challenges because there is a 4 year old boy in my son's class who was going to have a kidney transplant and has had to undergo a lot of dialysis. I've done a lot of things for charity in the past but the ˝ marathon in January coincided with the date of his operation and was also Christmas Day in Russia, which I thought was pretty cool. I also thought that anything I would have to go through to complete the challenges was nothing compared with what he has to go through on a daily basis. It was hard work. I was running on snow and ice while wearing a kilt in temperatures of -34 degrees. The Russians thought I was crazy. I thought that I had trained well but because we had such a mild winter it was difficult for me to get acclimatised to the cold. The 2 organisers from the Siberian Ice Marathon who looked after me and gave me permission to run in the kilt; Anna Kireeva and Inna Chernoblavskaya; were amazing. I played my bagpipes at the finish line to celebrate Christmas Day and I even appeared in the Russian media."

Scott will follow the Siberian Run, with the Manchester Marathon, in April 2016, the UK Ironman in July 2016, before finishing with the Berlin Marathon, that takes place in September 2016, which he will run dressed in a kilt and while carrying bagpipes! He is hoping to raise as much money as possible for Kidneys for Life. Anyone wishing to sponsor Scott can do so online.

Liverpool City Pancake Race to be held on 9 February 2016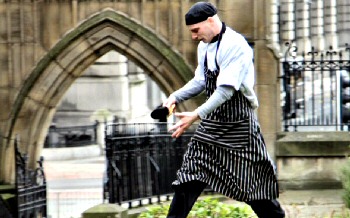 EVERYONE knows Liverpool Parish Church for its Lent Talks for the City, but the Liverpool's final preparation for Lent will be a pancake race by the chefs of some of the hotels and restaurants in the City. This annual event takes place on Shrove Tuesday, 9 February 2016, at 11am, in St Nicholas' Gardens next to Liverpool Parish Church on Chapel Street, opposite the Liver Building. The church's ministry with businesses across the City includes many Hotels.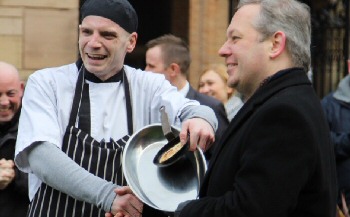 The Rector of Liverpool, the Revd Dr Crispin Pailing, said:- "Last year's winner from the Mercure Atlantic Tower Hotel will be coming to defend his title, so I hope that there will be some stiff competition from other chefs. I'm not accusing anyone of foul play, but last year's winner brought his own design of pancake which I think gave him the winning edge." The winning chef is presented with an engraved pancake pan to display proudly in the Hotel Kitchen for their year of victory.

The origin of pancakes on Shrove Tuesday lies in the tradition of using up remaining fat and dairy products before'fasting' began in Lent. Although people rarely give up dairy products in Lent, many Christians still keep the tradition of giving something up as a way of preparing themselves for Easter. For more information contact Jean Wynne via email at:- jeanwynne@livpc.co.uk.
17 year old girl arrested after incident at Altcar Training Camp
MERSEYSIDE Police have confirmed that a 17 year old girl, from Moreton, Wirral, has arrested, on suspicion of possession of drugs with intent to supply, after incident that took place at Altcar Training Camp, on Saturday, 6 February 2016. We are told that an investigation has started following a number of young cadets became unwell, following a suspected drug taking incident, overnight, at the Army Training Camp. The investigation will aim to establish whether drugs had been taken and to identify the source. The exact circumstances cannot be confirmed at this time, however 9 young people had been examined at 2 local hospitals and have all since been released. At this time, it is believed that no other cadets have been affected. "Parents of other children who attended the camp this weekend, and who have any concerns about the health of their children, should seek appropriate medical advice." said Merseyside Police. The girl was later bailed to a later date pending further enquiries.