Council invests in future success of Airport
LIVERPOOL City Council has formally signed an investment deal with Liverpool John Lennon Airport to help it continue to grow into the future.

The airport has seen an increase in passenger numbers, airlines and destinations served over the last year and now the council has become part of two joint venture companies to invest funds on the basis that it will make a commercial return.

The council has acquired a stake in the airport in the form of shares and the investment will be used to further improve facilities for passengers and airlines and maximise the opportunity for the Airport and City Region to be a key gateway for the Northern Powerhouse.

Mayor of Liverpool Joe Anderson said:- "John Lennon Airport delivers a huge economic boost for the City Region, employing thousands of people directly and indirectly. It is the gateway to the City from many destinations and it is absolutely vital that it continues to grow, create more jobs, boost economic growth and develop tourism. This opportunity to play a more active part in its future expansion and success makes it a sound investment for the City Council. This is part of our Invest to Earn strategy where we are able to make investments that deliver a return which we can then plough back into supporting council services. This funding can only be used for investments and we are not taking money away from frontline services for it."

Robert Hough, Chairman of Liverpool John Lennon Airport said:- "We are delighted by the City Council's decision to invest in LJLA. This investment complements the council's existing role in supporting the local and regional economy and allows the City to share in the financial success of the airport. They will bring strong support both financially and strategically, with interests aligned to those of Peel and the wider City Region."

The Airport is one of the City Region's major employers, attracting inward investment and bringing significant tourism benefits, helping to boost the local economy and is an important driver of prosperity in the region.

Passenger numbers at the airport in 2015 were 8% up on 2014; the highest since 2012 and are already over 20% higher for the year to date in 2016.
Discover the world of farming on a local farm this June
VISITING a farm on:- 'Open Farm,' Sunday, 5 June 2016, is a wonderful way to discover the world of farming. Modern farming is incredibly diverse and impacts on all of us; from the food we eat, to clothing, medicine, fuel and manufacturing. Agriculture is vital to our future too; so come along and find out more!

Hundreds of farms across Britain will be opening their gates for LEAF's (Linking Environment And Farming) 'Open Farm Sunday'. It is a great day out for the whole family and a unique opportunity to discover what farmers do and the vital role they have in protecting and enhancing the environment.

You may not realise it but our lives depend on the diverse products farmers grow. For example, did you know that farmers grow crops for generating heat and power, cosmetics, perfume and even medicine, as well as producing wool for clothing and fibre for insulation and building materials?
And of course, don't forget that the majority of the nutritious and delicious food we enjoy each day has been grown or produced on British farms; ranging from meat and dairy products, to fruit and vegetables, cereals, eggs and oil.

Since the 1st Open Farm Sunday in 2006, it has been organised by LEAF, the leading organisation delivering more sustainable food and farming. Visiting a farm, on the 5 June 2016, you will learn more about sustainable farming, and get a great insight into the role farmers play in looking after our countryside; including woodlands, hedgerows, meadows, ponds and pathways. Come and learn how farmers manage water and energy resources, care for the health of the soil, create new habitats for wildlife and above all, have a great day out with family and friends.

All types of farms take part in:- 'Open Farm Sunday' and most events are free. Activities on the day can range from farm walks and trailer rides, through to sheep shearing, milking demonstrations, bug hunts and machinery displays.
There will also be a chance to explore the technology and science behind farming and food production, and find out about the business aspects of modern farming.

So round up the family, put on your wellies and head to the countryside to meet a farmer and have a great day out experiencing all the sights, sounds and science of the farm. Find your local Open Farm Sunday event online.

Safer Sleep Week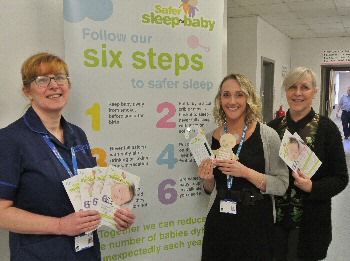 A hospital trust has been supporting:- 'Safer Sleep Week' which is aimed at preventing cot deaths. Sudden Infant Death Syndrome (SIDS) is the sudden and unexplained death of a baby where no cause is found. Southport and Ormskirk Hospital Trust and other locations throughout the UK have given out leaflets and advice to visitors promoting safer sleep for babies. While SIDS is rare, it can still happen and there are steps parents can take to help reduce the chance of this tragedy occurring. 'Safer Sleep Week' is The Lullaby Trust's national awareness campaign targeting anyone looking after a young baby. The event ran from 14 March to 20 March 2016 and The Lullaby Trust and partners hope that is has increased parents knowledge about the importance of safer sleep. They also hope that it has made more people aware of how to reduce the chance of Sudden Infant Death Syndrome (SIDS). For more information about safer sleep, visit:- LullaByTrust.Org.UK/Safer-Sleep.

These are a few 'Safer Sleep' tips:-

► Keep baby away from smoke, before and after birth.

► City Region Put baby in a cot, crib or moses basket to sleep; never fall asleep with them on a sofa or chair.

► City Region Never fall asleep with baby after drinking or taking drugs / medication.

► City Region Put baby to sleep on their back with their feet to the foot of the cot.

► City Region Keep baby's head and face uncovered and make sure they don't get too hot.

► City Region Breastfeed your baby. Support is available if you need it.
Search for a star comes to Southport
IF you want your chance to be a singing star the perfect opportunity is coming because a competition to find new singing talent will take place in Southport. Southport's heat of this competition will take place this summer and entry is completely free. The 1st prize is a recording session at a professional studio. "There's no age limit to the competition and we're looking for future stars so we hope the competition will appeal to the very young. We're hoping for entrants from aged 5 upwards." said Louise Nutter, one of the organisers of the competition.

The competition is being run by Charity Aid, a Northern based volunteer group. "We've raised well over £500,000 in the last 12 years holding singing events with music and singing as the focal point. We're hoping that as well as unearthing a lot of musical talent the competition will raise at least £20,000 for charities we support. Several of our team are cancer patients so we mostly fundraise for the main national cancer charities. Our philosophy is never to turn away a charity which comes to us for help so we have fundraised for many small charities as well and we are always pleased if any new charities which haven't approached us would like to contact us. We organize charity nights at pubs and clubs and again would be pleased to speak to any pub or club which would like to hold a charity night. We do all this free of any charge." explained Louise.

To enter all you need to do is text your full name, age and address to:- 07807 541 438 and someone will call you back to enter you into your local heat.