WLLR Easter Trains 2016 and The Great Easter Egg Hunt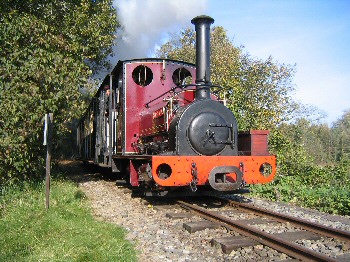 FORGET the 'Great Train Robbery', the 2016 The West Lancashire Light Railway (WLLR) 'Great Easter Egg Hunt' is due to take place soon! The railway is situated at Hesketh Bank, approximately midway between Preston and Southport and on Easter Sunday, it will be offering a completely new event for visitors. The new event will see children taking part in a 'Spot the Easter Eggs' competition and also taking rides on the Steam Powered short 2' gauge railway. If you cant make Easter Day, starting on Good Friday, Steam trains will also once again be operating and from then on, every Sundays and Bank Holidays during 2016, from Easter to the end of October 2016. During the Easter weekend the Railway will be open as follows:-

Good Friday, 25 March 2016.
Easter Sunday, 27 March 2016.
Easter Monday, 28 March 2016.

On Good Friday and Easter Monday, trains will run as normal, with 1 locomotive in steam. The usual fares will apply:-

Adult:- £3
Child:- £2
Senior:- £2.50
Family:- £7

Tickets are valid all afternoon with no limit to the umber of rides. Trains depart approximately every 20 minutes, from:- 11.30am to 4.30pm.

Please note that to take part in the:- 'The Great Easter Egg Hunt', those tickets will be:-

Adult:- £3.50
Child:- £2.50
Senior:- £3.00
Family:- £10.00

The Tiskets include train rides for everybody, and a 1 entry per child, in the:- 'Spot the Easter Eggs' competition.

Trains run between 11.30 and 4.30. 2 locomotives in steam.

Did you know that The West Lancashire Light Railway is a short 2' gauge line situated at Hesketh Bank Motive power includes several historic steam locomotives and a remarkable collection of diesel, petrol and battery electric industrial locomotives? The line runs alongside a former clay pit which served a brickworks adjacent to the former West Lancashire Railway. The Railway is open every Sunday and Bank Holiday from Easter through October, and on advertised days in December 2016 for:- 'Santa Specials'. The Railway has recently been awarded £10,000 by the Heritage Lottery Fund. Free car parking is available on site. The no. 2 Southport Preston Bus passes the entrance to the Railway (hourly service on Sundays and Bank Holidays); alight at Booths. Snacks and hot and cold drinks are available from our catering wagon; or bring a picnic (picnic tables are provided). Alternatively, Booths' cafe is open until mid afternoon and fish and chips are available across the road (check opening times).

For further information about the tourist attraction and any of the events they offer, please visit:- WestLancs.Railway.Org or call:- 01772 815881.

Actress Cheryl Fergison heads from Eastenders to The Wizard of Oz at St Helens Theatre Royal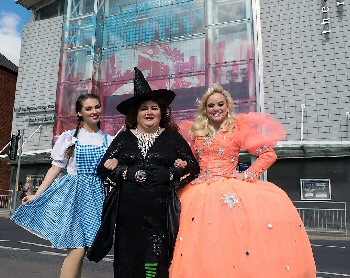 REGAL Entertainments have announced that following on from the sell out seasons, in 2013, 2014 and 2015, Regal Entertainments' enchanting production of the classic stage play 'The Wizard of Oz' will again be returning to St Helens Theatre Royal from 22 October to 30 October 2016. But the production have also added that they are "extremely excited" to have actress Cheryl Fergison joining the cast, this Autumn!

The former BBC Eastenders actress will swap the streets of Walford for the Yellow Brick Road as she plays the part of The Wicked Witch of the West.

She will join Charlotte Gallagher (Snow White and Peter Pan) as Dorothy and Radio City 2; 105.9FM's Claire Simmo, as Glinda the Good Witch in the production which will be staged during October ½ term.

The actress, who played Heather Trott in the soap opera for many years, is a multi talented performer who has starred in many stage and film productions and is a wonderful singer and musician. And she is certainly no stranger to pantomime, having appeared in Cinderella, Jack and The Beanstalk and Beauty and the Beast to name but a few. So she is looking forward to getting her teeth stuck into the role of the Wicked Witch of the West and changing her famous headband for a pointy hat and green stage make up. Cheryl said:- "I am so looking forward to coming to the Theatre Royal St Helens and being part of an amazing cast and crew of the Wizard of Oz this October. It is one of my favourite stories with a great message and is loved by all ages. I am looking forward to playing the Wicked Witch of the West... Baddies are always fun to play and a contrast from other characters I have portrayed in the past. I am particularly looking forward to performing for the audiences of St Helens and surrounding Towns; see you in October!"

Regal Entertainments are well known for their critically acclaimed smash hit seasonal productions, which are always chockfull of glitz, glamour, songs, dance, family filled fun, silly antics and slapstick comedy and The Wizard of Oz will be no exception.

With an all star cast in the bag and tickets starting at just £10, let St Helens Theatre Royal take you and your little munchkins somewhere over the rainbow to The Merry Old Land of Oz!

Click your heels together and join Scarecrow, Tin Man, Lion, Dorothy, and her little dog Toto, as they journey along the Yellow Brick Road to meet the Wizard, so that he can make their wishes come true.

Watch out for the Wicked Witch and get ready for a whole lot of family fun as this fantastic tale is reawakened once more. Chantelle Nolan, Theatre Manager said:- "Cheryl is such an amazing actress and a real character so she is perfect for the role of the Wicked Witch of the West and the cast and I can't wait to welcome her to St Helens. We know the audience will love her; when they're not booing her that is…!"

Tickets are now on sale online and are already selling fast, so book early to avoid disappointment! Alternatively from booking online, you can also book in person, at the Theatre Royal Box Office, located on Corporation Street, St. Helens or call:- 01744 756 000.