New school building contracts to be awarded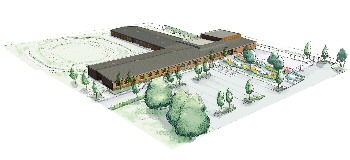 CONTRACTS worth almost £9 million are set to be awarded for construction work on 2 schools in Liverpool.

It will see Kier Construction building a new £7 million home for Palmerston School on the site of the current Aigburth High on Minehead Road. Aigburth High is moving to a brand new building on Childwall Abbey Road in Childwall in April 2016.

The current Palmerston School, located on Beaconsfield Road in Woolton, is reaching the end of its life and does not have any suitable external recreation facilities.

The new single storey building will accommodate boys and girls aged 11-19 years with severe learning difficulties and profound and multiple needs, and will be completed by April 2017.

It will include a sports and dining hall plus a new hydrotherapy and splash pool together with sensory learning spaces.

Meanwhile, St Margaret's Church of England Academy in Aigburth is to get a new £2 million teaching block which will house a food technology lab and drama hall/theatre opening in time for the start of the new academic year in September 2016.

The two schemes are part of the Mayor's Liverpool School Investment Programme, in which £169 million is being spent on 17 new and refurbished schools right across the City.

Assistant Mayor and Cabinet member for education, Councillor Nick Small, said:- "The current Palmerston School is past its sell by date and although the teaching is excellent the staff and pupils are hampered by the lack of outdoor space and modern learning facilities. The work at St Margaret's will enable them to extend their range of academic and vocational courses, giving students more choice in the subjects they can study. We will be working closely with the construction firm to make sure that as much of the sub contracting work as possible is spent locally to benefit firms in the City Region."

Kier estimate that 85% of the spend will be in Liverpool with another 10%across Merseyside. They will also be creating 9 apprenticeships as part of the scheme.

Palmerston School Principal Lis Burbidge said:- "The staff and pupils are delighted about the prospect of the new school and are already planning how we will use the exciting new rooms and outdoor space."

Principal at St Margaret's Academy, Stephen Brierley, said:- "We are thrilled and deeply grateful for the investment that will be taking place in our buildings over the next few months. In its many years of existence, St Margaret's has never had any facilities to teach practical food lessons, but thanks to the generosity of the Mayor's fund, future generations of students will be able to learn these vital skills practically, and on site. Our new drama space will provide an excellent opportunity for budding actors and actresses to learn their craft too. The entire school community is very much looking forward to the new facilities that are so generously being provided for us".

John O'Callaghan, managing director of Kier Construction's northern operations, commented:- "We are delighted to have been chosen for this important project to improve Palmerston and St Margaret's schools. This will be the fourth scheme we've delivered through the Liverpool School Improvement Programme and we look forward to continuing our collaborative relationship with Liverpool City Council. In addition to providing high quality, fit for purpose educational facilities for both pupils and staff, the project will also benefit the City more widely, as we will be looking to keep approximately 85 percent of our budget spend here in Liverpool, and create valuable employment and training opportunities in our local supply chain."

Blitz to fix pothole backlog
A £3 MILLION blitz to tackle a backlog of 14,000 potholes across Liverpool is set to take place between now and the summer. A report to the council's Cabinet says the condition of the road network has deteriorated at a far faster rate than envisaged, leading to a significant amount of outstanding highways defects that have not been tackled in the target time of 25 days.

As well as an increase in complaints, there has been a rise in the number of claims received and it now accounts for 90% of all legal claims, compared to 70% several years ago.

Around £1 million will be spent in each of the north, south and central/east parts of the City, with work in each area starting almost immediately and being completed within 3 months.

Mayor of Liverpool Joe Anderson said:- "I can see myself as I am travelling around the City that we need to take immediate action to deal with the potholes. That's why we've decided to prioritise tackling this issue as a matter of urgency and are also looking at how we can do more in the future. We have a £269 million backlog of road repairs built up over many years and only receive around £3 million each year from the Government which doesn't even scratch the surface. That is why I am going to be raising this problem with Transport Secretary Patrick McLoughlin when I meet him next week to make the case for areas outside London receiving more investment funding. The fact is that we don't get enough money to keep up with the maintenance of the roads we are legally responsible for which means we can't even begin to look at the 37 miles of unadopted routes in the City, many of which are in a very bad condition."

The investment is in addition to the £80 million that the council is spending over the next 5 years improving main routes in the City and the annual resurfacing programme for local roads most in need of replacement funded by the Department for Transport (DfT).

Councillor Malcolm Kennedy, Cabinet member for regeneration, said:- "Every councillor knows from their surgeries and emails that potholes are 1 of the biggest areas of complaints from residents. They cause inconvenience for motorists, are a danger to cyclists, give a bad impression to visitors and leave us open to increased compensation claims. Doing nothing is not an option as the situation will just get even worse, so we are going to be appointing a contractor to launch an intensive programme of repairs to eradicate the backlog and make a significant difference to the quality of the road network."

The cost of the work will be offset using contributions from developers undertaking regeneration projects and utilities companies as well as future savings in public liability claims and the reduced need for repairs.
Care rates to rise for National Living Wage
LIVERPOOL City Council is set to increase fees paid to the care sector to help them meet the cost of the new National Living Wage. The new rate of £7.20 per hour for over 25s and £6.70 for 21-24 year olds is being introduced in April 2016 and represents an increase of about 10.8% on the current National Minimum Wage. Detailed analysis of the age profile of the workforce in residential and nursing homes and home care agencies has been carried out to estimate the financial impact on the sector. A report to the Cabinet on Friday, 19 March 2016, is proposing increasing the hourly rate for home care by £1.09 to £12.97. The weekly rates paid for residential and nursing care will rise by between £17.53 and £24.53 per week. The total cost of the increase to the City Council will be £3.7 million over the next financial year (2016/2017).

Councillor Roz Gladden, Cabinet member for adult social care, said:- "It's really important that we increase our rates to make sure that the care sector in Liverpool is not adversely affected by the introduction of the new National Living Wage. Their staff do an amazing job and we would love to be able to pay higher rates but, as everyone knows, we have very limited financial resources in the context of a 58% cut in our budget since 2010. Although the wage rise is to be welcomed, it increases pressure on our budget and more than wipes out the additional £2.8 million the Government has allowed us to raise for adult social care by increasing council tax by two percent. It demonstrates the huge challenges we face in dealing with a growing older population at a time when council funds are being cut dramatically by Whitehall."

Consultation will now start with care providers in Liverpool over the proposed new rates, with the aim of introducing them from May 2016, backdated to the start of the financial year.