Will Brexit will put workers' rights in danger?
TUC General Secretary Frances O'Grady has just warned the voting public, in the North West, of the risk to their rights at work if the UK leaves the EU.

Frances told delegates at the TUC's annual North West Regional Conference that vital workplace rights are on the line in June's referendum:- "Brexit would bring with it huge risks for working people in the North West of England. Not just for jobs, but for many rights at work which are guaranteed by the EU. Parental leave, equal treatment for agency workers and part timers, paid annual leave and much more is underpinned by EU law. The Working Time Directive gave millions of UK workers paid holidays for the first time in their lives. And millions more gained an increase in paid leave days to spend with their families. But if EU requirements on workers' rights are lost, would you trust a Conservative government to keep these rights? Not a chance. Not a government like this that's attacking workers' representatives with their Trade Union Bill."

On the risks of business voices dominating the referendum debate, Frances warned:- "So far, few working people are engaging with the debate. The arguments we've heard have little to do with their everyday lives and the benefits workers get from being in the EU. If we keep on hearing from boardroom executives in London, working people across the North West will switch off. But with so much at stake for workers in this referendum that would be a disaster. The interests of workers matter to the referendum decision just as much as those of business. So it's time that the debate focussed on the workers' rights that the EU guarantees."

On the threat to jobs and investment in the region, Frances said:- "The TUC is not starry eyed about the European Union. But over the last 25 years, the EU has helped re-generate this fantastic region. There are half a million EU-related jobs in the North West. But Brexit campaigners have failed to come up with a convincing explanation for how they will protect jobs that depend on European trade and funding. Leaving the EU would be a leap in the dark on workers' rights and jobs. But if we stay in the club, we can create a Europe that delivers better opportunities and rights for working people."
But what do you, our readers think about this? Please email us your views, both for and against to:- News24@SouthportReporter.Com.
City Remembers Liverpool Blitz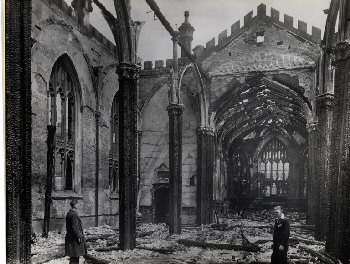 LIVERPOOL is staging a special event to mark one of the darkest periods in its history at an iconic City Centre venue.

Out of the Darkness will transform St Luke's Church (known locally as the bombed out church) in a free moving light and sound display to signify the 75th anniversary of the May Blitz.

Taking place each evening from 9pm to 10pm, Friday, 6 to Sunday, 8 May 2016, projections will be beamed on five large screens placed in the windows facing Harman Street and a rolling ten minute film will run throughout the hour which will feature dramatic archive footage and images and be accompanied by a haunting soundtrack of drones, and first-hand accounts of those terrifying nights.

From 8pm each evening, thousands of stained glass lanterns will illuminate in and around the building, signifying the lives that were lost in one of the country's worst bombing periods of the 2nd World War.

The lanterns will be created by schools across Merseyside and Liverpool community groups, and each 1 will be unique and individual to those making it.

6 May 2016 is a particularly poignant moment for the venue which was hit by an incendiary device on this date in 1941, and stands, as a stark reminder of the raids that rocked the city.

Commissioned by the City Council, Out of the Darkness is being created by innovative artists METRO-BOULOT-DODO (MBD) who specialise in designing art experiences which transform buildings into emotive and engaging spaces for the audience.

Assistant Mayor and cabinet member for culture, tourism and events, Councillor Wendy Simon, said:- "It is difficult for us to comprehend the horrors experienced by the people of Liverpool, and the wider region, 75 years ago. Outside of London, this area suffered one of the heaviest numbers of casualties in the UK, and one of the most vivid reminders of the blitz is the burnt out shell of St Luke's which serves as a constant reminder of one of our darkest times. Out of the Darkness will be a stunning piece of work in this significant venue, which will not only be a thought provoking piece about a turbulent time for the City, but will also reflect on people's resilience during those harrowing times. Out of the despair, came hope as community spirit shone through. It will undoubtedly be a fascinating few nights and I hope as many people as possible take the opportunity to see this iconic building in a whole new light."

Artistic Director of MBD, Esther Simpson, said:- "The bombed out church is a true icon for the City and it's a real privilege to share the stories of the Liverpool Blitz at this historic and much loved site. Out of The Darkness will be a spectacular and emotive illumination which will offer the people of Liverpool the chance to reflect on those tragic events and the resilience our City showed in the preservation of our freedom."

For the latest information, visit:- CultureLiverpool.Co.UK/LiverpoolBlitz or follow @CultureLpool on Twitter or like Culture Liverpool on Facebook.

Southport firefighters thank community for 'generous support' after raising £470 at charity car wash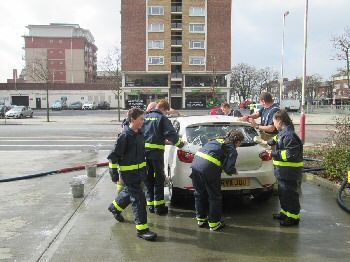 SOUTHPORT firefighters are offering their thanks to the local community for helping them raise almost £500 at a charity car wash. Firefighters from Southport Community Fire Station White Watch, together with fire cadets from Bootle and Netherton Fire Station, rolled up their sleeves to wash cars on Sunday, 13 March 2016. The event, which took place at Southport Community Fire Station on Albert Road, was held to raise funds for The Fire Fighters Charity.
Watch Manager Steve Bousfield said:- "We were absolutely thrilled with how many people came along to the car wash and would like to thank the community and local agencies for their generous support.Everyone involved had a great day and we were delighted to be able to provide a service for the people of Southport while raising funds for a vital cause. The Fire Fighters Charity is very important to firefighters and the rest of the firefighting community. It offers a range of valuable services including rehabilitation to help injured firefighters get back to fitness, as well as financial and emotional support. Everyone who came along to get their car washed has helped make a positive difference to firefighters, Merseyside Fire and Rescue Service staff, retired firefighters and their family members in need."
The Fire Fighters is the leading provider of advice, guidance, treatment and support for serving and retired fire service personnel and their families. For more information on their work, and how you can help, visit:- FireFightersCharity.Org.UK.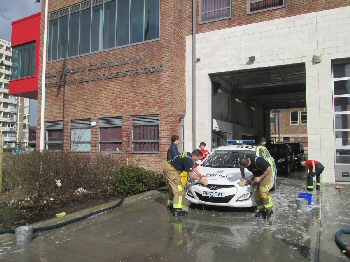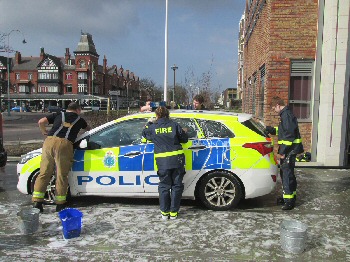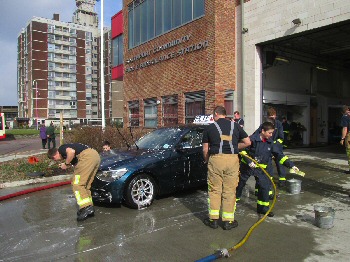 Liverpudlians named the region's friendliest neighbours
LIVERPOOL might often get bad press in the papers, but the true nature of the City has been shown in a survey of 856 homeowners, conducted by Countryside, in February 2016. Following the recent survey, Liverpool homeowners have been dubbed the region's friendliest neighbours, as the survey by revealed that Liverpudlians are closer to their neighbours than any other North West City. The home builder set out to discover how well the region's homeowners really know their neighbours, with Liverpool coming out on top as the most likely to befriend people moving into their neighbourhood. Of those surveyed, 22% of Liverpool respondents described their neighbours as close friends, compared to just 1% in the surrounding Cities, and almost ½ have invited their neighbours into their homes for a drink. Liverpool residents are also quick to welcome newcomers into their neighbourhood, with ⅔ of all respondents claiming to know each of their next door neighbours by name. The City's homeowners also came out as the least likely to intentionally avoid their neighbours, within the region. Peter Vella, Regional Sales and Marketing Director at Countryside, commented:- "We have a number of developments in Merseyside and it's our responsibility to not only provide housing, but to build communities. It's great to see that the City's residents are being recognised for their friendly nature. Getting to know the people who live around us will help to create a sense of belonging and contribute to a happier community, so even a quick hello will make a big difference."