71% of people in the North West fear future generations will never have a 'forever home'
A staggering 71% of people in the North West fear it will be impossible for future generations to have a home to settle down in, new research by housing and homelessness charity Shelter reveals. The Ipsos MORI survey, commissioned by Shelter and British Gas as part of a new study into the meaning of home in Great Britain today, exposes alarming social trends caused by the current housing shortage. Nationally the research showed that for recent generations, the chance to have a 'forever home' has been slipping increasingly out of reach. Worryingly, 74% of people in younger Generations X and Y said it is harder for them to get a home to settle down in than it was for their parents' generation. This compares with only 44% of people born in the Baby Boomer or Pre-War years. A large majority of people who don't currently live in a long term home say they would like to, either now or in future, with most saying the key reason is to give them stability or to put down roots. However, the reality of life for the millions of young people and families who make up 'generation rent' is very different, with the research showing that 25 to 34 year olds in Britain today have moved more than twice as frequently per year of their lifetime as pensioners. This new research marks the launch of the Great Home Debate. In its 50th year of striving to end bad housing and homelessness, Shelter, with support from British Gas, wants to have the country's biggest ever conversation about the meaning of home. It will use people's views from the Great Home Debate to shape new standards for homes in the 21st century. Campbell Robb, Shelter's chief executive, said:- "The fact that vast numbers of people fear their grandchildren will never have a home to put down roots in, highlights the sad truth that this country is once again at the mercy of a housing crisis. While we have made progress over the last 50 years, our current housing shortage means millions are facing a lifetime of instability and, understandably, people are giving up hope. But if our history tells us anything, it's that together we can make things change. For the sake of future generations we cannot make this crisis someone else's problem. We're urging the nation to tell us what they really need from a home; so we can better help those who aren't lucky enough to have one. At Shelter we won't stop until we all have a place to call home." Anyone can join the nation's Great Home Debate by visiting:- GreatHomeDebate.Org.UK and sharing their thoughts on the meaning of home in Britain today. Bryan Halliday, Head of Corporate Citizenship at British Gas, said:- "Through our ongoing partnership with Shelter we've already helped to improve living standards for thousands of families. This debate will help us to understand how we can help more people in the future to have a safe, warm and stable place to call home." Brenda case is a good example of this. Brenda was raised in poor privately rented housing in the 60's and went through a period of homelessness. As a young married adult she bought her own home and raised a family, but following a divorce, now finds herself back in unstable private renting. Brenda says:- "We've come full circle. There was a shortage of housing in the 1960s, and we're facing the same problem again now. Houses are unaffordable, the number of homeless people is rising, and landlords can throw you out at short notice. When we bought our house it was like a dream. It felt almost like we'd started our journey in life because we owned a piece of land with a house on it and nobody could throw us out. You've got local schools and shops nearby, people know where you live, you become part of the community; and that's what makes it a home. Sadly, I don't think the future looks good for my daughter and my granddaughter when it comes to having their own home, unless somehow I can afford to help out."

Southport Costa Coffee Shop window smashed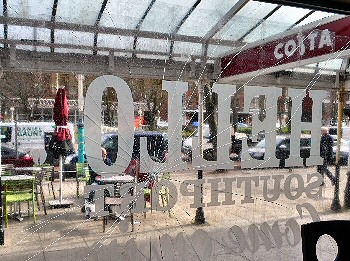 DESPITE the increased Policing in Southport Town Center, as a 48 hour dispersal zone was in place following a huge increase in reports of anti-social behaviour, the new window of the Costa Coffee Shop on Lord Street was smashed. It is thought that the incident happened sometime ober night, between 9pm, on Saturday, 19 March 2016 to 7am, on Sunday, 20 March 2016. Just before the 48 hour dispersal zone came into effect on the Friday, Southport Neighbourhood Inspector Graham Fisher told us:- "We are working with local businesses and the Council to identify offenders and take the appropriate action. These zones are not about bothering people, young or old, who are going about their legitimate daily business. However, we will be targeting people who are intent on causing anti-social behaviour or criminal damage, especially if they are gathering in large groups, which can be intimidating to others. These issues will of course be closely monitored and further dispersals will be authorised if appropriate. I welcome the information provided to us so far from the local community, and we will continue to respond to their concerns, to allow us to focus our resources on the right areas." Sadly, these acts of anti social behaviour and criminal damage are destroying small businesses in the area and the Towns image. No matter how many extra patrols and the use of temporary dispersal zones, with out public help, it can't stop it. Members of the community with any information are encouraged to speak with officers in the area, their dedicated Neighbourhood Team on:- 0151 777 3442, or call:- 101. Anyone with information who does not wish to speak with us directly can call Crimestoppers anonymously on:- 0800 555 111. Please let the Police know of any areas that groups are congregating, causing nuisance and damage so we can put a stop to this activity!
Tribute paid to Ann Marie Cropper
THE family of Ann Marie Cropper, who was murdered by her partner Ian Gordon at their home, in Southport, have paid tribute to her. In a statement issued to the press via Merseyside Police they said:- "The family of Ann-Marie Cropper would like her to be remembered as a happy, go lucky person. She was a loving daughter, sister, mother, grandmother and auntie who tried to never let life bring her down. We have lost a big part of our family. Throughout the trial and hearing what Ian Gordon put her through has been absolutely heart-breaking and will be for some time to come. She meant nothing to him, but meant everything to us. She will be forever missed."