Keep an eye out for Facebook and Twitter Clone Accounts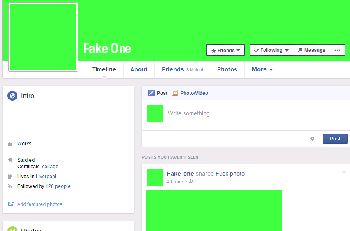 WE have seen a surge in fake accounts on Facebook and Twitter over the start of 2016. Check all your requests coming in. These fake accounts can be clone accounts that are aimed at duping you into accepting friend requests etc. Most of these we have found link to porn websites and survey websites. But some go that extra mile... asking you for help, in form of cash. One of our readers has recently had a message that was sent:- "in a panic" from a cloned account. This account claimed the lad, whose profile had been copied, was stuck in an airport without cash. The type of thing you get on SPAM emails. 'He' asked for cash to be sent via Weston Union, so he could get a ticket home. That would have looked odd and to most, it would have been put in the bin, but some people fall for it, as 'it's a friend or relations in need of help'. This type of con is mostly targeted at users whose profiles look like they could be vulnerable or elderly. This face account however was rumbled due to the fake account holder not 100% checking all the friend lists out fully. This message was sent to the user's Mum and at the time he was sat next to her, giving her lessons on how to use Facebook! So always check accounts fully, even when added! Keep an eye on your contacts and see if anything odd is taking place.
Police ask for information following house being shot at in Litherland
MERSEYSIDE Police are investigating after shots were fired at a house in Litherland, on Sunday, 17 April 2016. The incident is said to have happened at around 10.50pm. Officers were called to Gowrie Grove following a report of shots fired at a property and on arrival officers discovered damage to a property consistent with a shotgun discharge. Merseyside Police have stressed that no one was injured. At this stage of the investigation, the motive for the incident is unclear and enquiries are on going. High visibility patrols have been stepped up in the area to reassure the local community and CCTV opportunities are being explored. Now an investigation is being led by the Matrix Serious Organised Crime Unit and detectives are carrying out extensive enquiries to trace the person or persons responsible.

Sefton Detective Chief Inspector Gayle Rooney said:- "This would have been a very frightening experience for the occupants. Thankfully no-one was hurt but this was an incredibly dangerous and reckless act and we are doing everything we can to trace the criminals responsible. The investigation is in its early stages and the motive for the attack is unclear however we believe this was a targeted incident. We are relentless in our pursuit of those involved in gun crime and criminals who have no regard for anyone else and will continue to take action to protect our communities from those intent on using firearms on our streets. Information from our communities is vital. I would urge the local community to come together to help us take a stand against the use of firearms and violence on our streets and report anything they saw or heard on Sunday night to us so we can take action. If anyone has any information about this incident or those involved in gun crime, or who knows where weapons are being stored, I would urge them to contact us so that we can make our streets safer."

Anyone who witnessed anything suspicious in the area or has any other information that could help the investigation is asked to the call the Merseyside Police gun crime hotline on:- 0800 230 0600 or alternatively leave information anonymously with Crimestoppers on:- 0800 555 111.
11 People charged with drugs offences in the Sefton Area
11 people have been charged following a Police operation that was targeting serious and organised crime in the Sefton area, on Thursday, 14 April 2016 and on Friday, 15 April 2016. Those arrested are as follows:-

Jodie Sheree Green, aged 47, of King Street, Southport has been charged with conspiracy to supply Class A drugs and supply of Class A drugs. - She was remanded in custody over night and appeared at South Sefton Magistrates Court, on Friday, 15 April 2016.

Trevor Randle, 61 years, of Chindit Close, Formby, charged with conspiracy to supply Class A drugs (crack cocaine and diamorphine).

Robert Flynn, 56 years, of Brows Lane, Formby, charged with conspiracy to supply Class A drugs (crack cocaine and diamorphine).

Warren Wright, 44 years, of Marshside Road, Southport, charged with conspiracy to supply Class A drugs (crack cocaine and diamorphine).

Dawn Rigby, 41 years, of Castle Street, Southport, charged with conspiracy to supply Class A drugs (crack cocaine and diamorphine).

Annie Billington, 53 years of Hart Street, Southport, charged with conspiracy to supply Class A drugs (crack cocaine and diamorphine).

Jonjo Webb, 26 years, of Bridge Meadow Road, Wirral, charged with conspiracy to supply Class A drugs (crack cocaine and diamorphine).

Kelsey Higgins, 49 years, of Elm Gardens, Seaforth, charged with conspiracy to supply Class A drugs (crack cocaine and diamorphine).

Kyle Horrocks, 20 years, of Argos Place, Bootle, charged with conspiracy to supply Class A drugs (crack cocaine and diamorphine).

Carl Mercer, 42 years, Riddock Road, Litherland, charged with conspiracy to supply Class A drugs (crack cocaine and heroin), possession with intent to supply cannabis and abstraction of electricity.

Thomas Mitchell, 54 years, of Merton Road, Bootle, charged with being concerned in the supply of Class A drugs.

They have also appeared at South Sefton Magistrates Court, on Friday, 15 April 2016.

Operation Rogue Trader 2016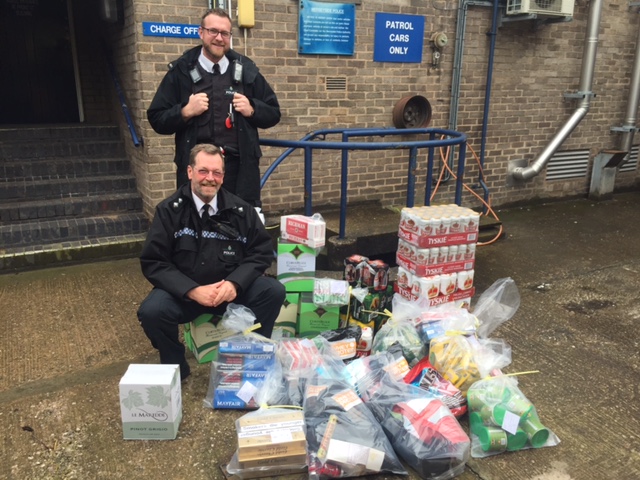 DID you know about:- 'Operation Rogue Trader' taking place? No it's not a Star Wars film spin off, but an operation targeting doorstep criminals! This Merseyside Police operation has now been hailed a success, following the proactive work by Police Officers along with Council and other law enforcement partners across Merseyside.

Officers, working with Trading Standards, the Department of Work and Pensions, Environment Agency, HM Revenue and Customs, the Driving Vehicle Licencing Agency, the Driver and Vehicle Standards Agency, Border Force, Health & Safety Executive, Land Registry, National Benefit Fraud Office, Local Council Environmental Health Departments and Scambusters carried out a number of crime prevention and law enforcement activities in Merseyside to catch those responsible for this type of crime and offer reassurance to local residents.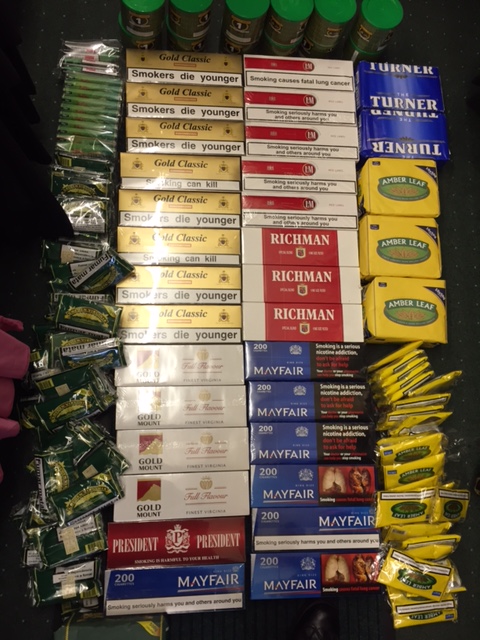 In St Helens and Newton-le-Willows, more than 10,000 counterfeit illegal cigarettes, 100 bottles of counterfeit wine and spirits, and quantities of illegal sports supplements and diet pills were seized following information received from the community. As a result, an investigation is to be carried out by Trading Standards in relation to 3 shop premises.

In Knowsley, officers from the Roads Policing Unit, working alongside DVSA and HMRC, stopped a number of vehicles, resulting in arrests and cash and drug seizures. On Monday, 11 April 2016, a van was stopped in Knowsley and £80,000 of cash was located in the vehicle. A further search of the man's home address in Melling resulted in the recovery of further cash and 4Kilos to 5 kilos of crack cocaine. A 31 year old man was arrested on suspicion of money laundering and drug offences and has been bailed pending further inquiries.

On Wednesday, 13 April 2016, a white van was stopped near to Knowsley Heights, and the driver was found to have given false details and was arrested for driving offences.

In Sefton, Police surgeries were carried out and crime prevention, and reassurance visits made to local residents and previous victims of rogue trader offences.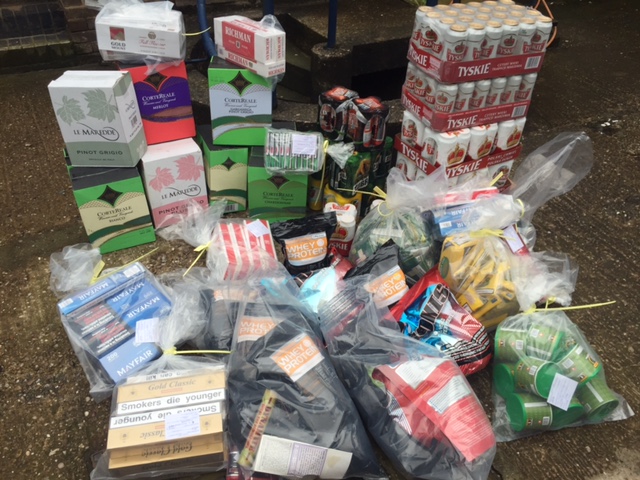 In Wirral, Officers stopped numerous vehicles, resulting in the issuing of fixed penalty notices. Home security advice, leaflets and reassurance have also been given to residents across Wirral.

Police and Trading Standards have also made joint visits to numerous areas on Merseyside which have been targeted by Rogue Traders, offering reassurance and crime prevention advice to residents and businesses.

Chief Superintendent Peter Costello, head of Local Policing in Merseyside, said:- "We have seen some excellent results so far this week, which once again shows the value of Operation Rogue Trader to Merseyside Police and our key partners. The aim of Operation Rogue Trader is to work with partners to disrupt rogue traders and, where offenses have been committed, put these offenders before the Courts. We have worked proactively with numerous partners to achieve these results with great success. Not only have our dedicated officers disrupted criminal activity, they also been directly involved in recovering stolen property and arresting suspects, which complements our work targeting serious and organised crime across the Force. A great deal of work has also been done by our roads policing unit, working alongside the DVLA, in terms of checking vehicles using Merseyside's roads. Officers have also visited vulnerable people and delivered leaflets, and offered reassurance and advice. It is vital that communities are aware how these offenders operate and what can measures can be taken to stop them."

We have been told that the full results with arrest numbers, vehicle stops, etc. will be available very soon.