Breakout Liverpool announces their 3rd Charity Day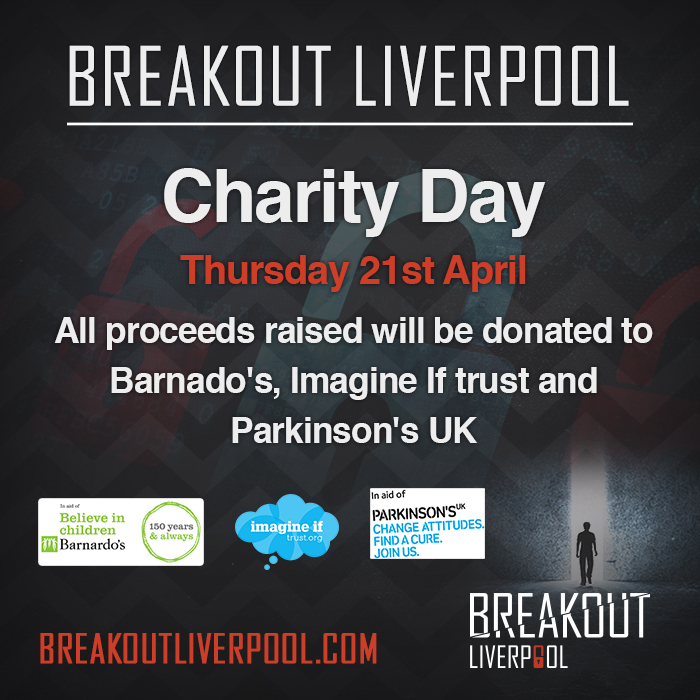 BREAKEOUT Liverpool is excited to announce its next Charity Day will take place on Thursday, 21 April 2016. For this event all proceeds from Breakout Liverpool are being donated to Charity. This is the 3rd time Breakout have held a charity event, which involves donating our sales proceeds, but some charities also take some rooms and sell them on themselves to their members and partners.

► Cursed Carnival and Shipwrecked; All proceeds from these rooms will be donated to Imagine If Trust. This is a local charity aiming to transform lives through community projects and education. Breakout have worked with Imagine If Trust for their Charity Events before and have built a strong relationship with them.

► Wanted, The Facility and Classified; The proceeds from the sales of these games are all being donated to Barnardos, who work to improve the lives of vulnerable children and young people.

► Sabotage; This game's proceeds are all being donated to Parkinson's UK, who support people suffering from the disease and fund research for better treatments and a cure.

► Breakout Manchester's High Street games' will see the proceeds being donated to charity. The charities benefitting from this are; The Christie, a Manchester hospital charity striving to provide specialist cancer treatments and researching more effective combatants and an eventual cure for this disease that effects so many, and Joining Jack, a charity based in Wigan who work to fund research into treating and bringing an end to Duchenne Muscular Dystrophy which effects 1 in every 3,500 boys worldwide.

► Nationally the Breakout have now put out feelers to gauge if other escape game companies would be willing to join them in donating to charities for the day, if this goes well, they hope to expand this for the next charity event in October 2016.
What is Breakout Liverpool Liverpool? Breakout Liverpool operates live escape rooms, with their main site located in the City Centre, by the Met Quarter. Teams of 2 to 5 people have 1 hour to escape a locked room by solving a series of clues and puzzles.

Thousands of Merseyside car journeys abandoned as children jump on bikes
Photograph by Livia Lazar from Sustrans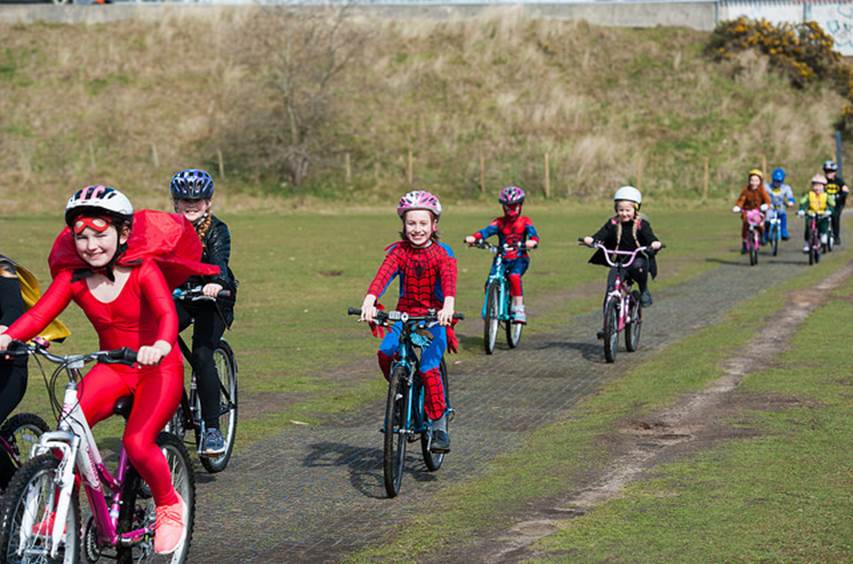 CHILDREN from Shoreside Primary School, Southport, got their superhero outfits on to celebrate the start of the Big Pedal in Merseyside. 1500 schools, containing over 500,000 children, are taking part and jumping on their bikes and scooters like those in Shoreside Primary School over the next 2 weeks, in an attempt to reduce 4.8 million balloons worth of carbon dioxide from being released into the atmosphere in the North West.

Parents and teachers from across the North West region will leave their cars at home for their normal trips to and from school, preventing over 145,000 car journeys from taking place. Instead they will be cycling and scooting over 230,000 miles during the Big Pedal, a two week cycling and scooting competition run by charity Sustrans.

The competition could save over 3 tonnes of Nitrogen Oxides and over 1,000 tonnes of CO2 from being emitted into the environment as part of the school run.

Nitrogen Oxides can cause breathing difficulties in vulnerable people, such as asthmatics and older adults.

As well as reducing pollution which affects us all the Big Pedal can also help reduce individuals' exposure to pollutants. Reports have shown that children who travel actively could reduce their exposure to Nitrogen Oxides by up to 60% as concentrations are higher inside the vehicle than outside.

Rosslyn Colderley, Sustrans' England Director for the North said:- "Over 40,000 people die each year in the UK directly because of air pollution and it is simply unacceptable. The Big Pedal demonstrates the difference that can be made if people are encouraged to leave their cars at home. Not only will they get fitter and healthier by cycling and scooting, dangerous emissions are reduced which benefits everyone. To make this happen on a large scale the government must transform our towns and cities into places where cycling and walking is the natural choice for journeys to school and work. Only by doing this can we hope to prevent the thousands of deaths caused by air pollution and at the same time make the nation healthier."

As well as providing environmental and health benefits, the Big Pedal also enables parents and teachers to save money, last year collectively over £475,000 was saved in fuel costs by people cycling and scooting, instead of driving during the competition throughout the UK.

Big Pedal in Britain which is running until 29 April 2016 and if you are taking part please let us know, via emailing us to:- News24@SouthportReporter.com. For more information on the event or for tips on cycling and scooting to school, visit:- Sustrans.Org.UK/BigPedal.