Support dress with Pride, Liverpool 2016!
Photograph by David Munn and Bond Media.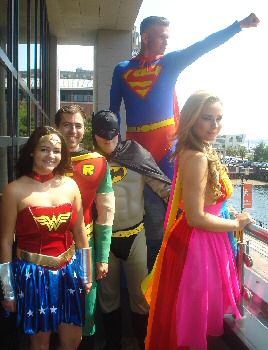 LOVERPOOL'S business community is being encouraged to support a new initiative to raise awareness of City's LGBT communities and Liverpool Pride Festival 2016.
Organisers of Liverpool Pride Festival 2016 are inviting the City's retail and commercial sectors to get behind Dress With Pride, an exciting new addition to the festival for 2016.

Dress With Pride will see customer facing organisations; such as shops, bars, restaurants, visitor attractions, hotels and offices; allow their employees to swap their usual uniforms and work attire to don colourful and creative costumes throughout the week of the Liverpool Pride Festival 2016.

Businesses taking part will be showing their support for Liverpool Pride Festival 2016; their LGBT staff and customers; the City; and the wider LGBT communities.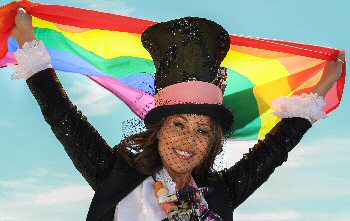 Liverpool Pride Festival 2016 offers a week long programme starting on Saturday, 23 July 2016. The festival culminates with a 2 day event the following weekend, over Saturday 30 July and Sunday, 31 July 2016, which takes place in the St George's Cultural Quarter, featuring the well established Liverpool Pride March on the Saturday.

Liverpool Pride is now a key highlight in the City's Summer events programme, attracting more than 25,000 people each year to attend, take part and support the annual LGBT festival.

Participating businesses and venues will be asked to invite customers and visitors to make a donation to help support the work of Liverpool Pride going forward; and to develop their own creative ways to encourage customers to dig deeper.

Staff members are encouraged to use Liverpool Icons; the theme of Liverpool Pride Festival 2016; as their inspiration for their chosen outfit. Alternatively, they are invited to wear clothing in the colours of the global LGBT rainbow symbol to also show their support. Participants are also invited to make a small donation to take part.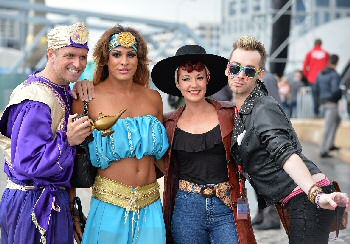 Dress With Pride joins another new addition for Liverpool Pride Festival 2016. Come Out Of The Shadows is a new project and is supported by the Police Commissioner's Fund as a Hate Crime initiative. The initiative is to encourage the City's key organisations and buildings to light up their venues in the iconic rainbow colours throughout the week of Liverpool Pride (23 July to 31 July 2016) in a bid to make Liverpool the most visibly LGBT friendly City in the UK.

Michael Carey from Liverpool Pride explained:- "Dress With Pride is a fun way to get the business community involved in the festival and celebrate all things LGBT, while also raising awareness and embracing the week long event. This year's theme of Liverpool Icons is already generating plenty of excitement, so we would love to see customer facing staff across the city become icons of their own businesses during the festival. The initiative will also provide a platform to help raise funds to support the Liverpool Pride Charity. Dress With Pride will fully complement our new Come Out Of The Shadows project to light up the city. Seeing them both come to fruition for Liverpool Pride 2016 will give the festival a huge boost."

This year, the all new Liverpool Pride Festival 2016 will take a more prominent and visual position in the city, taking over St George's Cultural Quarter including St George's Hall, The Plateau, William Brown Street, and St John's Gardens.
The festival will be organised and delivered by Orb Events, the Liverpool based company who created the very first Pride event in 2010.

As always, the festival coincides with the anniversary of murdered gay teenager Michael Causer, who tragically lost his life on 2 August 2008. The Liverpool Pride festival was specifically created in his memory as a way to celebrate his life and to empower the LGBT communities.

Liverpool Pride is keen to hear from public or private sector companies or organisations who would like to become involved in the 2016 festival.
There are a number of ways to support Liverpool Pride, including partnership working, sponsorship and advertising.

Keep up to date with Liverpool Pride's new announcements keep an eye on:- LiverpoolPride.Co.UK.

Thousands of Merseyside car journeys abandoned as children jump on bikes
Photograph by Livia Lazar from LDA Media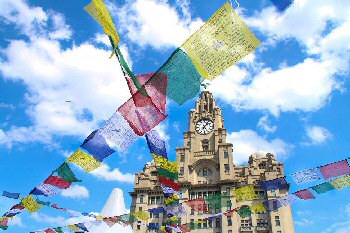 LIVERPOOL Loves returns to the world famous Pier Head, on Saturday, 6 August 2016, to celebrate and promote the best of Liverpool life under the themes of Culture, Food and Wellbeing.

Last year's event was a resounding success and was hailed one of the stand out moments of 2015, with over 27,000 people attending across the weekend. And now, Josh Boyd from Orb CIC is excited to announce some of the key programme partners that visitors can expect to see down at the feel good festival's vibrant and colourful site this summer.

Liverpool Loves is working with a range of events and cultural organisations to produce a dynamic programme of entertainment that offers something for all ages and interests; aiming to spread the love and put a big smile on people's faces. The purpose of this collaboration is to give Liverpool Loves visitors a taster of the very best of the City's culture scene; including:- The Guide, BBC Radio Merseyside, Liverpool Arab Arts Festival, China Pearl, Milap Fest, Viva Brasil, SoulFest and Liverpool Disco Festival.

This year's Main Stage is tipped to be bigger and better than ever; welcoming a range of rising local favourites and some fantastic headline talent.
The daytime programme runs from 12pm to 5pm and Liverpool Loves has teamed up with city entertainment aficionados The Guide, which is programmed and hosted by Jay Hynd, to present some of the best artists from Liverpool's burgeoning music scene.

The evening programme follows up from 5pm to 9pm with BBC Radio Merseyside and BBC Introducing's Dave Monks; showcasing local stars of tomorrow alongside well established, high profile acts. Exciting announcements for the various stage line ups are to follow in the next few weeks.
Newly branded for this year; the Culturebox tent showcases the City's diverse international communities through music, dance and traditional arts. This dazzling, family friendly stage runs between 12pm and 6pm.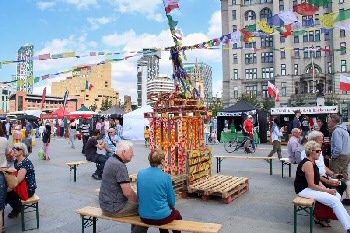 Liverpool Arab Arts Festival will be on hand to provide a taste of North Africa and the Middle East; China Pearl and Huayun Arts return with a range of beautiful traditional Chinese music and dance; alongside the fantastic Milap Fest, who'll offer up a show-stopping array of Indian sounds. The premier Brazilian and Afro-fusion samba bloco, Katumba will provide a scintillating performance with the Viva Brasil carnival dancers and the HeartBeat Drumming Circle have a special, surprise performance planned for the festival finale.

As well as an exciting programme of animation and activity, Circo's famous circus performers and show stopping acts will be performing across the site and the Main Stage.

Putting a bit of soul into the heart of the event; the hotly tipped SoulFest by Soul Inspired Events CIC are confirmed to take over a section of the programme, supported by exciting newcomers Liverpool Disco Festival who'll be playing vintage funk, disco and soulful house classics until late.

Finally, The Rider will be running a final stage to showcase emerging local artistes, alongside the brilliant Merseyrail Soundstation pop up with a more intimate offer of acoustic sets.

Fitting in with Liverpool Loves' commitment to showcasing sole traders and local businesses; Independent Liverpool will build on their already growing event programme this year by hosting a producer's festival market on site; alongside the much loved Capstan's Bazaar, who'll show off the best local makers from around the region with all things arts and crafts.

News about stage line ups, the family and children's programmes and Liverpool Loves Wellbeing activities are to follow soon.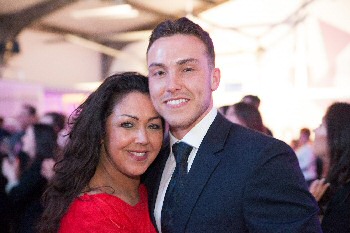 The team behind Liverpool based social enterprise, Orb CIC has a strong, proven track record in staging major city events and festivals and are pulling out all the stops to ensure that this year's event is one to remember. Event organiser, Josh Boyd, said:- "The team at Orb CIC are very excited to announce our 1st wave of programme partners for this summer. As 'The People's Festival' it's really important that we showcase the amazing things that go on all year round across the City Region (Merseyside) that are important to Liverpool people; and our initial partners for 2016 certainly do just that. If anyone is reading this story that feels they fit in with the exciting, hippy, happy vibe of what we're putting together and would like to be a part of Liverpool Loves 2016; please contact us via:- info@liverpoolloves.co.uk to discuss how we might get you involved."

Find out more at:- LiverpoolLoves.Co.UK and get involved by emailing your details to:- LiverpoolLoves@orb-events.co.uk

Follow them on Facebook / Liverpool Loves and Twitter @LiverpoolLoves