Arts Festival Draws on Local Talent of All Ages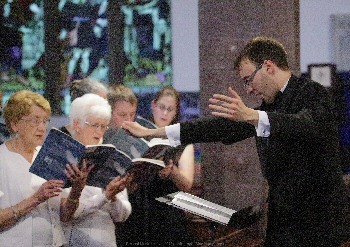 THE Prescot Festival of Music and the Arts, now in its 12th year, continues its long tradition of showcasing talented writers, singers, artists and musicians of all ages from the local community. Evelyn Community Primary School once again hosts the:- 'Young Instrumentalist of Prescot' competition, on Wednesday, 22 June 2016, inviting primary and secondary students to compete for the:- 'Reverend David Rose Trophy', named for the much loved Prescot clergyman and businessman, who passed away in 2013. Children from across the region will recite their own verse and that of others at St Mary and St Paul's Primary's Schools' Poetry Showcase, on Monday, 20 June 2016. And for those youngsters who are more at home with a brush or pencil in hand, a festival long exhibition at Prescot Parish Church will display a stunning range of artwork from local schools.

There's still time for people to get involved. Do sing you a soprano, alto, tenor or bass? The Prescot Festival Chorus invites choral singers to join it for a performance of Mozart's renowned Requiem, conducted by James Luxton of Liverpool Metropolitan Cathedral, on Saturday, 18 June 2016. This annual 'Come and Sing' event has attracted over 100 singers in past years.
The festival is also eagerly standing by for entries from budding authors in its Short Story Competition. Entrants are being asked to write tales of up to 1,000 words inspired by the theme 'in a pickle' a turn of phrase 1st recorded in Shakespeare's The Tempest. And finally, if being in the limelight isn't your style, there are lots of opportunities to volunteer behind the scenes as a 'Friend of the Festival.'
"Hearing the chatter and seeing the smiling faces after a concert is a fantastic feeling. There's such pride in knowing you've been part of making it happen." said long time volunteer Dyane Basinger.

As former librarian of Cowley International College in St Helens, now retired Dyane takes particular pleasure in seeing the amount of young people involved. "It's inspiring to discover all this talent is right on your doorstep." said Dyane.

As well as local performers and artists, the festival features acts from further afield. Other highlights of the 2016 programme include a Swingshift Big Band, Nigel Ogden of BBC Radio 2's The Organist Entertains, and Songs from the Shows with BOST, the Birkenhead based theatre company whose annual productions at the Liverpool Empire have included The Full Monty and Jesus Christ Superstar.

Artistic Director Dr Robert Howard said:- "While so many festivals decline after just three or four years, the quality of talent and support of the local community has ensured the Prescot Festival is growing year on year after more than a decade. As ever, this year we aim to include everyone in the community, whether on stage, behind the scenes or cheering on in the audience."

The 12th Annual Prescot Festival of Music and the Arts runs from Friday, 17 June to Sunday, 26 June 2016. The full programme, as well as more information on how you can get involved, is all online, and tickets will go on sale from 1 May 2016, also on the same website.

Cutting edge service available to Liverpool prostate cancer patients
PATIENTS at the Royal Liverpool and Broadgreen University Hospitals will be the 1st outside London to receive cutting edge prostate cancer diagnostic services.
The Trust is the 1st and only site in the country outside of London to provide the ground breaking new Prostate Specific Membrane Antigen (PSMA) test using their PET/CT (positron emission tomography computed tomography) scanner.

Nuclear medicine specialists from the Royal Liverpool and Broadgreen Hospitals NHS Trust are working with the highly specialised radiopharmacy staff as well as consultants from Urology, Oncology and Radiology.
The test is based on a completely new method for spotting the early signs of a returning prostate cancer. It aims to increase life expectancy for patients with a variety of long term conditions including cancer and heart disease and to address the complex health needs of some groups of patients. Radioactive material is injected into a vein and can be viewed on the PET/CT scanner. The scans can potentially identify cancer cells that have spread beyond the prostate gland. A team of specialists can then identify a treatment plan, which specifically targets and treats the patient's specific type of cancer. This also means that if treatment is required it can begin sooner, and for those patients that do not require treatment they can be reassured.

Mr Cornford, consultant urological surgeon at the Royal Liverpool University Hospital said:- "We want to deliver the best treatment to our patients, revolutionary diagnostic tests greatly impacts on a patient's diagnosis. Understanding the benefits of this new test is pivotal in the fight against prostate cancer. PMSA/PET scanning will help us to identify prostate cancer recurrence earlier. This will allow us to provide innovative treatments which are personalised to patient's diagnosis. The continuous work will create the opportunity to research into developing cures."

Professor Vinjamuri, lead consultant in nuclear medicine at the Royal Liverpool University Hospital added:- "The launch of this test in Liverpool ahead of other bigger cancer centres has been made possible because of our unique and specialist expertise in the fields of radiopharmacy, nuclear medicine and medical imaging. The PSMA test is part of a programme of continuous research and development into diagnostic tests which brings us another step closer to providing the best care possible to our patients"

The collaboration and investment of clinical expertise and time to develop the research is vital in helping to continue delivering the best care to cancer patients across Merseyside and surrounding areas.
Rainhill fraudster ordered to repay £43,000
A Rainhill man, who stole more than £41,000 in VAT repayments for a fake consultancy business, has been ordered to repay £43,726 or serve extra jail time. Terence Paul Jackson, 57, set up a bio-oils consultancy company, trading as Jackson Cooper Limited in 2009. He then submitted multiple VAT repayment claims to HM Revenue and Customs (HMRC) over 6 years. However, the business was a complete sham. It never traded and Jackson invented all the financial records, company expenses, purchasing and travel receipts just so he could steal the VAT. Before a routine visit from a Tax Inspector, in 2015, Jackson confessed his Tax Theft over the phone to HMRC. He was charged with VAT fraud in December 2015 and pleaded guilty in January 2016 at Liverpool Crown Court. He was immediately jailed for 12 months. At a Proceeds of Crime hearing to recover the money he stole, the court heard that Jackson had rented out three properties in Rainhill and Manchester. The properties generated a monthly income of £1,290, which he never declared. He also had several pension and savings investments totalling £170,000. Jackson was ordered to repay the stolen VAT plus interest and penalties, totalling £43,726, within 3 months or he will have an extra 12 months added to his current jail sentence.