Awards for the crème de la crème of Wirral tourism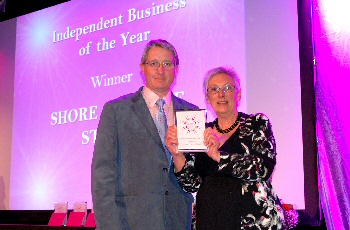 WIRRAL'S tourism heroes were celebrated at the sector's annual awards ceremony that took place on Thursday, 14 April 2016. More than 200 tourism professionals, including those from the Wirral Visitor Economy Network (WVEN), gathered at New Brighton's Floral Pavilion Theatre and Conference Centre for the prestigious Wirral Tourism Awards. The Awards reflect the very best of Wirral's tourism sector, recognising the quality, achievements and continuous hard work of the individuals and teams behind the success.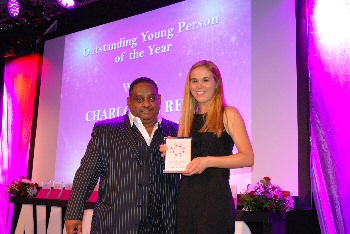 Mayor of Wirral, Cllr Les Rowlands, was guest of honour at the ceremony and said:- "I'd like to congratulate all of the businesses and staff, from over 450 nominations this year, who were finalists for the awards. Just being nominated shows how highly valued they are by their customers. The Wirral Tourism Awards once again reinforced the great work businesses in this sector do on behalf of the borough and the positive impression they make on local people and visitors alike."

Big winners on the night included Shore Cottage Studio on Thurstaston beach and a number of New Brighton businesses. Indeed, the Outstanding Contribution to Wirral Tourism award was given to Promenade Estates (Wirral), who were formerly known as Neptune Developments, who played a major role in the regeneration of New Brighton over the last 10 years.
The full list of the 2016 Wirral Tourism Awards winners are as follows:-
Outstanding Young Person (sponsored by The Contact Company)
Charlotte Reed, Benty Farm Tearooms

Sustainable Tourism Award (sponsored by Ness Botanic Gardens)
Shore Cottage Studio

Volunteer Team of the Year (sponsored by Wirral Council)
Floral Pavilion Ambassadors

Outstanding Customer Care (sponsored by Birkenhead Market)
Blackberry Grove

Independent Business of the Year (sponsored by Mills Media)
Shore Cottage Studio

Attraction of the Year (sponsored by the Wedding Collection)
Port Sunlight Museum

Bed & Breakfast of the Year (sponsored by Wirral Chamber)
Mere Brook House

Bar of the Year (sponsored by Woods Squared)
The Wro, West Kirby

Hotel of the Year (sponsored by Contessa Hotels)
New Brighton Hotel

Taste Wirral (sponsored by Wirral Satellite Cars)
Caffe Cream

Event of the Year (sponsored by Lets Go Publishing)
Fabulous Frost Fair

Young Chef of the Year (sponsored by Wirral Met College)
James Ryan, the Marsh Cat, Parkgate

Outstanding Contribution to Wirral Tourism (sponsored by Printfine Ltd)
Promenade Estates

Officer cadet from Ormskirk, Lancashire graduates at Royal Military Academy Sandhurst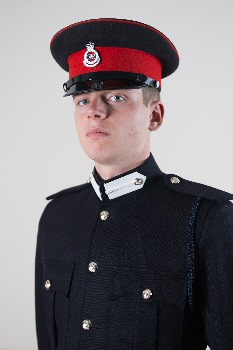 ON Friday, 15 April 2016, Patrick Highet from Ormskirk, joined hundreds of Officer Cadets in a prestigious graduation ceremony at the Army's world renowned Royal Military Academy Sandhurst.

Passing out from Sandhurst marks the completion of 44 weeks of intensive military and academic training, combined with adventurous training and sporting challenges. By the time Officer Cadets have graduated they enjoy immediate leadership responsibilities, where they will be in charge of a platoon of 30 soldiers, managing their skills, workloads and welfare.

With friends and family in the audience, Patrick and all the graduating Officer Cadets took part in the Sovereign's Parade in front of Her Majesty's representatives. The parade is a key milestone for every Army Officer and has been run at the end of each term for over 200 years.

Life as an Army Officer comes with challenge, responsibility and guaranteed progression; preparing you for your future life inside and outside of the Army. Officers could find themselves leading highly trained platoons, taking part in peacekeeping missions or helping to deliver humanitarian aid around the world.

Patrick said:- "Being part of an elite group of people that have graduated as British Army Officers from Sandhurst makes me extremely proud. It's one of the biggest challenges I have ever undertaken, but also one of the most rewarding. The training and support I have received has been excellent and I cannot wait to start putting it into practise and to be given the chance to make my contribution on operations, adventure training, and missions overseas. I would recommend an officer career to anyone looking for an exciting job away from the mundane 9 to 5."

The parade ended in traditional fashion with the Academy Adjutant following the Officer Cadets up the steps and through the grand entrance, mounted on his horse.

Major General Paul Nanson, Commandant Royal Military Academy Sandhurst, said:- "Congratulations to all our Officer Cadets on their commissions. The Cadets have come from a wide variety of backgrounds, many have come straight from university, some from sixth form and some from within the Army's soldier ranks, but they will now all embark on their Army careers with the same outstanding training. Sandhurst is not easy, but it provides opportunities to learn much more beyond military skills; it offers unrivalled leadership training, preparation for life outside the Army and guaranteed career progression. The Army is always looking for its next generation of leaders to take up the challenge of an officer career and, over the past 44 weeks, the cadets have demonstrated real dedication, determination and professionalism. I look forward to seeing each of them realise their full potential as they embark on their careers with the Army."

After a formal lunch with friends, family and regimental officers, the day concluded in spectacular and celebratory style at the exclusive commissioning ball. There, at the stroke of midnight, the newly commissioned Second Lieutenants proudly displayed their rank insignia for the first time.

To join the Regular Army as an officer, candidates must be 18 to 26 years of age, attained at least 7 GCSEs (with a minimum grade C in English Language, Maths and either a science or a foreign language) and also have 180 UCAS Tariff points from a maximum of 3 A level subjects.

Applicants attend a 2 day Army Officer Selection Board briefing, where leadership and teamwork skills are tested. Candidates then go to the selection board, which consists of a 3 day assessment of physical and mental suitability for the role. Those successful, embark on a 44 week course taking place at the Royal Military Academy Sandhurst.

Recruits earn a starting salary of £25,472 whilst they train. This rises to £30,617 when they are commissioned as a Second Lieutenant. After 5 years officers can be earning at least £39,236 as a Captain.

For more information about the exciting career opportunities available in the Army search "Army Officer" or visit the MOD's website.