Complete with trademark Pork Pie Hats and sunglasses, the legendary Blues Brothers are back and on a new mission!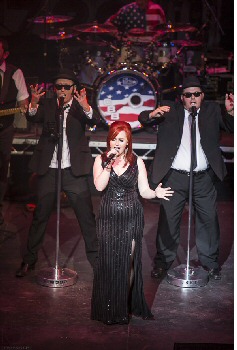 ARMED with a new stage set, new moves, and freshly laundered jail suits, Jake and Elwood are coming to St Helens Theatre Royal with their brand new Jailbreak Tour, on 21 May, 2016.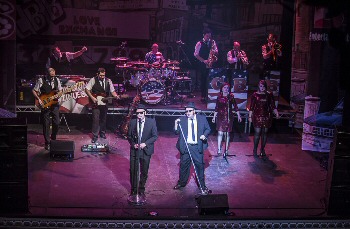 Celebrating over 30 years of The Blues Brothers phenomenon, this non-stop revue is packed with over 2 hours of the very best Blues, Motown and Soul music from both of The Blues Brothers movies, along with some side splitting comedy thrown in for good measure!

It was all the way back in 1978 that John Belushi and Dan Aykroyd (aka Joliet Jake Blues and Elwood J Blues!) 1st unleashed the might that was to become 'The Blues Brothers' on the NBC show 'Saturday Night Live' coast to coast in the United States of America.
Did Belushi and Aykroyd realise they would initiate an abundance of folk wearing pork pie hats and dark glasses, all professing to be on a mission from God? Possibly… However, what they did become were the ultimate ambassadors of the music they loved!
Featuring an elaborate 9 piece LIVE band, The Chicago Blues Brothers show is packed with all your favourite hits from both of the Blues Brothers movies including Everybody Needs Somebody, Soul Man, Respect, Shake a Tail Feather, Raw Hide, Gimme Some Lovin, and Sweet Home Chicago.
The show also includes unforgettable classics from James Brown, Ray Charles, Aretha Franklin, Otis Redding, Cab 'Minnie the Moocher' Calloway and many more!
Theatre manager, Chantelle Nolan said:- "Chris Hindle and Gareth Davey's performances in The Chicago Blues Brothers, along with their accompanying live band is guaranteed to get you off your seat, dancing and jiving in the stalls! Join us for an unforgettable evening of rip roaring entertainment but don't forget your pork pie hat and sunglasses!"
For more information on the show and to view the latest tour dates visit:- StHelensTheatreRoyal.Com or TheBluesBrothers.Co.UK.
Letters to the Editor:- "NHS Choir says no to Junior Doctor Contracts"
"MY name is Jessica Brittain George. I am a junior doctor, and 1 of the founding members of the NHS Choir, the National Health Singers. We recorded and released a single in December (available on iTunes, "Yours") in protest to the changes to the Junior Doctor Contract. I'm sending you this because the National Health Singers will be taking part in a protest march from St. Thomas' Hospital to the Department of Health at 4.45pm, 26 April 2016. We'll be singing new material and protesting against the new Junior Doctor's contract. The National Health Singers are opposed to the new contract, which is unsafe for patients and unfair to doctors. We have been singing out at various rallies/protests since December. Please look at our news section on our website for more information." Dr Jessica Brittain George.

Free creative writing course at the Liverpool Pride Festival 2016
THE organisers of the Liverpool Pride Festival 2016 have announced they are delighted to be working in partnership with widely acclaimed organisation, Writing on the Wall (WoW).

Together, Liverpool Pride and WoW are encouraging members of the LGBT communities to get involved in a creative writing course lasting 10 weeks with the theme, What's Your Pride Story. Everyone has a story to tell and now both organisations want to know yours!

What's Your Story is a long running WoW initiative, and now Liverpool Pride has commissioned the organisation to create and deliver a unique project specifically for Pride.

The weekly sessions start, on Thursday, 5 May 2016, from 5.30pm to 7.30pm, at Central Library on William Brown Street. The project will conclude with a performance during the Liverpool Pride Festival 2016.

Liverpool Pride Festival 2016 offers a week long programme starting on Saturday, 23 July 2016. The festival culminates with a 2 day event the following weekend (Saturday and Sunday, 30 and 31 July 2016), which takes place in the St George's Cultural Quarter, featuring the well established Liverpool Pride March on the Saturday.

The aim of What's Your Pride Story is to uncover new stories from unheard voices within the LGBT community. Participants will embark on a 10 week creative writing course with established writer Helen Sandler, with an opportunity to recite their completed work at Liverpool Pride.

In addition, a What's Your Pride Story book will be created and works will be published to celebrate all forms of creative writing within Liverpool's LGBT community.

Joan Burnett, a Trustee of the Liverpool Pride Festival, commented:- "Liverpool Pride is so happy to be working with Writing on the Wall to recognise and help develop the talents of writers in our region who want to express what it's like to be LGBT today and to tell their Pride Story. The resulting publication and performances will stand testament to the creativity of our communities and be an important record of what Pride means to people far beyond the festival itself."

Writing on the Wall Project Manager Emma Hulme added:- "What's Your Pride Story is the perfect way to share personal experiences and raise the profile of an often marginalised yet diverse community, in particular with a sharing of the work at such a prominent event as Liverpool Pride."

Writing on the Wall are proud to announce writer Helen Sandler will be heading up the project as course tutor. Helen is a writer, poet and editor who thrives on leading initiatives such as this.
Helen is originally from Manchester and now lives in Wales. She is a published writer and her credits include lesbian themed novels Big Deal and The Touch Typist, and she has written for Diva magazine. Her new novel, The Wishmistress, is set in Liverpool and is being published in July through a crowd funding campaign.

Helen Sandler is delighted to be part of the project, she commented:- "We are going to have a great time on this project. It's a chance to write about your life as an LGBT person, queer things up, have some fun, and also deal with any serious issues that are on your mind. Don't worry if you haven't written anything before; or equally if you have. It will suit anyone who wants to get stuck in and be part of a group who are sharing their stories."

Entry via application and places are limited. All voices are welcomed and WoW aims to include as many different stories that reflect the diversity of the LGBT community in Liverpool.

What's Your Pride Story is the latest addition to the Liverpool Pride Festival 2016. Other new initiatives for 2016 include Dress With Pride to encourage customer facing businesses to dress up during the week of Pride to help raise funds for the Liverpool Pride charity; and Come Out Of The Shadows, a campaign to see the City's iconic venues be lit in the Pride rainbow colours in a bid to make Liverpool the most visibly LGBT friendly City in the UK, this is supported by the Police Commissioner's Fund as a Hate Crime initiative.

Liverpool Pride is now a key highlight in the City's Summer events programme, attracting more than 25,000 people each year to attend, take part and support the annual LGBT festival.

This year, the all new Liverpool Pride Festival 2016 will take a more prominent and visual position in the City, taking over St George's Cultural Quarter including St George's Hall, The Plateau, William Brown Street, and St John's Gardens. The festival will be organised and delivered by Orb Events, the Liverpool based company who created the very 1st Pride event in 2010. As always, the festival coincides with the anniversary of murdered gay teenager Michael Causer, who tragically lost his life on 2 August 2008. The Liverpool Pride festival was specifically created in his memory as a way to celebrate his life and to empower the LGBT communities.
Application forms for What's Your Pride Story are available by emailing:- emma@writingonthewall.org.uk. Find out more about What's Your Pride Story on the groups website at:- WritingOnTheWall.Org.UK and on:- LiverpoolPride.Co.UK.