Construction workloads drop in the North West as confidence in the sector falls
DESPITE the Government promising to deliver 200,000 new homes by 2020, the latest survey by the Royal Institution of Chartered Surveyors (RICS) has revealed that growth in the North West's private housing sector slowed down during the 1st quarter of 2016. Only 45% of those working in the North West's private housing sector reported a rise in growth, rather than a fall, over the 1st quarter of 2016, compared with 50% in the last quarter of 2015. Across all sectors, the RICS UK Construction Market Survey showed that only 34% of the North West's construction professionals saw workloads rise, rather than fall, compared with 43% the same time in 2015. The survey also revealed that confidence in the outlook for the region's construction sector has dropped, with only 38% of respondents expecting workloads to increase over the coming 12 months. This is a considerable decrease on expectations from this time last year (2015), when 75% more of the North West's construction workers expected to see workloads rise.

RICS Chief Economist, Simon Rubinsohn said:- "On the surface, it might seem surprising that we are witnessing a slowdown in the construction sector just a few months after hearing the Chancellor's 'We Are The Builders' speech, given the Government's significant commitment to this sector. One might well ask why growth in private housing workloads is softening at a time when policy is firmly focussed on the creation of new starter homes. We have long held the view that starter homes cannot be the only solution. There is an issue around the availability of land on which new houses can be built, and we would like to see more being done to free up private brownfield sites. Our survey tells us that planning delays are one of the biggest barriers to growth in the construction sector. We have recommended that Councils work together to create a team of emergency planners who can parachute into boroughs that are experiencing significant delays, therefore reducing a major growth barrier. That said, we cannot discount the climate of uncertainty caused by the forthcoming EU referendum. We know that a range of sectors have been affected by these issues as investors look to delay any decisions until a final outcome has been determined, and construction is no exception."

Meanwhile, following 4% employment growth in 2015, respondents foresee headcounts continuing to rise in the North West over the coming 12 months with a net balance of 30% more of the region's construction professionals expecting growth. Charles Nixon FRICS of Thornber and Walker in Preston said:- "Contractors are busy and being more selective in what they will tender for, although we're not seeing any noticeable effect on tender prices."

Kevin Eccles FRICS, Countess of Chester Hospital NHS Foundation Trust adds:- "Works and professional service prices continue to be very competitive, sustaining pressure on contractors and consultants to work more efficiently. Demands on capital budgets are leading to increased rigor in determining priorities. Highly developed skills are needed to secure best value."
Are you do do you know the next of kin of Samuel Kelly?
THE Liverpool Coroner's Office have issued an appeal to help find the next of kin of Samuel Kelly. Mr Kelly died in hospital after being taken there from his home address in Hannan Road, Kensington, on Thursday, 21 April 2016. Merseyside Police believe that Mr Kelly was born in Belfast, but it's possible he has family residing in the Crosby area. We are told that:- "There are no suspicious circumstances surrounding his death and Liverpool Coroner's Office is asking anyone with any information about Mr Kelly's next of kin, to contact then on:- 0151 777 5066."

Last chance to win £150k for Southport community makeover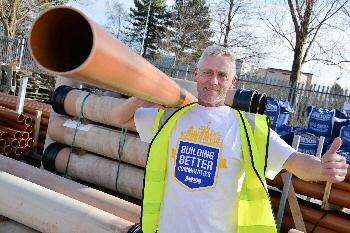 SOUTHPORT residents have until 29 April 2016 to put their community project forward for a top transformation from builders' merchant, Jewson. As part of its 'Building Better Communities' campaign, Jewson is asking local people in Southport to put forward community buildings that are in need of some TLC. From a much needed coat of paint for a village hall, to a brand new home for a local sports club, community spaces most in need could win a share of a new, mammoth £250,000 prize pot. This year, applicants can choose to put forward their project for either a top £150,000 prize or a smaller share of a regional prize £100,000 fund where they can ask for anything from £500 to £10,000 to spend on building materials. Nominations can be made on there campaign's website or on Jewson Facebook Page. A new addition for 2016 is the top £150,000 prize, which will see 1 project receive a transformation using the Saint Gobain 'My Comfort' building principles. David Fenton, Marketing Director at Jewson, said:- "We want to make a difference to the communities we work in and help transform projects that are close to their hearts. That's why we've upped the prize fund to a quarter of a million pounds this year, so that we can turn the buildings we love into warm, inviting and efficient spaces for the whole community to enjoy. If you know of a project which can help to make an impact where you live, get on Facebook and spread the word!'

In 2015, Jewson received over 2,000 entries into the competition and as a result, it helped to change the future of 14 community projects across Great Britain. A number of suppliers have committed to supporting Building Better Communities 2016, including:- British Gypsum, Marshalls, VELUX, Polypipe and Tarmac.
Merseyside Police comment on Bomb hoaxer David Norris sentencing
MERSEYSIDE Police, Detective Chief Inspector, Mark Kameen said:- "Bomb hoaxes have a massive impact on the community as a whole, and this incident in particular brought a large part of Liverpool City Center to a stand still for a long time on a busy working day. Mr Norris' actions that day, not only left staff in that business very frightened, but also had a massive impact on neighbouring businesses, when roads were closed, offices evacuated and staff and customers unable to access their places of work or leisure. This incident also took a lot of Police time and resources, with a multi agency response, including:- Mersey Fire and Rescue Service, North West Ambulance Service and Liverpool City Council, all working together to resolve the situation as quickly and as safely as possible. The courts take incidents such as this very seriously and I hope his sentence is a reminder to those who make such hoaxes that they will be caught and dealt with robustly by the Police and the Courts."