Plans for more digital screens to be installed
MORE digital advertising screens are set to be installed on roads across Liverpool to generate significant income to support vital Council Services. A report to the Cabinet, on Friday, 22 April 2016, is recommending up to 19 screens are built on 16 routes around the City, in addition to the 2 which have already been installed on the M62. It is part of the Council's 'Outdoor Advertising Framework' which aims to maximise the advertising potential of the local authority's land and assets and it is estimated could generate more than £1 million of income each year to help mitigate cuts in Government funding.

Director of Regeneration, Nick Kavanagh, said:- "This is a great example of how we are seeking to make the most of our assets to generate valuable revenue. We have many sites across the City that appeal to advertisers, but in the past we haven't made the most of them. We know other major Cities are bringing in millions of pounds from this sector, so we want to change the way we do things so that we are also well placed to tap into this major income stream. Liverpool is a high profile, international City, which welcomes many hundreds of thousands of visitors from all over the world every year, making us an attractive proposition to advertisers."

A tender process will see operators able to bid for individual or groups of sites, with construction carried out by either the Council or the operator. The provisional routes that have been identified are subject to technical and legal assessments. The roads and wards they are in are:-

► Upper Parliament Street - Riverside.
► Great Howard Street – Central/Kirkdale.
► Islington – Central/Everton.
► Mount Vernon - Picton.
► Wapping/Kings Dock - Riverside.
► Leeds Street/Pall Mall – Central/Kirkdale.
► Sefton Street/Chaloner Street - Riverside.
► The Strand – Kirkdale/Everton.
► Scotland Road (near Wellington Street) – Kirkdale/Everton.
► Victoria Street - Central.
► St Marys Road/Garston Way – Speke Garston.
► Speke Road/Horrocks Avenue – Speke Garston.
► Speke Road/New Mersey Retail Park – Speke Garston.
► Speke Hall Road (near Delph Lane) – Speke Garston.
► Queens Drive/Utting Avenue – Anfield/Clubmoor.
► East Lancashire Road - Croxteth.

If the tender process is given the go ahead, it is expected that contracts will be let by the end of the year and, subject to planning approval, they will be in place from summer 2017.
3 arrested and house raided following routine stop of a car in Toxteth
MERSEYSIDE Police Officers from the Force's Matrix Disruption Team have arrested 3 people and seized quantity of what is believed to be Class A and B drugs, following the routine stop of a car in Toxteth, Thursday, 21 April 2016.

We are told that Officers stopped the car in Horsfall Street, Toxteth, at around 8pm, 2 men were detained, at the scene and Officers recovered what was thought to be a small quantity of cocaine. Following this stop, Officers executed warrants at addresses in Toxteth and Mossley Hill, where they recovered, what is thought to be, approximately £20,000 worth of cannabis, £2,000 worth of cocaine and £4,000 worth of Ketamine, alongside a large quantity of cash and other drug production paraphernalia. The suspected drugs have since been seized and have been forensically examined.

Detective Chief Superintendent Paul Richardson said:- "This recovery and subsequent arrests shows how we will make extensive and thorough enquiries, to ensure drugs and those involved in their production and distribution are taken off our streets. These drugs can no longer be sold on the streets of Merseyside, where they cause harm and misery in our communities. I hope this action continues to show our communities how we deal with drug crime and I would encourage anyone out there with any information about illegal drug activity in their community to get in contact and give us the information we need to continue to remove the blight of drugs from our streets."

A 19 year old man, a 47 year old woman, both from Mossley Hill and 24 year old man from Toxteth, were arrested on suspicion of possession with intent to supply Class A and B drugs. They remain in Police custody for questioning.

Anyone with any information about illegal drug crime in their community can contact the specialist Matrix team on:- 0800 230 0600, 101 or give information to Crimestoppers anonymously on:- 0800 555 111.
Man on a roof bailed
MERSEYSIDE Police had to set up a cordon as Officers negotiated with a 23 year old male, who was found on a roof, following a report of a disturbance, on on Peel Road, at around 8.40pm. The male was successfully persuaded to came down from the roof at around 11.25pm. He was then arrested for affray, suspicion of criminal damage and indecent exposure. He has later taken to a Police Station in Merseyside and interviewed. we are told that he has since been placed on Police Bailed pending further enquiries.

Something for everyone at Wirral Walking Festival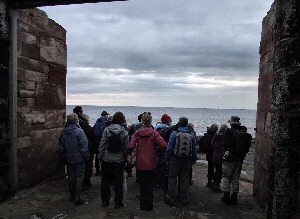 SEASONED walkers and absolute beginners alike are limbering up for 1 of the outdoor highlights of the year, the Wirral Walking Festival, which runs for the whole of May 2016. Now in its 4th year, the Wirral Walking Festival continues to grow and grow with more groups and leaders offering an increased number and variety of different walks over 2016.

With nearly 200 have been planned events to take place over 2016 and 1 those will be a short series of 3 walks led by local walking guide author, Anthony Annakin Smith. There is also a 14 mile hike around West Wirral, including:- Hilbre and the Wirral Way, as well as evening bat walks at:- Port Sunlight River Park and Brotherton Park.

Alongside these and other guided walks there are regular themed events included on the schedule. Health Walks take place at 13 different locations, Buggy Park Fitness and Run in Wirral sessions are also included as part of the festival.

There are some practical tasks featured in the festival this year, including one that plans to help cut back and maintain the greenery along the Wirral Public Right of Way network.

Kids can dress up as a pirate for a Seashore Walk with the Wirral Rangers in New Brighton and early birds could join the Dawn Chorus walk at Rivacre Valley Country Park, but be warned, it's a 4am start!

The Wirral Ramblers are heavily involved in the organisation of the festival once again, working alongside Wirral's parks and countryside service, and they have a number of walks planned, including evening ones. These are always particularly attractive as usually they finish with a drink in the local pub.

Other planned events include walks down memory lane learning about about the history of Wirral Country Park and the Wirral Way, which is based on the route of the old Hooton to West Kirby Railway.
Ranger Jo Hanik, who co-ordinates the Wirral Walking Festival, said:- "We are delighted once again to have put together a schedule for the month long festival which genuinely has something to offer everyone. I'd urge everyone to come along and enjoy the award winning parks and stunning coastline of the Wirral Peninsula."

A brochure with details of all the scheduled walks and when they take place has been distributed across the region. A copy can be downloaded electronically at:- VisitWirral.com.
John Durkin from Southport is sentenced over historic sex offences
MERSEYSIDE Police have said that they are pleased with the 16 year sentence of John Durkin, from Southport, Merseyside, for historic sexual offences on Friday, 22 April 2016. 53 year old Durkin, of Mount Street in Southport, was convicted of 18 counts of Indecent Assault against a female under the age of 16. As well as being sentenced to 16 years in prison, Durkin was also issued with an indefinite Sexual Offences Protection Order and placed on the Sex Offenders Register indefinitely. All the offences are historic and date back to the 1980's to 1990's.

Detective Inspector Jimmy Belmar from Sefton Vulnerable Persons Unit said:- "Durkin's victims have shown immense bravery in coming forward. Time should never be a barrier to obtaining justice and I hope his sentence gives them some sense of closure and vindicates their decision to come forward. If anybody else is out there suffering in silence I want you to know that there is help and support available to you, both from Merseyside Police, where we have specially trained Officers who will listen to you and treat you with sensitivity and compassion, and from reliable and trusted support groups who will support you from your initial report and for as long as you need. In the last 6 years we have experienced increased levels of reporting, including historic cases, and this is a real indication of confidence in the way the Police and other agencies on Merseyside respond to complaints of rape and serious sexual assault. I would like to take this opportunity to reassure anyone who has suffered a sexual offence that if you can find the courage to come forward and speak to us, we will treat you with sensitivity and compassion and make sure that reports are properly and thoroughly investigated."

Anyone wishing to report a sexual offence can call Officers in the Force's specialist Unity Team on:- 0151 777 1382. Information can also be passed to Crimestoppers, anonymously, on:- 0800 555 111.