Hillsborough Commemorative Event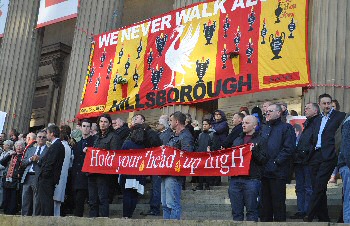 EDITORS NOTE:- THIS has been written by a 17 year old on work placement, student Abigail Clynch. She is at KGV in Southport. The audio clips have also been recorded and edited by her. She told us that:- "I have didn't know a lot about this as it happened before I was born. I was shocked to hear what had happened so long ago. It was a very moving event and an eye opener for me. Thank you for letting me attended and for talking to me."
Please use the links below to play the audio.

Justice at last!
Report and audio by Abigail Clynch.
HUNDREDS of red and blue fans gathered outside St Georges Hall, in Liverpool City Centre to celebrate winning a long 27 year battle for the 96 victims who we lost at Hillsborough.
The people of Liverpool gathered on Wednesday, 27 April 2016, to remember those who had lost their lives at Hillsborough 27 years ago. Liverpool and Everton fans united in respect for the 96 victims.
The steps of St Georges Hall were adorned with flowers, scarves and balloons to pay tribute to the 96 victims. Lanterns were placed on the steps of St Georges Hall accompanied by a red rose brought by 96 young people from Liverpool and Everton Football Academy. A banner saying:- 'Truth' and 'Justice' along with the names of all 96 victims was hung across the front of the hall.
The crowd sang:- "Justice for the 96" as the families and friends of the 96 took the steps in front of the hall, stood hand in hand on behalf of the 96.
Margaret Aspinalll, whose son died in the disaster, announced that she is:- 'proud to be a Scouser'. The crowd cheered and applauded her as she thanked the people of Liverpool for the support over the past long, daunting years.
Merseyside MPs such as Andy Burnham attended the event and read out all the names of the 96 Hillsborough victims.
Mayor Anderson closed the ceremony by saying:- "The 96 and their families will never be forgotten; the eternal flame will always burn brightly in our hearts and memories." Crowds applauded and cheered as they have finally reached the light at the end of a very dark tunnel. Balloons in the shape of a number '9' and '6' were released into the sky once the ceremony had ended.
Please use the links below to play the audio.