Liverpool City Region Local Growth Hub launched to streamline business support

THE Liverpool City Region Local Growth Hub, a new platform making it easier for businesses in the City Region to discover the best commercial advice and support to help them grow, has officially been launched.

Developed by the Liverpool City Region Local Enterprise Partnership (LEP) in consultation with business, government, local authorities and support organisations, the Local Growth Hub is designed to provide a single access point for businesses across the 6 local authority areas, to discover the right advice and support they need to flourish.

The new Local Growth Hub web portal localgrowthhub.com, aims to create a joined up approach to business support by actively engaging SMEs and growth businesses. By connecting them with over 300 specialist advisors from a wide range of key professional and commercial disciplines, it will help to drive economic growth in the City Region.

The new service is supported by eight Local Growth Hub regional brokers who play a strategic role in signposting and co-ordinating local and national support, making it easier for businesses to access the face to face advice they need. The regional brokers are: Liverpool City Region LEP, Liverpool Vision, Halton Borough Council, Knowsley Chamber of Commerce, The Women's Organisation, Invest Sefton, St Helens Chamber and Wirral Chamber of Commerce.

Not only will localgrowthhub.com actively enable a business growth mind-set by delivering a client driven service, it also offers a wealth of other information for both business and registered advisors including key industry events and live tender opportunities from SMEs across the region.

Chair of the LEP, Robert Hough, said:- "The launch of the Local Growth Hub marks a hugely important milestone for business support across our City Region. We often hear from businesses that the business support landscape is a real challenge to negotiate; the Local Growth Hub will now provide a support network to deliver long term economic growth across our region. It has been developed to serve one function; to help businesses grow. Many businesses simply aren't aware of the support available to them, and the innovative Local Growth Hub portal opens the door to opportunity for businesses."

Lesley Martin-Wright, CEO of Knowsley Chamber of Commerce said:- "We are delighted that the Knowsley Growth Hub has been launched. We can help both start-ups and established businesses, and provide support and advice that is free and impartial. Our priority is to help more businesses grow, invest, and prosper by ensuring that they receive the relevant information, tailored support and guidance at the right time."

Paula Basnett CEO of Wirral Chamber of Commerce commented:- "Wirral Chamber is delighted to be the Growth Hub for Wirral, we are enjoying working closely with our City Region partners in delivering a simple, accessible and co-ordinated approach to business growth support which meets the needs of our business leaders."

Tracy Mawson, director of business services at St Helens Chamber of Commerce commented:- "We are delighted to be delivering the Local Growth Hub for St Helens. Whether starting a new business, looking for funding, or wanting to achieve increased competitiveness and growth, we can help businesses to unleash their potential through the support of the Local Growth Hub."

Councillor Eddie Jones, Executive Borough Member at Halton Borough Council said:- "I am delighted that Halton Borough Council and Halton Chamber of Commerce and Enterprise will, in partnership, be delivering the new Local Growth Hub locally. Together the Chamber and the Council are best placed to understand and support the local business community to grow and prosper. They are already the go to organisations for business support and advice locally and so access to a wider portfolio of local, regional and national business support services through the Growth Hub can only be a positive thing."

Cllr Ian Maher, Labour Leader for Sefton Council, said:- "I am absolutely delighted to launch this fantastic service which will help support local businesses across the city region. Local businesses are very important to the region's economy and it is vital that support is available to help business owners overcome challenges they face. Through offering both online and face to face support this hugely innovative service will be fully accessible to all owners and will help ensure that region's businesses can access the help and support they need, when they need it."

Jo Austin, Engagement and Digital Marketing Coordinator for the Women's Organisation, said:- "The Women's Organisation have proudly been offering enterprise support in the Liverpool City Region for 20 years this year. Our experience over those 20 years has shown us that there is definitely an ongoing need for businesses to be supported from concept to growth in order to sustain their enterprises. Our region has a wealth of expertise to offer those businesses, which makes this a fantastic place to grow an enterprise. We are delighted to be a part of the growth hub, ensuring that local businesses have the opportunity to tap into that expert support creating businesses that thrive."
High sugar drink brands named in drive to beat tooth decay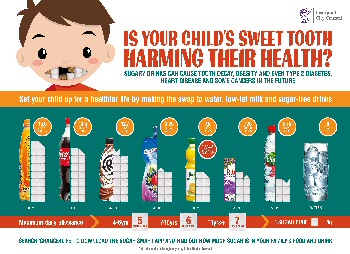 PUBLIC health officials in Liverpool are the 1st in the country to inform parents about the amount of sugar in popular brands of soft drinks.

A high profile campaign titled:- "Is your child's sweet tooth harming their health?" outlines how many sugar cubes are in drinks such as Lucozade, Coca Cola, Tropicana, Capri-Sun and Ribena.

Large, eye catching cut out boards of bottles highlighting how many sugar cubes is in each drink are being placed in areas of high footfall and buildings such as children's centres, doctors surgeries / health centres and Hospitals.

The drive is aimed at tackling an alarming level of tooth decay in young children in the City, with dentists having to remove teeth from children as young as 5 under general anaesthetic on a daily basis. Around 2,000 children in the City will have had extractions by the age of 5, and more than a third will have suffered from tooth decay.

It is estimated the average child consumes more than their body weight in sugar every single year; a total of 5,543 cubes, more than 3 times the recommended amount.

Councillor Tim Beaumont, Mayoral lead for wellbeing, said:- "Through no fault of their own, families simply don't realise how much sugar is in some of these drinks. As well as leading to poor dental health, it is contributing to the obesity issue in Liverpool which means that one in four children starting primary school are overweight, rising to 38 percent for secondary school age pupils. What we're trying to do through this campaign is get the message across that even drinks which are marketed as healthy such as orange juice and flavoured water have large amounts of sugar in them. This is about getting families and young children into healthy habits which will hopefully last a lifetime and prevent future unnecessary pain and trauma."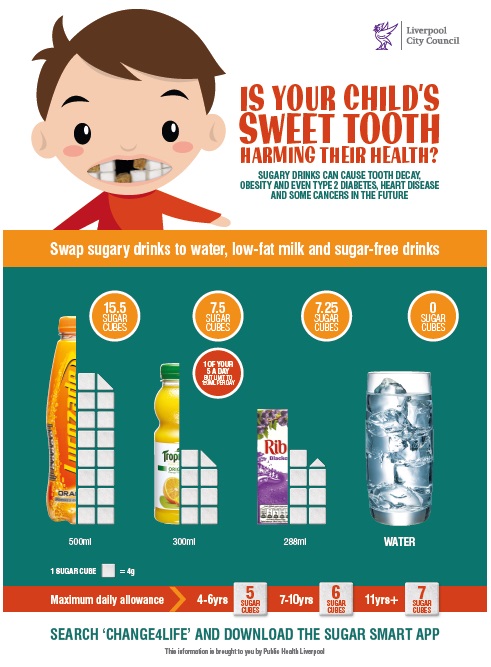 The campaign highlights that 500ml of Lucozade contains 15.5 cubes (64 grams) of sugar while an equivalent bottle of Coca-Cola has 13.5 cubes (54 grams); against a maximum daily allowance of 5 to 7 cubes for children depending upon their age.

Even healthier options such as Tropicana orange juice have 7.5 sugar cubes (30 grams) in a 300ml bottle.

Director of Public Health, Dr Sandra Davies, said:- "We are the first local authority in the country to name how much sugar is in specific brands because we feel it is really important that all parents have the facts they need when making decisions about which drinks to give their children. Many of us are not in the habit of studying labels on drinks and the evidence that we have is that people don't realise how much sugar is in them, so we are taking steps to support them to make healthier choices. Our advice to parents is to take their child to the dentist by the age of one and teach them to brush their teeth correctly from an early age. There is also a wealth of information online in the Change4life campaign."

Parents are being urged to swap their children to water, low fat milk and sugar free drinks to give them a healthier start in life and stop them getting into a habit which could cause obesity and lead to type 2 diabetes, heart disease and some cancers later in life.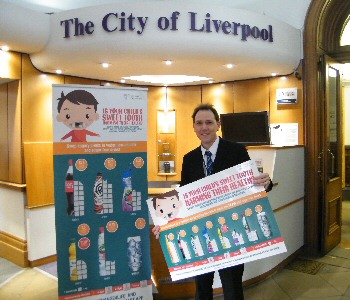 Sondos Albadri, Reader and Consultant in Paediatric Dentistry at the University of Liverpool, said:- "There is a myth that baby teeth are not important, but the fact is that they are vital as they help guide adult teeth into position. Persistent infections can be detrimental to the child general health and early loss of baby teeth can also lead to problems with adult teeth later in life. The problem with tooth decay in Liverpool isn't only confined to younger children and we are increasingly seeing children aged between 12 and 16 at the Dental Hospital. I had to remove 15 adult teeth on a 14 year old recently, and while that is an extreme case it is by no means a rare occurrence. All of this is largely preventable by reducing sugar intake and keeping teeth clean by brushing twice a day."

More facts about sugar and how people can cut back are available by at the NHS website:- Change4Life or download the sugar smart app on the iTunes app store or Google play.

FACT FILE - THE NUMBER OF SUGAR CUBES IN POPULAR DRINKS:-

► 15.5 - Lucozade (500ml).
► 13.5 - Coca Cola (500ml).
► 12.7 – Frijj chocolate milkshake (471ml).
► 8.25 - Capri-Sun (330ml).
► 7.5 - Tropicana orange juice (300ml).
► 7.25 – Ribena (288ml).
► 5.75 - Volvic flavoured water (500ml).
► 0 - tap water.

Each cube = 4g of sugar.

TOP TIPS FOR PARENTS:-

► Keep sugary drinks and treats to mealtime only.
► Encourage your child to drink only water and milk between meals.
► Always check labels for sugar content.
► Get your child to brush their teeth twice a day.
► Take your child to the dentist at least from the age of 1.

St Helens shopping centre transformed into giant catwalk by renowned fashion expert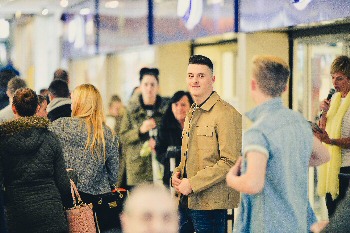 VISITORS to a St Helens shopping centre were treated to a fashion spectacle when top models took to a giant catwalk to showcase the latest styles.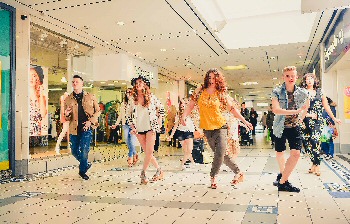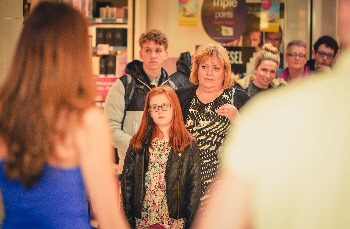 Fashion on the Move saw models taking part in a flash mob-style spectacular at Church Square Shopping Centre.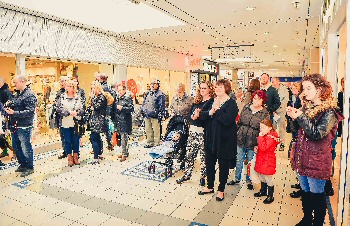 Stores taking part in the event, hosted by former international model Sally Mansell, included River Island, Topshop and BHS, Davinci Menswear and Fat Face.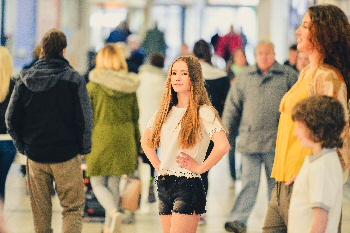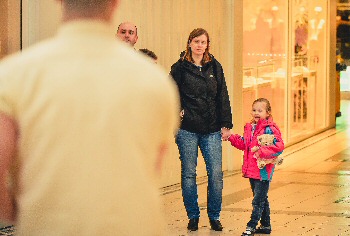 Sally, who has also hosted parties for Hollywood A-listers George Clooney and Mark Wahlberg, transformed the shopping centre into a giant catwalk. Models and performers burst into dance every hour, showing off the latest looks available in the mall.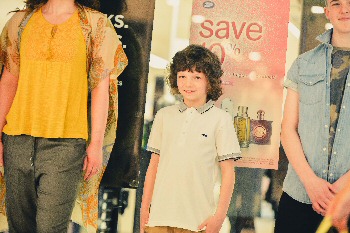 Shopper Jenny Hogan and her 10 year old daughter Grace, a pupil at St Julie's Primary School in Eccleston, St Helens, loved the show and were inspired to buy items they saw on show. "Grace spotted a pair of shorts on one of the models and we're going to buy them for the summer," said Jenny, a nurse, who also has a son Jack, 8. "We didn't know it was happening but it was a nice surprise and great fun."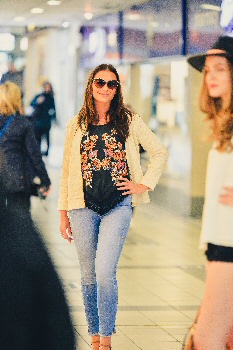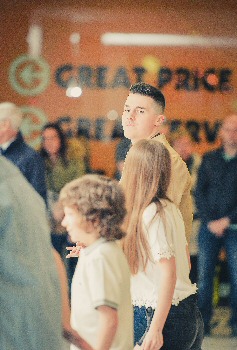 Michelle Alexander and her daughter Isobelle, 8, from Sutton, St Helens, also enjoyed the fashion show. Michelle, who works at the University of Liverpool, said:- "We were on our way to buy shoes for Isobelle and came across the show. It's really good and Isobelle particularly loves the dancing."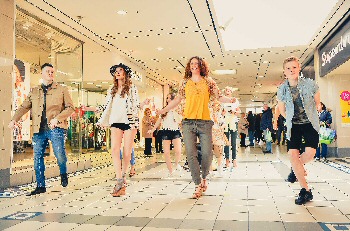 Church Square Shopping Centre manager Steven Brogan said:- "Fashion on the Move proved to be a terrific event, succeeding in creating a real buzz around the centre. Shoppers really enjoyed seeing the latest styles, as well as watching the dancing. We were lucky to have a top fashion expert like Sally who has so much experience in the industry and really knows her stuff."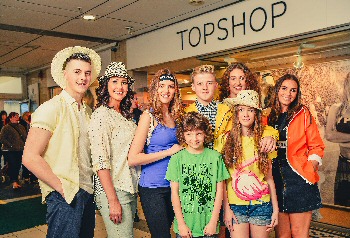 Highlighting the styles available in Church Square in the coming months, Sally predicts spring and summer trends will include cut off shoulders, while bead and trim will feature heavily.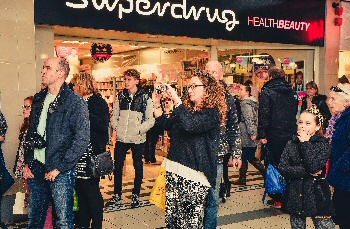 "Bold, graphic stripes will be popular, especially in primary colours, but at the same time, floral wallpaper style fabrics are coming through, alongside chunky, angular jewellery. I think ankle straps on shoes on making a comeback, while skinny jeans are being left behind in a return to more structured denims." said Sally.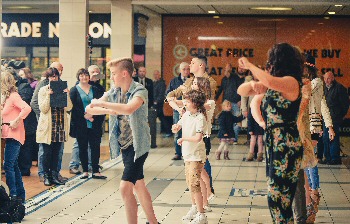 Church Square Shopping Centre is open daily and home to a range of big name stores; such as:- River Island, BHS, Boots and Superdrug; along with independent retailers plus the busy St Mary's Market. Details on what's happening at the centre can be found online.