Write your will and support Jospice this Will Week
WILL Week begins, on 23 May 2016, when individuals can write or update their Will and avoid solicitors' fees by donating to St. Joseph's Hospice (Jospice) instead. 13 local solicitors are giving up their time and waiving their fees between 23 May and 27 May 2016, by offering a standard Will writing service in exchange for a donation to St. Joseph's Hospice, approximate to the cost of a simple Will. Appointments can be booked by contacting any of the participating solicitors listed below and on our website. St. Joseph's Hospice is the oldest and largest hospice on Merseyside, providing long term, specialist end of life care for patients with a wide range of life limiting conditions. The hospice needs to raise £6,500 every day to keep its services running.

Solicitors participating in Will Week include:- Kirwans in Liverpool, Southport and Prenton; Lees Solicitors in Birkenhead; Whitfields in Formby; Law4U in Anfield; Maxwell Hodge in Aintree and Maghull; Morecrofts in Crosby; McClure's in Liverpool; Breens in Waterloo and Southport; and Brown Turner Ross in Liverpool and Southport.

Mike Parr, Chief Executive of St Joseph's Hospice, said:- "Will Week has always been very well supported by our local solicitors and we are extremely grateful for their continued support. We are now asking local people to do the same by making an appointment to write their Will during Will Week. Only 30% of the population have a Will in place, yet it is so important that we all have one so that our children and any assets are taken care of according to our wishes. Many people don't realise that any change in personal circumstances, such as marriage or divorce, can affect the validity of any existing Will so, even if you already have one, it's really important to get it updated."

To book an appointment, please contact your preferred solicitor from the list above. The contact details of all participating solicitors are available at:-Jospice.Org.UK.
Shops warned over sale of nicotine inhalers to underage customers
4 Liverpool shops have been caught selling nicotine inhaling products to underage teenagers during recent test purchases. They were among 10 visited in the City Centre and North Liverpool by the City Council's Alcohol and Tobacco Unit. New controls, introduced in October 2015, prohibit the sale of a nicotine based inhaling product to anyone under 18 years of age. 2 boys aged 15 and 16, volunteered to take part in the exercise to make sure that shops were asking for ID. The shops that sold the age restricted product will receive a warning letter, advice and re-tested in the near future to ensure compliance with the Children and Families Act. Further breaches could lead to prosecution. The Alcohol and Tobacco Unit are reminding all shops to train staff in relation to the sale of nicotine inhaling products, as further operations will be undertaken with a view to taking action against retailers found to be making illegal, under age sales.

A nicotine inhaling product includes:-

► A nicotine inhaling device.
► A nicotine cartridge.
► A nicotine refill substance.

LightNight Liverpool - just one week to go!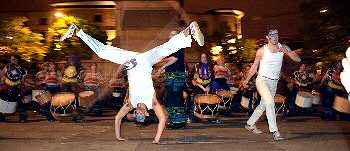 LIGHTNIGHT, Liverpool's annual 1 night arts festival returns to the City this Friday, 13 May 2016, when thousands of visitors will explore and celebrate the City's world class cultural offer late into the night.

Over 100 free events will take place across 1 unforgettable evening with galleries, museums, heritage buildings, universities, theatres and art studios open late into the night with everything from newly commissioned premiers, science demonstrations, live cathedral concerts, user controlled AV installations to mass dance workshops and sing alongs, exhibitions, drawing classes and walking tours. It's sure to be a Friday night out with a difference!

Visitors to the festival will once again be able to travel from venue to venue in style as Merseyside Transport Trust is providing a free heritage circular bus service using classic Liverpool buses running every 10 minutes between 18:00 to 23:00. The route serves Pier Head, Jamaica Street, the Cathedrals and William Brown Street. The full route can be found on the map in the LightNight festival guide.

For the first time there's an official LightNight after party, held at Constellations on Greenland Street in the Baltic Triangle. Starting from 10pm, the lineup includes hip hop and soul from No Fakin' DJs, house and techno from Abandon Silence's Andrew Hill and disc jockey duo Faux Queens serving up high energy booty bass. There'll also be surprise pop up performances and live visuals from artist Sam Wiehl. Tickets can be booked now. Tickets cost just £4 plus booking fee online or £5 on the door. All proceeds from ticket sales go towards LightNight 2017.

Nick Stockman, Campaigns Manager at Culture 24, organisers of Museums at Night said:- "Once again Liverpool's LightNight festival shines brightly in the Museums at Night firmament with an array of dazzling events. All over the City the most diverse range of venues will, for one night only, come together to produce an astonishing menu of cultural treats to enjoy and live long in the memory. Museums at Night, the UK's festival for the culturally curious, takes place in over two hundred cities and towns over four nights in May and Liverpool's LightNight contribution is an inimitable expression of the City's vibrant, dynamic and ever evolving arts and culture offer. We're encouraging audiences to Experiment, open their mind and visit a new venue. With 44 venues and over 100 organisations large and small participating in this year's festival they have plenty of choice, including smaller venues like 24 Kitchen Street, Arena Studios and Gallery, Baltic Clay, Constellations, Ninety Squared, Nordic Church, 104 Duke Street, dot-art, Hope Street Ltd, Liverpool Small Cinema, Road Studios, St John's Beacon, 92 Degrees Coffee, Liverpool Medical Institute, The Casa, Gostins Buildings, Kazimier Garden Cosmolodge, MYA Lox & Caper, News from Nowhere Bookshop and Zap Graffiti."

The full programme of events is available can be viewed online.