Formby man is set to inspire us all at The Invictus Games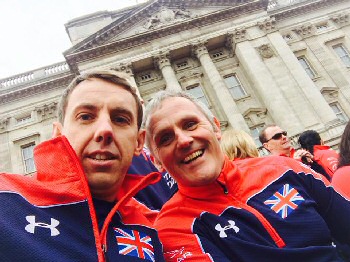 Above Alex Krol and Luke Delahunty - Photograph with thanks to Alex.
MANY in Formby and Aintree will be cheering on former Royal Marine Reservist, Alex Krol, aged 33, who will be taking part in this year's Invictus Games in Orlando, Florida. The games are part of rehabilitation for many injured servicemen and women. This has been an amazing time for Alex, who battled to overcome the impact of sustaining a C4 (High Cervical Nerves 4) spinal injury in a car accident that happened in 2005. The T4 injury is one of the most severe of the spinal cord injury levels you can have and as a result it had left him paralysed, with no ability to move from high up on his chest down. This means he has been left wheelchair bound for the rest of his life. But with help and support, from his wife, friends and family, along with medical professionals, he has not let this hold him back. Last year, in 2015, he was set to fly into Southport and took control of an aircraft to fly it off after the Southport Air Show. He has also taken up sports and this active life is not only helping him to keep healthy, but also helping him to deal with his disability and the post traumatic stress that comes with it. Just before he headed off to The Invictus Games, we had the honour of interviewing him and you can hear it here, by pressing play below. We will be adding a transcript soon of this interview as well. If you want to know more about The Invictus Games please visit the following links:- InvictusGames2016.Org - Facebook - Wikipedia.Org.
Prince Harry says he hopes The Invictus Games will:- "inspire people" affected by mental and physical illness to seek help. From what we know of Alex, he is an inspiration to us all, as are all those taking part in The Invictus Games. We hope Alex does well at the games and we wish him the very best of luck. We also want to publicly say congratulations to him and his wife Jayne Krol, who won the Miss Merseyside title in 2003, on the news they are now expecting their 1st child very soon!

Charity challenges people in the North West to become more deaf aware
DURING Deaf Awareness Week that took place between 2 May 2016 and 8 May 2016, national charity Action on Hearing Loss has urged people in the North West to become more deaf aware to ensure people who are deaf or have hearing loss are not being excluded from everyday interactions that their hearing peers are taking for granted.

1 in 6 people (11 million) across the UK are currently living with hearing loss, with the number set to rise to one in five by 2035. However for many of them going to work, managing money at the bank, using public services and taking part in social occasions can still pose an unnecessary challenge.

To mark Deaf Awareness Week this year the charity has run a social media campaign tearing up society's assumptions and turning the spotlight on the incredible things deaf people and people with hearing loss definitely can do.

Paul Breckell, Action on Hearing Loss chief executive said:- "What is clear is that with the right support available, hearing loss by itself is not preventing people from achieving their dreams and being equal members of society; the only barriers in their way are the ones that often stem from the simple lack of awareness around their communication needs. I would encourage all those living in the North West to follow the simple tips below to ensure that no one is excluded from everyday interactions and help us build a more equal society for all."

The charity is promoting the following top communication tips:-

► Make sure you have the person's attention before you start speaking.

► Enquire about the person's preferred method of communication.

► Chat in places with good lighting so that you can be lipread and where there is no background noise.

► Face the person and speak clearly, using plain language, normal lip movements and facial expressions.

► Check whether the person understands what you are saying and, if not, try saying it in a different way; never say:- "don't worry about it."

► Keep your voice down as it's uncomfortable for a hearing aid user if you shout; and it looks aggressive.

► Learn finger spelling or some basic British Sign Language (BSL).

► If you are a business owner, check that simple equipment such as hearing loops, which amplify speech over noise, are in working order and that your staff have received deaf awareness training.

For more information or advice on hearing loss contact the Action on Hearing Loss Information Line on:- 0808 808 0123 or send an email to:- informationline@hearingloss.org.uk.