Star Bikes set to stun at Cholmondeley Power and Speed
ORGANISERS of this year's Cholmondeley Power and Speed are upshifting their bike action with a thrilling selection of unique machines and history filled racers. British engineer Allen MIllyard, will be taking to the Cholmondeley Track on two of his unique and powerful hand built motorcycles. The 1 off Viper V10 is built around a Viper 8 litre V10 engine, with the forks, tank, exhausts, sub frames, handlebars, mudguards swimming arm and wheel hubs, all hand built. The result is a bike with 500bhp and around 525lb of torque, capable of 207mph.

The 2nd bike Allen will be bringing is the award winning Flying Millyard. Named after the Flying Merkels, the bike is powered by a gigantic, 5.0 litre V twin engine designed for an aeroplane. The retro styled custom bike may not be as powerful as the Viper V10; with 80bhp and a top speed 100mph, but it is a true sight to behold on track.

Also set to compete over the weekend is a 1959 Vincent Viscount. This bike broke the AMA Land Speed Record in the 1000 MPS – VG Class, with a speed of 131.684 mph. A new record was also set in the 1000 MPS CG Class of 124.862. With further modifications since then, it will be thrilling to see what it can achieve on the Cholmondeley track.

A 1981 Yamaha TZ350H appearing at the event has a rich racing history. Ridden by former GP star Donnie McLeod from 1982 to 1984, the duo won the Bill Ivy Trophy in only their second race as a pairing. In total, over 18 months, Donnie and the TZ350H achieved 18 wins and 22 podiums and won the Sponsors Association Series.

Bringing sidecar action to the track will be a 1956 Norton Dominator 99. This particular example of the model, which was originally developed as a competitor to the Triumph Speed Twin, was turned into a sidecar outfit in 1964. Since then it has been raced on grass tracks in the 60s, in the Thundersprint in the 00s and most recently in events such as Cholmondeley.
Further bike action will be provided by Supermoto UK, who will be bringing ten of the sport's top riders to the event in June to show off their skills and entertain crowds of all ages. James Hall, event director, said:- "The bike action, from superbikes and classic racers, to sidecar outfits and Supermoto UK riders, always proves a popular element on track. These bikes offer just a glimpse of the wide variety and rich heritage set to be represented at Cholmondeley this year and we're excited to reveal further models competing over the coming weeks."

Cholmondeley Power and Speed is this year celebrating Supercars: Past, Present and Future which will include stunning displays and thrilling on track action. The activity will give attendees the chance to get up close and personal to some of the most powerful, eye catching and revered supercars in the world. The 2016 staging of the event will also feature the inaugural Motorshow Live! Taking place on the Friday, this all new element of Cholmondeley Power and Speed will give car manufacturers the opportunity to demonstrate their latest models on track while enabling guests to test drive in a unique racing environment. Already committed are Lexus, Blue Bell BMW and Holdcroft Honda, with Oakmere Motor Group also set to showcase their latest models from Lotus, Morgan and Caterham.
On Friday and Saturday evenings, Cholmondeley will be hosting a beer and food festival for the first time, with stand up comedy set to entertain attendees on Saturday night. Entry to the evening activity is included with day tickets, however visitors who wish to attend just for the food, beer and comedy festival can purchase tickets for £15 for adults and £10 for children, allowing access to the site from 6pm on Saturday, 11 June 2016. Additional features and content on land (on both 2 and 4 wheels), air and water will be announced over the coming weeks, with all elements of the event once again set against the stunning backdrop of Cholmondeley Castle and its beautiful parkland.
Further information and tickets are available now online for the event at Cholmondeley Castle, Malpas, Cheshire.
Adult tickets are priced from £24 with children's tickets priced from £7.

Isle of Man Steam Packet Company backs Firefighters' 3 Peak Charity Challenge 2016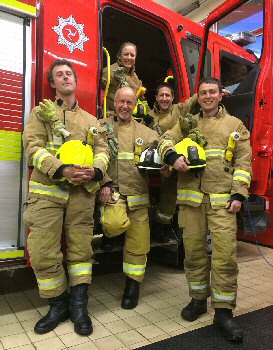 THE Isle of Man Steam Packet Company has very close connection with Liverpool, sailing out daily from our City to the Isle of Man. It might not be Merseyside, both the Isle of Man and Liverpool raise money for each others charities. As a result the firm has asked us to let our readers know that a group of Isle of Man firefighters is bidding to raise cash for charity by climbing 3 UK mountains in just 24 hours! The 3 Peaks Challenge is being supported by the Isle of Man Steam Packet Company, which is covering the cost of the team's travel to and from the Island.

Clio Swales, Mark Cleator, Richie Sims, Rod Clayton, Sam Quilleash and Dave Rielly, who are all retained firefighters based at Laxey Fire Station, make up the team which will take on the challenge. With Dave acting as driver, the other five will attempt to scale Ben Nevis in Scotland, Scafell Pike in England and Snowdon in Wales on 30 June 2016.
Clio Swales explained:- "We saw an advert in Firestyle Magazine for the annual Firefighters 3 Peaks Challenge and, as far as we know, there has never been a team from the Island take part before. We felt it would be a good challenge as well as an opportunity to raise funds for a worthwhile cause that helps benefit Isle of Man firefighters. Everyone in the team enjoys regular exercise, like walking, cycling and hill running, and consider ourselves pretty active, but this is going to be a real challenge! We are extremely grateful to the Isle of Man Steam Packet Company for covering the cost of getting our van and team to and from the UK for the challenge."

The group hopes to raise at least £1,000 for The Fire Fighters Charity, which provides services to enhance quality of life for serving and retired firefighters, fire personnel and their families. It operates 3 physical rehabilitation centres and aids emotional recuperation for those who have suffered injury, illness, stress or bereavement.

The charity is reliant on donations and fundraising to meet its annual costs of more than £8 million.

Steam Packet Company Chief Executive Mark Woodward said:- "Attempting to reach the top of 3 mountains across England, Scotland and Wales in just 24 hours is a tremendous challenge, so I wish the team all the best. The Fire Fighters Charity is a very worthwhile cause, which offers support to our firefighters here in the Isle of Man, and we are delighted to be able assist."

Swales Flooring is also supporting the challenge by contributing a vehicle and meeting fuel costs.

To donate visit:- JustGiving.Com/LaxeyFireFighters3PeaksChallenge.