UK and Irish songwriters honoured in U.S.- based competition
THE International Songwriting Competition (ISC), considered to be the most prestigious and selective songwriting competition in the world, has announced its 2015 winners. Established in 2002, ISC recognizes and honours excellence in the craft of songwriting. With over 18,000 entries submitted from almost 120 countries, a total of 351 deserving songwriters are honored this year in the competition. ISC awards more than $150,000 in cash and prizes to amateur and professional songwriters around the world, including $25,000 cash (US) overall Grand Prize. UK and Irish songwriters garnered:- 1 1st Place win, 1 2nd Place win, 3 3rd Place wins, and 14 Honorable Mentions. Candace Avery, Founder and Director, states:- "The artists who won in their respective categories overwhelmingly stood out to the judges, winning praise for their songwriting skill. Their talent embodies everything that ISC is looking to honor."

Past winners have included:- Vance Joy, Gotye, Bastille, Passenger, Lindsey Stirling, The Band Perry, Kimbra, Omar Sosa, King Charles, Gin Wigmore, and many more.

2015 winners were selected by a panel of judges which included:- Kesha; American Authors; Pat Metheny; Lorde; Sara Evans; Bastille; Bill Withers; Keane; Danilo Perez; Hardwell; Gerald Casale (Devo); Joy Williams (The Civil Wars); Keb' Mo'; Sean Paul; Afro Celt Sound System; Craig Kallman (Chairman/CEO, Atlantic Records); Dan McCarroll (President, Warner Bros. Records); Daniel Glass (President, Glassnote Records); Craig Balsam (Owner, Razor & Tie Records); Kevin Welk (Chief Creative, Vanguard and Sugar Hill Records); Steve Yegelwel (Senior Vice President, Capitol Records); Bruce Iglauer (Founder/President, Alligator Records); and many more.

The overall Grand Prize is awarded to the gifted songwriter / performer Skrizzly Adams for his song:- "Tipping Point." Hailing from New Jersey, USA, Skrizzly Adams is a songwriter who is difficult to pigeonhole (critics have described him as Bruce Springsteen meets Kanye West). Originally applying his musical talents to the art of producing, he only began to pursue singing professionally a couple of years ago, releasing his self-produced debut project, Stains, a year later. The EP quickly garnered the attention of several high profile figures including blogger Perez Hilton and urban super producer Boi-1da, ultimately landing him a major label deal with Atlantic Records. In November, 2015, Skrizzly joined Elle King on her North American tour, and he recently wrapped up a club tour with Lissie. He is currently working on his debut album.

ISC is sponsored by:- Ableton, Artist Growth, CAD Audio, Celebrity Access, D'Addario, Disc Makers, DW Drums, Focusrite, Gauge Microphones, George Stein, Esq., GigSalad, Gretsch, Indie Venue Bible, Latin Percussion, Lowden Guitars, Marshall Amplification, Musicians Institute, Ovation, Pacific Drums, Sessions Headphones, SongU.com, Thayers, The Music Business Registry and Ultimate Ears

ISC is now accepting entries for 2016. More information can be found at:- SongWritingCompetition.Com. For a complete list of 2015 ISC winners and to hear the winning songs, click on the Competition's website.
Letters to Editor:- "Revitalise guest, Jane Hulme, who met Manchester United and England defender, Chris Smalling"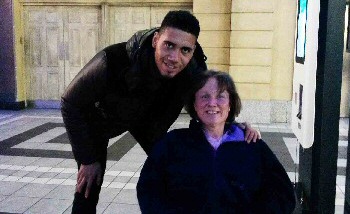 "JANE Hulme, who is a guest at Revitalise, met Manchester United and England defender, Chris Smalling, last week, on 25 April 2016. Jane spotted Chris at the Trafford Centre, whilst on an excursion with Revitalise Sandpipers. We would like to thank Chris Smalling for making her day and allowing her to get a photograph of the magical moment." said Stephanie Stone, who is the Communications Officer for the charity Revitalise.

Leading music companies from China, India, Japan, Korea and Taiwan to attend Sound City curated Music Day at International Festival for Business 2016
AS part of the International Festival for Business (IFB2016), Sound City are delighted to partner with UK Trade and Investment, the government department that helps UK based companies succeed in the global economy, to deliver a comprehensive insight into the opportunities that exist for UK music companies in Japan, China, Korea, Taiwan and India.

Taking place at the Exhibition Centre Liverpool, on Tuesday, 28 June 2016, on the waterfront of the iconic City, the inaugural IFB Music Day will feature high profile companies from each territory and UK companies who have done business in the vibrant and ever expanding region.

The event is primarily aimed at music managers, publishers, labels, tech companies, festivals, promoters and agents. It will highlight the opportunities that exist for business and collaboration between UK and Asia via a series of workshops and round table networking sessions, offering illuminating insight and discussion around this fast paced and constantly evolving environment. The aim will be to nurture existing relationships and stimulate new partnerships and international trade.

Sound City are delighted to host Lihui Shen of China's largest music entertainment group, Modern Sky which annually hosts 500 shows and entertains 3 million people per year, plus Stan Yu, Director of TMT Entertainment at China's largest investment company, Fosun Group who last year closed deals with Modern Sky Entertainment and Gestifue, the sports agency that looks after Jose Mourinho and Cristiano Ronaldo. In addition, Kong Yoon Young, Director of Korea's biggest emerging talent festival, Zandari, and Kyu Young Lee, Head Promoter of Pentaport Festival, the largest open air festival in Korea will attend along with Mumbai and NYC based entertainment lawyer, Ali Sachedina who is expert in advising clients on all aspects of entering the Indian marketplace and has been responsible for Skrillex and Major Lazer doing their 1st performances in the India, along with Geddy Lin, head of Riverside Livehouse, the largest venue in Taipei.
They will be accompanied by UK based experts in exporting to Asia including John Saunderson (Notting Hill Music), Greig Watts (DWB Publishing) and Ivor Novello nominated songwriter and producer Diamond Duggal.

Sound City has considerable experience and pedigree in the Asian music market, with many more exciting plans in development. They recently announced a long term and strategic equity partner deal with Modern Sky Entertainment in China that involves expanding Sound City in global markets as well as increasing the size and scope of their UK event.
In 2015 they also launched their 1st full scale event in South Korea. Sound City Korea is a 3 year initiative taking market ready UK artists and industry to Seoul for Zandari Festa and MU:CON. Sound City are widely acknowledged as a trusted delivery partner by UKTI and since 2008, they have delivered world class business initiatives and opportunities to over 12,500 delegates from 29 different countries via:- Sound City initiatives, generating a growth in turnover that exceeds $20 million for the businesses that have taken part.

The IFB Music Day in Liverpool will feature Japanese, Chinese, Korean, Taiwanese and Indian music industry experts, UK music managers, publishers, labels, tech companies, festivals, promoters and agents and offers the chance to be immersed in essential debates, key notes and business and cultural exchanges all aimed at doing business.

About UK Trade and Investment and Exporting is GREAT @ IFB2016 UK Trade and Investment (UKTI) - the government department that helps UK based companies succeed in the global economy; is hosting an exciting programme of events at IFB2016 aligned with weekly sector themes:-
► Week 1, Manufacturing.
► Week 2, Energy and Environment.
► Week 3, Creative and Digital.
Attending IFB2016 is the natural next step for businesses inspired to export by Exporting is GREAT. The Exporting is GREAT Export Hub will take residence at IFB2016 for the full three week programme, providing additional events and support for new exporters. Exporting is GREAT events can be viewed online. Businesses can register for UKTI events online.
Attending IFB2016 is free, but to gain entry delegates need to register for the IFB2016 Business Club; UKTI will do this on your behalf if you are attending a UKTI event. The IFB2016 Business Club provides exclusive benefits to its members before and during the Festival, including a range of complementary business support services.