Sefton Cops raise cash for Cancer Care Equipment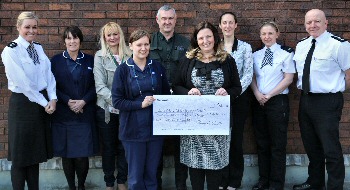 A group of Merseyside Police Officers who set up a charity to raise money for the hospital which cared for a colleague's daughter have done it again! The Sefton bobbies formed:- 'Team Phoebe' to support cystic fibrosis at Ormskirk General Hospital after Martin Duddy's daughter, Phoebe, was born with the condition 4 years ago. But since then, their registered charity:- 'Phoebe's Fund' has raised money for countless other good causes across Merseyside and last week they presented a cheque for £1,200 to nurses from Liverpool Community Health Trust.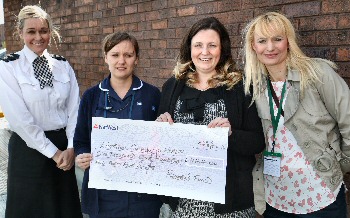 The team raised the money by holding a charity race night at Crosby Comrades Club and it will be used to buy a morphine syringe pump for Macmillan Nurses to administer pain relief to cancer patients being cared for at home or in hospices. The charitable cause was chosen by Kelly Coulton, whose husband Steve, a serving Sefton Police Officer, died from cancer in 2015. Kelly said:- "I would like to thank everyone involved in the fundraising for the money to buy the syringe pump. The symptoms of bone cancer can vary greatly but include persistent bone pain that gets worse over time and continues into the night with swelling, redness and a noticeable lump. I want to raise awareness of the signs and symptoms of bone cancer to young people, who might not think they can get it, because the earlier a cancer is picked up, the easier it is to treat it and treat it successfully. It is important that people go their doctor as soon as possible if they notice worrying symptoms."

'Team Phoebe', as the group of Police Officers and support staff have called themselves, have previous raised money for the stroke unit at Aintree University Hospital in Fazakerley, a disabled child in Kirkby whose i-pad was stolen in a burglary, and to help the family of another colleague who died suddenly of a heart attack. Chief Inspector Simon Thompson from Sefton command team, said: "We set the charity up originally to help the hospital that gives such great care to Martin's little girl Phoebe. But when we got talking we realised that there were so many good causes that between us we had been touched by in some way. So we widened it out and started raising money in Phoebe's name for anyone who needed it. The stroke unit at Fazakerley is 1 that is close to my heart and Steve Coulton was a very dear friend and colleague to many of us. When Kelly asked the team to raise money for a morphine syringe to help relieve the pain for terminally ill cancer patients we were only too happy to help. Word has spread about what we do and we've had great support from throughout the force and the other services we work with in terms of people coming along to fundraising events. It has really shown the community spirit within this police force and the NHS."

Sefton area commander, Chief Superintendent Claire Richards, added:- "It is testament to this group of Sefton Officers that as well as doing busy, difficult jobs they still make time to raise money for people less fortunate than them. The charity events they have organised over the years have been very well supported by colleagues within Merseyside Police and I am looking forward to supporting the next good cause Phoebe's fund chooses."

Syringe drivers are small, battery operated portable pumps which deliver a steady flow of injected medication under the skin in a steady, reliable way to control pain. Claire Johnston, community Macmillan nurse and Kirsten Collins, the district nurse who helped care for Steve towards the end of his life accepted the cheque from Phoebe's Fund on behalf of Liverpool Community Health NHS Trust. They said:- "We are so grateful to Team Phoebe for raising this money. The syringe driver is a vital piece of equipment that will help improve the quality of life for our patients nearing the end of life."

Police Constable Martin Duddy, who continues to raise money while he and his wife care for 4 year old Phoebe, added:- "Since day 1 when Phoebe was born Ormskirk Hospital have been 2nd to none in their support and care. Without their help and that of my colleagues and bosses within the Police I don't think I would have been able to cope. Phoebe is on lots of medication every single day and my wife has had to give up her own job as a Nurse to care for her. But we can't wrap her up in cotton wool and she's got to be allowed to be a normal little girl. She certainly rules the roost in our house and it is humbling that so much fundraising by people willing to go above and beyond is being done in her name."
Stolen Medication in Southport
MERSEYSIDE Police are appealing for the public to be cautious after prescription medication was stolen in Southport. The medication was taken from a white Ford Zetec car, sometime between 1.20pm and 1.50pm, on Monday, 9 May 2016, from a car on Park Road, Southport. The medication comprises 150 x 60mg morphine tablets in three boxes labelled MST Continus. Officers are warning people that taking any medication which hasn't been prescribed for them can be dangerous. Merseyside Police are keen to speak to anyone who may have witnessed anything suspicious in the Park Road area or anyone who has been offered any of the medication to contact them on:- 101, or call Crimestoppers, anonymously, on:- 0800 555 111. Anyone who finds any of the medication should hand it in to any pharmacy or police station or call Officers on the:- 101 number.

LJLA celebrate runway's 50th Anniversary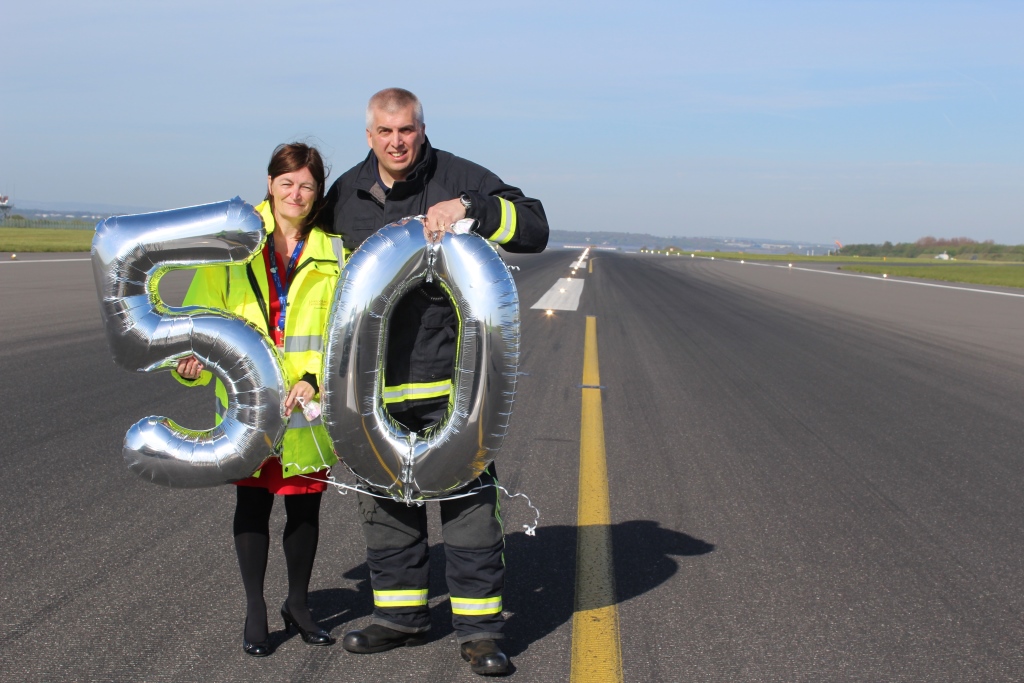 STAFF at Liverpool John Lennon Airport have celebrated a milestone this weekend with the 50th Anniversary of the opening of the Airport's runway. Whilst the Airport itself opened in July 1933, the runway that is being used today, at the Airport, was officially opened on 7 May 1966. Over the past 50 years the runway has handled in excess of 3.5 million landings and take offs and whilst popular commercial passenger aircraft used by the growing number of airlines who operate from Liverpool make up the bulk of today's users, there has been a diverse mix of aircraft using the runway too. These have included 1 of the world's largest aircraft; the Russian Antonov 124, the world's fastest commercial airliner, Concorde, and perhaps the world's best loved display team; The Red Arrows. Until the opening of the new runway, aircraft used to operate from runways located adjacent to the old airport terminal building which is now the Crowne Plaza Hotel, on land since redeveloped to become the Liverpool International Business Park. Work started in November 1964 to construct a 7,500 ft state of the art new runway on land to the south of the then existing airport, at a cost of around £3 million and took 18 months to complete.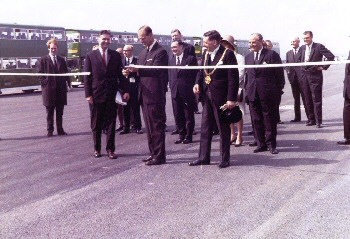 The Duke of Edinburgh came to the Airport to perform the official opening 50 years ago cutting the ribbon on the runway. The runway has since undergone a £22m major refurbishing and upgrading in 2007 to ensure that it can continue to handle all kinds of aircraft large and small for years to come.
Today's runway is operational 24 hours a day, 7 days a week, with an average of around 170 take offs or landings each day and closing only for Christmas Day when no flights are scheduled to operate. Its location and direction also brings operational benefits too with it being less susceptible to poor weather conditions that can impact on aircraft movements. Helping to celebrating the milestone were 2 members of staff who were born the year the runway opened and who will shortly also be celebrating their own 50th birthdays too. Carol Dutton, the Airport's HR Director joined Gary Collins one of the Airport's Rescue and Firefighting Service Crew Managers, out on the runway between aircraft movements. Robin Tudor, LJLA's Head of PR commented:- "The runway here at the airport is perhaps our most important asset and deserves to be celebrated. Millions of passengers will have started or ended their journeys on it and we look forward to welcoming all sorts of aircraft using it over the next 50 years."
Steam Packet Company supports tall ship experience for 40 Isle of Man students
THE Isle of Man Steam Packet Company is once again supporting an initiative which will see Island students embark on a potentially life changing adventure.

Manx charity The Children's Centre is coordinating a trip which will see 40 youngsters help crew Stavros S Niarchos, a 60 metre long square rigged brig ship, this month. The week long experience, which begins in Liverpool, is run by The Tall Ship Youth Trust. The Trust works to improve the self esteem and confidence of young people aged 12 to 25 and encourages more active lifestyles, values similar to the aims of The Children's Centre.

During the trip the Year 9 students from secondary schools across the Isle of Man will learn valuable life and citizenship skill, as well as enjoying the experience of sailing on a spectacular tall ship, travelling wherever the wind takes them.

The Steam Packet Company is assisting with the cost of travel to and from Liverpool for the 40 students and eight adults who will accompany them.

Adventure Events Fundraising Coordinator at The Children's Centre Mark Eastham said:- "At The Children's Centre we appreciate and understand the immense value of off Island trips such as the Tall Ship Voyage, and have seen the life changing impact such experiences can have on young people. Although the challenge is very demanding, it teaches the children the importance of team building and self confidence and is a fantastic way for these students to develop skills in a practical and exciting way. The Steam Packet Company has been an active supporter of The Children's Centre for many years, and we are very grateful it has agreed to assist with the travel costs for this trip once again. It is important such experiences are affordable, which makes this support so valuable in giving as many young people as possible access to opportunities like the Tall Ship Voyage."

Steam Packet Company Chief Executive Mark Woodward added:- "It is always a pleasure to help organisations like The Children's Centre when we can, as they do such important work in the Isle of Man. It is particularly fitting as a shipping company with a long and proud history that the Steam Packet Company is able to support these students as they experience life on a tall ship, and learn the value of teamwork and self confidence that such a voyage will teach them."