Meryl, Hugh and Liverpool
IT'S lights, camera, action once again for Liverpool as the City takes a starring role on the silver screen. Florence Foster Jenkins, produced by Pathé, has hit cinemas, from Friday, 6 May 2016, starring Meryl Streep and Hugh Grant. The stars headed to Liverpool, in June 2015, where they filmed key scenes at Water Street, Back Castle Street and Rumford Street. The comedy drama which has been directed by Stephen Frears (Philomena, The Queen) tells the inspirational true story of the eponymous New York heiress who obsessively pursued her dream of becoming a great singer, even though some regard her as the world's worst performer. The film celebrates the human spirit, the power of music and the passion of amateurs everywhere. The City doubled as New York, with the production filming across Merseyside for 5 days, with around 250 cast, crew and extras involved.

Tracey Seaward, Producer of Florence Foster Jenkins, said:- "1 of the biggest challenges we faced making Florence Foster Jenkins in the UK was always going to be how to find 1940's New York. The elegance and grandeur of Liverpool (with a little assistance from VFX) made it easy. Liverpool provided us with New York exteriors and made it possible for us to shoot the movie in the UK. Thank you Liverpool!"

Liverpool's Film Office Manager, Lynn Saunders, said:- "It's always great news when we get it confirmed that a major film is coming to the City, But there was definitely an extra buzz around this City as news got out that Meryl Streep and Huge Grant were the star names! Liverpool is certainly no stranger to hosting big films and big stars and it's not only a wonderful boost for the local economy, but it also engenders a sense of pride in the people who live here that there is a real desire for these blockbusters to be filmed in the City. The trailer has already whetted the appetite and even though we've been transformed in to New York, I think Liverpool will be easy to spot so I look forward to heading to the cinema to see the finished product."

The film's supporting cast members include Simon Helberg (The Big Bang Theory) as Florence's long suffering piano accompanist, Rebecca Ferguson (Mission: Impossible; Rogue Nation) and Nina Arianda (Midnight in Paris). The film is produced by Michael Kuhn (The Duchess) and by Tracey Seaward (Philomena, The Queen).

It is executive produced by Pathé's Cameron McCracken, BBC Films' Christine Langan and Qwerty's Malcolm Ritchie. Nicholas Martin wrote the screenplay and the creative team includes Director of Photography Danny Cohen (The King's Speech, Les Miserables), Production Designer Alan Macdonald (Philomena, The Queen), Costume Designer Consolata Boyle (Philomena, The Queen), Composer Alexandre Desplat (The Grand Budapest Hotel, Philomena) and Editor Valerio Bonelli (Philomena).

Florence Foster Jenkins is a Pathé and BBC Films presentation with the participation of Canal + and Cine + of a Qwerty Films Production.

Filming in Liverpool in 2015 was up 20% compared to 2014, with 230 productions being filmed in the City which resulted in a massive 998 film days in the City. This brought in more than £11.5million to the local economy.

As well as Florence Foster Jenkins, projects included Harry Potter spin off Fantastic Beasts and Where to Find Them and Rocky film Creed. A Stephen Poliakoff drama Close to the Enemy and ITV's supernatural crime drama Houdini and Doyle were also filmed in Liverpool last year, as was Sky 1's The Five which is currently receiving critical acclaim.

To find out more about Liverpool's Film Office visit:- LiverpoolFilmOffice.TV.
They hit the jackpot.... Now they're skint!
WINNING the lottery is what everyone dreams of, but for these lucky winners their dreams turned into nightmares. Turns out losing a fortune is much easier than winning 1! Fortunately, help is at hand. At Millionaires Anonymous people are encouraged to discuss their stories and problems, and with the help of a 12 step program the former millionaires are guided onto a path of enlightenment and self hulfilment, learning along the way that money doesn't buy happiness. Or does it? Having formed a secret syndicate, the group continue to gamble what little money they have left, pinning all their hopes on winning the jackpot again. The odds on that? 2 hundred and 83 billion to 1. It's a long shot, but it could happen, and if it did you'd better hope your syndicate is a group of mentally stable and well rounded individuals… but more importantly, that you can find the bloody ticket! Millionaires Anonymous takes a hilarious look at our quest for happiness in all the wrong places. Writer/Director Stewart McDonald says:- "With a superb cast of home grown talent, the play explores the idea of appreciating what we have and not resting all our hopes on something that's out of our control and near impossible to win."
PERFORMANCE DETAILS
Venue:- The Brindley Theatre, Runcorn.
Dates:- Tuesday, 10 May and Wednesday, 11 May 2016.
Time:- 7:30pm.
Tickets:- £12 Adults/ £10 Concessions.
Booking:- TheBrindley.Org.UK / 0151 907 8360.

Venue:- The Atkinson Theatre, Southport.
Dates: -Thursday, 12 May and Friday, 13 May 2016.
Time:- 7:30pm.
Tickets:- £12 Adults/ £10 Concessions.
Booking:- TheAtkinson.Co.UK / 01704 533 333.

Venue:- The Salford Arts Theatre, Salford (part of the Greater Manchester Fringe Festival)
Dates:- Friday, 1 July to Sunday, 3 July 2016.
Time:- 7:30pm.
Tickets:- £10 Adults/ £8 Concessions.
Booking:- SalfordArtsTheatre.Com / 0161 925 0111.

Find out more about Typecast Productions on the shows website, and you can also follow them on Facebook and on Twitter.
(Please note Millionaires Anonymous is suitable for over 15's only)

Awareness campaign calls for new foster carers in Southport to address national shortage
EVERY 20 minutes across the UK a child comes into care in need of a foster family. With approximately 995 children and young people in local authority care in Liverpool, many of whom are in urgent need of a foster family, Foster Care Associates (FCA) is appealing for new foster carers as it prepares to mark Foster Care Fortnight, on Monday, 16 May 2016 to Sunday, 29 May 2016; the UK's biggest annual foster carer recruitment campaign.

The event aims to highlight the fantastic work done by foster carers in the region who are helping to transform the lives of looked after children and young people, as well as encourage those interested in fostering to take that first step into becoming a foster carer.

This year's theme is Time to foster, Time to Care and highlights the fact that every 20 minutes across the UK a child comes in to care in need of a foster family. This equates to more than 1000 children and young people during the duration of Foster Care Fortnight.

Mark Costello, CEO of FCA, said:- "Many people would love to foster but they believe that their personal circumstances, or skills and experience, would prevent them from doing so. Whether you're single, over 50, childless, or in a same sex relationship, fostering could be for you, and we want to bust some of the myths that may prevent potential foster carer's from making that 1st enquiry. Foster Care Fortnight is the ideal opportunity to talk to the regional FCA team and have an informal face to face chat to find out more about fostering. People are often surprised by how much support and training is available and this is a key driver for many people coming forward and becoming a foster carer with FCA. If you have a spare room in your home you could potentially foster!"

FCA host regular events in the region for those interested in taking the first step into providing foster care and want to find out more about the extensive support the organisation provide to their foster carers. More information about forthcoming regional events are available on the website.

Foster carers with FCA receive frequent visits and contact from a dedicated and qualified social worker. Support is also provided through an education officer, support workers and therapists to help carers meet the needs of the child or young person. Ongoing training, a financial allowance, access to carer support groups and organised family activities are all contributing factors as to why FCA placements are 22% more stable than the national average.

Anyone interested in finding out more about fostering can meet up with the FCA team at one of its regional events or call:- 0800 023 4561 and speak to the FCA Recruitment Team. More information about forthcoming regional information events are available on the website.
Ainsley Harriott to open Southport Flower Show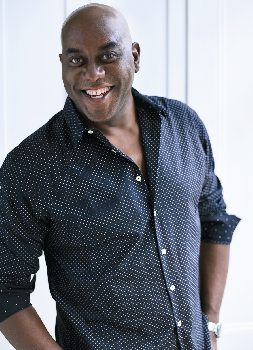 CELEBRITY chef Ainsley Harriott is to bring his barbecue to the seaside this summer to fire up the 2016 Southport Flower Show. Ainsley will open the annual show on the Lancashire coast before showcasing the culinary skills which have made him one of Britain's best loved TV cooks.

He has starred in a string of popular TV shows, including Ainsley's Barbecue Bible, Ready Steady Cook and, over the last year, Ainsley Harriott's Street Food and Len and Ainsley's Big Food Adventure. He also threw some memorable shapes on the dancefloor when he appeared in the most recent series of Strictly Come Dancing. Ainsley is a best selling author, with over 2 million copies sold worldwide, and is a familiar face in our shopping aisles with his highly successful range of soups, rice and cous cous. Ainsley will appear at Southport, on Thursday, 18 August 2016, for the opening day of Britain's biggest independent flower show and will be performing 2 cookery demonstrations in the Food Village.
Ainsley says:- "I'm really excited to have been asked to appear at the famous Southport Flower Show. I've heard so much about it over the years and, as I've always been interested in gardening and growing my own vegetables and herbs, I'm hoping to pick up a few tips while I'm there."

This year's Southport Flower Show has a Mediterranean theme and will celebrate the culture, cuisine and fragrant gardens of the Southern European Coast. The show features masterclasses from the UK's top gardeners including Joe Swift, Carol Klein and Christine Walkden plus keenly contested amateur growers' competitions and the spectacle of the Grand Floral Marquee. Southport also features entertainment for all the family and a food festival which grows in size and popularity every year. Ainsley will be joined by a host of famous names including chefs Aiden Byrne and Andrew Nutter.

General Manager Ray Roukin said:- "We are delighted to welcome Ainsley Harriott, to Southport for this year's show. The Food Village has become one of the most exciting additions to the line up of attractions at Southport and it will be fantastic for visitors to see 1 of the nation's favourite chefs in action at the show."

Southport Flower Show runs from Thursday, 18 August 2016 to Sunday, 21 August 2016. Advance tickets are available for just £19 per person. Purchase your tickets before the end of May and you can buy 2 tickets for just £34. Children under 16 go free when accompanied by a paying adult. For more up to date information on the show, celebrity announcements, details and ticket bookings visit:- SouthportFlowerShow.Co.UK or call:- 01704 547147.