Sizzle safely this barbecue season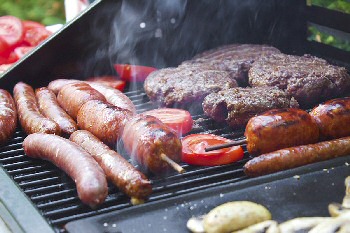 NOW that the warm, light evenings are with us and the summer holidays are fast approaching, barbecues are beginning to sizzle across Merseyside. But behind all the bangers and burgers, summer fun has a serious side and the warmer weather brings with it some unique risks. Merseyside Fire and Rescue Service, as part of a campaign by Fire Kills, is asking everyone to take extra care when cooking outdoors, especially when lighting barbecues or dealing with bad weather.

Gary Oakford, group manager at MF&RS, said:- "It's natural to want to go outdoors and enjoy the warmer weather with family and friends and many of us can't wait to get the barbecue lit. We all know how tempting it can be to give stubborn coals a helping hand with an accelerant, but please be patient and make sure you use the right tools for the job. If you've planned a barbecue and the weather lets you down, don't take the barbecue indoors or into a tent. In recent years some people have sadly succumbed to carbon monoxide poisoning by doing this, so we urge everyone to stay safe."

By following Fire Kills's top tips you can ensure your barbecue is a safe, enjoyable event:-

► Never leave a lit barbecue unattended.

► Follow the safety instructions provided with disposable barbecues.

► Never use a barbecue indoors.

► Make sure your barbecue is well away from sheds, fences, trees, shrubs or garden waste.

► Keep children, pets and garden games away from the cooking area.

► After cooking, make sure the barbecue is cool before moving it.

► Use enough charcoal to cover the base of the barbecue, but not more.

► Empty ashes onto bare garden soil, not into dustbins or wheelie bins. If they're hot, they can melt the plastic and cause a fire.

► Enjoy yourself, but don't drink too much alcohol if you are in charge of the barbecue.

► Always keep a bucket of water, sand or a garden hose nearby for emergencies.

"This might seem like a long checklist, but most of these tips are common sense and, by following them, you can guarantee a safe and happy occasion. By far, the biggest danger is the use of flammable liquids to light barbecues. People have been known to pour petrol on to the charcoal in an effort to get it going and the reaction has, not surprisingly, been violent and dangerous. Prepare well in advance and light the charcoal early. Most of all, enjoy yourself safely." added GM Oakford.

Ladies Lead the Way in The Atkinson's New Exhibition
DISCOVER the trailblazing female artists who broke new ground to rival their male contemporaries at:- 'The Atkinson's 1st Ladies Exhibition' this June (2016). This exhibition is a 1st for The Atkinson and is a celebration of the achievements of female artists who were trailblazers and pioneers. It is a fantastic opportunity to discover Sefton's rich collection of female artists' work which are all part of The Atkinson's own permanent collection.

It is also the 1st chance for The Atkinson to reveal its latest acquisition funded by the Ecclesiastical Original Print Award. '12 Objects, 12 Etchings' is a portfolio of 12 prints by leading British artist Rachel Whiteread. It is a hugely important addition to our collection and was purchased at this year's London Original Print Fair (LOPF).

Nicola Euston; Museum Manager said:- "The Atkinson is the treasure chest of so many incredible stories of people, places and movements back in history. We have a particularly strong relationship with some amazing females and their very personal stories and we felt it was really important and interesting to share some of these in this exhibition."

Work from well known artists such as Laura Knight and Elisabeth Frink can be seen, but the collection also tells the stories and brings together truly innovative craft artists who developed new techniques to overcome personal challenges as well as artists associated with the Suffragette Movement.

Join us as we celebrate the incredible achievements of female artists who were pushing creative boundaries at a time when men were the dominant force in the art world, as well as contemporary artists like Tracey Emin, who continue to break conventions.

We are also looking to hear from you about your '1st ladies'. Get in touch and nominate the lady in your life that has inspired you, or that you simply adore! All you have to do is tweet us using:- '#AtkFirstLadies' and tell us who you are nominating. We will randomly pick 5 people and their guests that tweet us to join us at the special preview on 2 June.

The exhibition opens with a special preview, on Thursday, 2 June 2016, but will be open to the public, on Friday, 3 June 2016. There will be an associated programme of talks and events, details of which can be found on The Atkinson's website.

As part of this exhibition The Atkinson is screening the film Suffragette starring Carey Mulligan, Meryl Streep and Helena Bonham Carter is showing, on Friday, 24 June 2016 at 7.30pm, tickets are:- £4.50*, available from the Centre's Box Office. 'First Ladies' can be seen at The Atkinson, on Friday, 3 June 2016 to Sunday, 7 August 2016.

The exhibition is free. For more information please call Box Office on:- 01704 533 333 or visit theatkinson.co.uk

* Please note: There is a £1 booking fee for online and telephone sales and a 2% fee over the counter with a credit card.
Man barricaded himself into flat in Southport Town Centre
ON Monday, 9 May 2016, residents and businesses near the corner of Coronation Walk (B5245) and West Street, in Southport Town Centre, had to be evacuated after a man was reported to have barricaded himself into his flat. The flat is thought to have been located at the back of the Royal Clifton Hotel, on Royal Terrace. We are told that a Merseyside Police negotiator was used to bid to speak to the man following a report from a member of the public, who was concerned for the man's safety. Both Merseyside Police and Merseyside Fire and Rescue Service attended, from about 11:15am. We are told that the male was later detained under the Mental Health Act and taken to Hospital for assessment..