Merseyrail extend stadium sponsorship
MERSEYRAIL and Southport Football Club are renewing stadium sponsorship following the deal that was first struck 4 year ago. This makes the Merseyrail and Southport FC alliance one of the longest standing partnerships in English football.

Jan Chaudhry van der Velde, Merseyrail's managing director, said:- "After 4 very successful years during which the 2 organisations collaborated on a vast array of community projects, we are keen to continue our sponsorship arrangement with Southport Football Club. Merseyrail is committed to supporting the communities we serve, and we have been very impressed by the dedication and enthusiasm that the club has shown in its work with local people and organisations."

The initial sponsorship in 2012 involved renaming the Haig Avenue ground the Merseyrail Community Stadium and put a strong emphasis on community engagement. Since then, the club has done lots of work with people of various ages and backgrounds in the area, holding a wide range of events at the stadium, from baby ballet to the award winning Merseycare / NHS Thanks for the Memories initiative for older people suffering memory problems. As part of the new arrangement, the stadium will keep the Merseyrail name and the club will continue to prioritise social cohesion. Merseyrail takes its own community work very seriously, and since the start of the concession in 2003, staff have raised more than £700,000 for local charities, mainly through our charity of the year initiative. Almost two third of our stations have been station adopted, meaning that local volunteers give their time to make them more pleasant, welcoming environments. We have created a musical platform for young people, called the Merseyrail Sound Station, and along with Bootle Football Club, have set up football teams for women and girls.

Southport Football Club chairman, Charlie Clapham MBE, stated:- "Continuing to have Merseyrail as a prestigious community partner, and sponsoring our stadia for 4 more years is a fantastic recognition of our club's community involvement, and this has given us all a major boost. We have built up excellent relationships with Merseyrail directors, management and staff and will continue to do so. The next four years will be very exciting for Southport Football Club on and off the pitch, with Merseyrail committed to our community delivery and partnerships."
Community director, Haydn Preece, concluded:- "Southport Football Club is very proud to continue to have our stadium named the Merseyrail Community Stadium for the next 4 years."
New patio for Hospice patients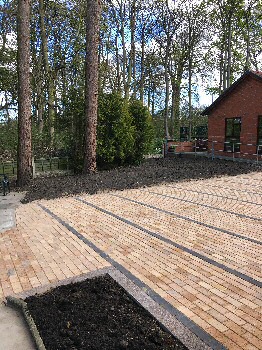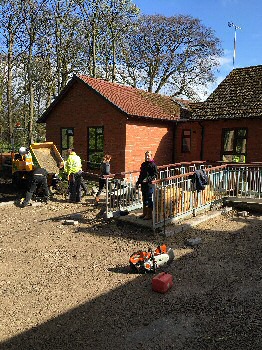 A Team of employees from Interserve Construction in Wigan has made their mark at St. Joseph's Hospice (Jospice) in Thornton. Thanks to £10k funding from the Interserve Employee Foundation, the Wigan based team has laid a large patio area at the back of the hospice's San Jose inpatient unit. The new patio area will make it easier for patients who are wheelchair bound to access the hospice's woodland gardens. Shrubs and flowers will complete the patio as well as make sure it blends in well with the surroundings.
Mike Parr, Chief Executive of St. Joseph's Hospice, said:- "The hospice is set in a conservation area within a stunning woodland setting and so offers a very therapeutic space for our patients. Our new patio area, with direct access from bedrooms, will make a huge difference to patients, providing them with direct access to this outside space. We would all like to thank the team at Interserve in Wigan for their hard work and generosity with this project. We are always on the lookout for groups of employees who can donate their time, resources and expertise to the hospice, so please get in touch if you would like to take on a project, no matter how big or small, with your work colleagues."

John Godfrey, Divisional Director at Interserve Construction, said:- "I would like to thank the team for the fantastic work they have done in creating an open space that the patients can enjoy at Jospice. When I suggested this task, I aimed it specifically at some of our younger staff members who have done a sterling job of mobilising help from some very willing hands. Needless to say it would not have been possible without the generosity of Interserve Employee Foundation, Tony Norcross, the guys at Aspire and our colleagues in Site Services for which I am extremely grateful. This is a great example of Interserve at its best with more than a little help from its friends."

Wirral youngsters have their say about the future of their mental health services
A group of young people using local child and adolescent mental health services (CAMHS) took part in a recent engagement session to ensure that their voices are heard in the future development of mental health services in Wirral. The youngsters, all involved in Cheshire and Wirral Partnership NHS Foundation Trust's (CWP) Wirral CAMHS Sservice, were asked to have their say about Wirral's Children and Young People's Mental Health Transformation Plan; a local initiative led by Wirral Clinical Commissioning Group (CCG) based on Future in Mind, the government's new national strategy for child mental health.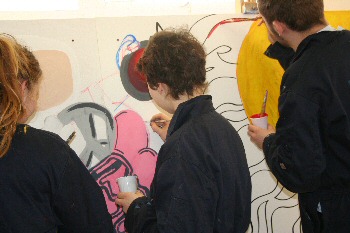 Sandra Renga, CWP Wirral CAMHS Clinical Psychologist, said:- "It's fantastic that we have been able to work in partnership with the CCG to give our young people the voice to shape future mental health services. We know that 50% of all chronic mental health difficulties are present before the age of 14, and 75% by 25. Clearly, it's absolutely vital that we listen to our young people and build our services around their needs."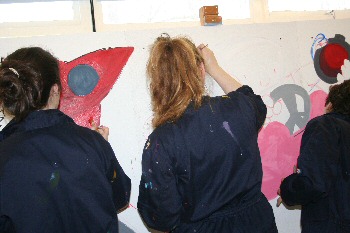 The engagement session, led by local graphic facilitation agency, DeadCatDreaming, encouraged the young service users to think creatively about what they wanted from their mental health services and how this can be achieved. They were then asked to collaboratively design a piece of artwork to help make the CCG's transformation plan a family friendly document.

Christine Campbell, Head of Partnerships at Wirral CCG, said:- "It is vitally important to us that children and young people have the opportunity to shape local mental health services, and we are committed to promoting positive mental health and wellbeing. We hope that this project will be one of many opportunities to engage with the people who use or have an interest in our services, and we would like to thank those that took part for their enthusiasm and support."
For more information about CWP visit:- CWP.NHS.UK.
Balkan Holidays to offer Summer 2017 departure from LJLA
LIVERPOOL John Lennon Airport is delighted to announce the return of another holiday operator to the Airport with the news that Bulgarian specialist operator Balkan Holidays is to operate to the Black Sea resorts of Bulgaria with a weekly departure to Bourgas for Summer 2017. Balkan Holidays last operated from Liverpool 10 years ago and this latest addition to the growing list of airlines and operators to fly from Liverpool, gives the region's holidaymakers even more choice of destinations to choose from, with the added convenience of flying from their local airport. On sale now, flights depart on Fridays in July, August and September 2017 with holidays from Liverpool available with a low deposit of £49 per person, early booking discounts, free child places and a 20kg luggage allowance. Bulgaria is a beautiful country, rich in culture and traditions with outstanding Black Sea resorts and holidays to Bulgaria have become more and more popular in the past few years, especially with British tourists. Prices in Bulgaria are lower than many other Summer sun spots, meaning great value for money holidays. Some of the most popular resorts including Sunny Beach, Duni and Nessebar are all available from Liverpool in Summer 2017. Mark Povall, Air Service Development Director at LJLA commented:- "Balkan Holidays last operated from Liverpool ten years ago and holidays to the Black Sea resorts have since grown in popularity. We expect flights to Bourgas to prove popular with the regions' holidaymakers who now have access to great value for money holidays in Bulgaria, with the added convenience of flying from Liverpool."