Superspan gantries arrive on M62 for 'Smart Motorway Project'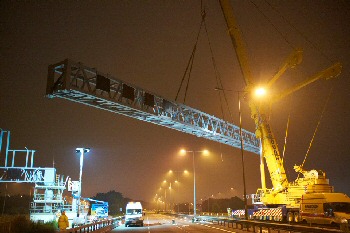 THE 1st of 8 'superspan' gantries crossing whole sections of the 'M60 and M62 Manchester Smart Motorway Project' will be installed later this week. The overhead gantries, which will carry message and variable speed limit signs, are being installed over the next 6 weeks with the 1st being erected across the M62, between Junction 19 at Heywood and Junction 20 at Oldham.

The gantries; which will span both the Eastbound and Westbound carriageways of the motorway; are up to 59 metres wide, weigh up to 78 tonnes and will require a special 500 tonne crane to help install them as well as full overnight motorway closures.

The 1st closure will take place along the M62, in both directions between Junction 19 and Junction 20 from 10pm on Thursday night until 6am on Friday morning. The closure could be postponed if strong winds are forecast.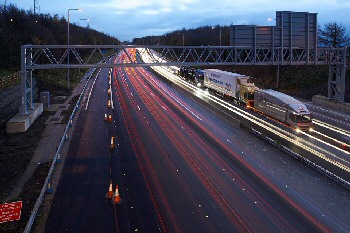 The smart motorway scheme, between junction 8 of the M60 near Sale and Junction 20 of the M62, will see the latest technology being used to monitor traffic levels and keep vehicles moving by using variable speed limits. The hard shoulder will also be permanently converted into an extra lane to increase capacity between Junction 18 and 2 Junction 20 on the M62.
Highways England project manager Stephen Hill said:- "These new gantries are quite a bit lighter than the old gantries we removed earlier in the project. But they are still very large structures and are actually arriving on site in 2 parts. A 150 tonne mobile crane will then be used to join the 2 sections together before the larger crane lifts the whole structure in place across the motorway. We're advising people to allow extra time for their journeys if they're planning to travel when the closures are taking place, although we've deliberately timed the lifting work to be carried out when traffic levels are at their lowest."
Further overnight closures between Junctions 19 and 20 are scheduled to take place on Tuesday, 10 May 2016, and Thursday, 12 May 2016.
The Eastbound diversion route for the closures from Junction 19 will operate North of the Motorway; from Junction 19 using the Northbound A6046, Eastbound A458 and Southbound A627(M) down to Junction 20.
The Westbound diversion will run South of the Motorway; with drivers sent onto the Southbound A627(M) from Junction 20, Westbound A664 and northbound A6046 up to Junction 19.

Similar gantries will also be installed along the M60 around Eccles, Sale and Barton over the next few weeks with the details of further overnight motorway closures publicised in advance. When the Smart Motorway Scheme is completed, in autumn 2017, around 200 new electronic message signs, on overhead gantries, will warn drivers of changes in the mandatory speed limit, lane closures and incidents ahead.

Suspended sentence handed down to fly tipper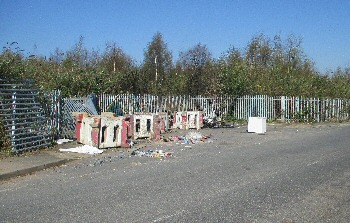 AN Eastham man was handed a custodial sentence by Wirral Magistrates last week after pleading guilty to 3 fly tipping charges. George Stanley of Norley Avenue, Eastham, was handed a 3 month sentence; suspended for 12 months; for 3 offences under the Environmental Protection Act 1990 in a prosecution brought by Wirral Council. These charges related to incidents that occurred in April 2015 when Mr Stanley deposited mixed domestic waste, bagged and loose waste which appeared to be builders' waste and a freezer from a van and trailer on Commercial Road and Riverbank Road, Bromborough. Mr Stanley had pleaded guilty to these offences, on 18 April 2016 and the case was adjourned for probation reports.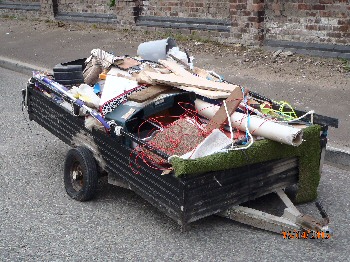 At a hearing on 3 May 2016, magistrates found that the tipping was a deliberate act causing category 2 harm, in part due to the potential for release of noxious substances from the freezer. As a result, Mr Stanley received the custodial sentence, along with a 12 month Community Order and a 15 day Rehabilitation Activity Requirement, which will allow him to address issues linked to his offending behaviour. He has also been directed to attend a Problem Solving Hearing at the Magistrates Court on 9 June 2016. Mr Stanley was ordered to pay full costs applied for by the Council of £1,200. This included clean up costs, investigation costs and legal charges. In addition to costs, he was also directed to pay a Victim Surcharge of £80.
New fines may not stem rising tide of dumped rubbish, warns CLA
THE CLA in the North has welcomed new fixed penalty notices for fly tipping, which have come into force, but fears they may not be enough to stem the rising tide of refuse dumped in rural areas. Since 9 May 2016 local authorities will be able to issue fines for small scale fly tipping of up to £400, as an alternative to prosecution, following the introduction of new government regulations on the unauthorised deposit of waste. According to figures from Defra, 900,000 fly tipping incidents were dealt with by local authorities in England during 2014/15. The CLA, which represents landowners, farmers and rural businesses, says these figures exclude much of the waste dumped on farmland and other private land where it poses risks to local wildlife, farm animals and the environment. Landowners are liable for any waste that is fly tipped on their land and can be prosecuted if they do not clear it away, often at considerable cost to their business. CLA North Regional Director Dorothy Fairburn said:- "According to government figures, there were less than 2,000 prosecutions for fly tipping in 2015, which is why more effective action is urgently needed. The problem seems to have worsened recently in some areas, possibly as a result of local authorities making changes to their household recycling operations, and the CLA has been calling for offenders to be dealt with more robustly. Fixed penalty notices alone will not solve the problem as they only work if the offender is caught in the act. Farmers and rural landowners need to remain vigilant and report any suspicious activity to the Police."