Survivors take a Step out for Stroke in Southport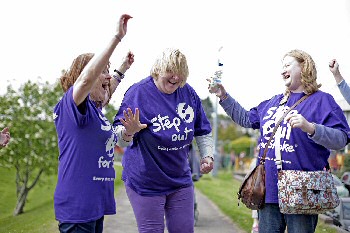 THE Stroke Association is hosting a:- 'Step Out For Stroke Walk' at The Dunes Leisure Centre, Southport on Wednesday, 1 June 2016. This family fundraising event is open to everyone, regardless of age or ability, and organisers are asking people to register now to take part alongside stroke survivors and their families. Step out for Stroke is an event for everyone affected by stroke, and can be as long or as short as participants can manage. For stroke survivors, this challenge often marks their 1st steps since their stroke.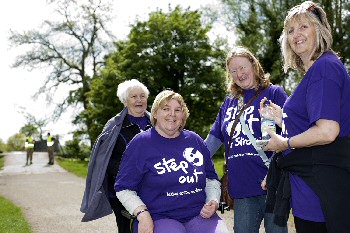 Louise Lawless, Community and Events Fundraising Manager at the Stroke Association, said:- "We're looking forward to seeing some truly inspirational people who will be taking their 1st steps since their stroke, and others who have challenged themselves to achieve new goals on the day. Step out for Stroke is a fun walk for everyone, no matter what your age or fitness level, it's the perfect event to take part in alongside friends and family. It's a chance to raise vital funds for the Stroke Association, so every step makes a difference, and we want Step out for Stroke 2016 to be our biggest year yet. In 2015, we were thrilled to hold 50 Step out for Stroke events across the UK which raised more than £150,000. Join us this year to help even more stroke survivors take their 1st steps on the road to recovery so together, we can conquer stroke."

Susan Fitton, event organiser says:- "Stroke happens in an instant, but its effects can last a lifetime. Far too many people don't understand the condition or think it will ever happen to them. We believe everyone affected by stroke should get the support they need to make the best possible recovery. We're inviting the whole community to come to this fun day out and help us make it an event to remember."

There are more than14,600 strokes each year in the North West and over 157,370 people living with the effects of stroke. To sign up and find out more about Step out for Stroke visit:- Stroke.Org.UK/StepOut.
Father and daughter found dead on College Road, Crosby
MERSEYSIDE Police have confirmed that the emergency services have attended an address on College Road, Crosby, on Sunday, 15 May 2016. The emergency services were called just after 4pm today as locals said the 2 occupants at the address, who had not been seen for a number of days and they where concern for their safety. Merseyside Police, Mersey Fire and Rescue Service and the North West Ambulance Service all attended the scene and access was gained to the property. Sadly 2 bodies have been found. It is reported that they are an 85 year old man and his 47 year old daughter, both of whom have been found inside the property. The investigation is in its early stages and both deaths are being treated as unexplained. At this stage there is nothing to indicate that the deaths are suspicious, however post mortems will be carried out to find the cause of death for both of the deceased. We are told that Merseyside Fire and Rescue Service are also assisting with the investigation. Anyone who may have information which could help the Police with their inquiries can contact Sefton CID on:- 0151 777 3055.

The Dirty Dozen Bring Home The Prize...
James Lefebure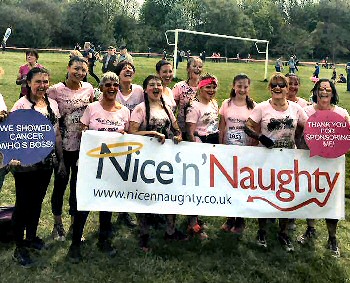 ON Saturday, 7 May 2016, Cancer got to feel the full fury of an army of women sick of it. Women of all ages who have lost loved ones, friends and family flooded Victoria Park, in Warrington, to take part in Cancer Research's Pretty Muddy 5K obstacle course.
For those who don't know Pretty Muddy isn't a walk (or run) in the park. It's a muddy obstacle course that woman of all ages and ability can traverse; and that's exactly what the Nice 'n' Naughty Dirty Dozen have done.
The 13 strong team, clad in pink Nice 'n' Naughty t-shirts tramped through the mud, pulled themselves under nets and laughed their way down a rather dirty slide to finish things off. Luckily the weather was amazing on Saturday but their main reason for smiling was the amazing support they received from everyone who helped to sponsor them; the combined total of money raised by The Nice 'n' Naughty The Dirty Dozen was a whopping £2377.24.

Trish Murray Operations Manager of Nice 'n' Naughty was elated as she not only finished the race, overcame her fear of both water and mud, but managed to get 346% over her expected target by raising £519.24 herself!
"It was a great day and fun was had by all. I just want to thank everyone who took the time to donate and wish me well." She said covered in mud, "I'm just ready to get a shower and a glass of wine!"

If you would like to sponsor Trish please check her page where you can still donate with all proceeds going to Cancer Research UK. If you want further updates on how Trish and her team are doing check out our news section at:- NiceNNaughty.Co.UK where not only will you find a brilliant range of adult toys but a link to our blog where you can keep up with all our news, as well as product reviews and a store finder to help you find your nearest Nice 'n' Naughty. As a special offer for any orders placed using the code:- "GIRLPOWER" you'll get 15% discount on your online purchases and Nice 'n' Naughty will make a donation on your behalf to Cancer Research.
Mark Hillman murder suspect arrested
MERSEYSIDE Police Detectives investigating the fatal shooting of Mark Hillman, that took place on 27 April 2016, in Everton, have arrested a 20 year old male, on suspicion of conspiracy to commit murder. The male is reported to be from Everton was arrested on 16 May 2016 and has been questioned by detectives from the force's Matrix Serious Organised Crime Unit. If you have any information about the murder of Mark Hillman or any serious or organised crime in your area, please contact the MSOC Gun Crime Hotline on:- 0800 230 0600 or call the charity Crimestoppers anonymously on:- 0800 555 111.
Woman charged following Belvidere Road incident
MERSEYSIDE Police have confirmed that a woman has been charged, on 12 May 2016, in connection with a serious road traffic collision in Belvidere Road, Liverpool Road, on 12 February 2016. Norma Stokes, aged 80, of Booker Avenue, Allerton was charged with 5 counts of causing serious injury by dangerous driving following consultation with the Crown Prosecution Service. She is due to appear before Liverpool City Magistrates Court on the afternoon of Tuesday, 17 May 2016. A total of 8 female pupils, all aged between 11 and 16, from Belvedere Academy, in Belvidere Road, were injured during the incident.