Children's supercar design competition
PETROLHEADS under the age of 16 are invited to get their creative juices flowing and design a low carbon supercar at this year's 'Cholmondeley Power and Speed' event. Entries should be on A4 paper and brought along to the event on Sunday, 12 June 2016, where they will be displayed in the supercar paddock. The submissions from aspiring young car designers will be judged by Editor in Chief of Autocar, Steve Cropley, on Sunday afternoon, with the winner receiving a year's subscription to the weekly magazine. Event Director, James Hall, said:- "Supercars have captured the imagination of children and adults alike for decades and we feel this competition will encourage children to think differently about cars and engineering. We can't wait to see the designs that the young petrolheads come up with." 'Cholmondeley Power and Speed' is this year celebrating:- 'Supercars - Past, Present and Future' which will include stunning displays and thrilling on track action. The activity will give attendees the chance to get up close and personal to some of the most powerful, eye catching and revered supercars in the world. The 2016 staging of the event will also feature the inaugural Motorshow Live! Taking place, on the Friday, this all new element of Cholmondeley Power and Speed will give car manufacturers the opportunity to demonstrate their latest models on track while enabling guests to test drive in a unique racing environment. Already committed are Lexus, Blue Bell BMW, Holdcroft Nissan and Holdcroft Honda, with Oakmere Motor Group also set to showcase their latest models from Lotus, Morgan and Caterham. On Friday and on Saturday evenings, Cholmondeley will be hosting a beer and food festival for the 1st time, with stand up comedy set to entertain attendees, on Saturday night. Entry to the evening activity is included with day tickets, however visitors who wish to attend just for the food, beer and comedy festival can purchase tickets for £15 for adults and £10 for children, allowing access to the site, from 6pm, on Saturday, 11 June 2016. Additional features and content on land (on both 2 and 4 wheels), air and water will be announced over the coming weeks, with all elements of the event once again set against the stunning backdrop of Cholmondeley Castle and its beautiful parkland. Further information and tickets are available now, online, for the event at Cholmondeley Castle, Malpas, Cheshire.
Suspected arson at a Southport property
DETECTIVES in Sefton are appealing for information following a suspected arson, that happened in Southport, on 17 May 2016. It is reported to us, via Merseyside Police that they were called to an incident by Merseyside Fire and Rescue Service following a fire at an address on Castle Walk. The local crew is reported to have attended just after 7.30am, following reports of a fire at a flat. Police Officers then attended and a search of the area was carried out. A full forensic examination of the scene has now also taken place. We are told that house to house enquiries have been carried out and CCTV opportunities are currently being explored. Merseyside Police said:- "No one was injured during the incident." with Detective Constable Adam Youds adding:- "We are treating this fire as suspicious and urge anyone with any information about this incident to call us so we can take action against the offender or offenders. Any fire has the potential to cause loss of life and it is fortunate that no one was injured, or worse." Anyone with any information about this incident is asked to contact Sefton CID, on:- 0151 777 3837 or call the charity Crimestoppers, anonymously on:- 0800 555 111.

City Bids for Heathrow Link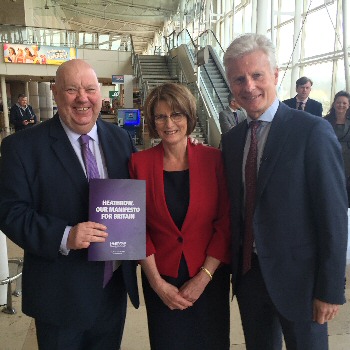 A working group is to be set up to explore the possibility of an airline hub being established between Liverpool and Heathrow airport. The move follows a meeting today between Lord Deighton, chairman of Heathrow, the Mayor of Liverpool Joe Anderson and City Region business leaders at John Lennon Airport. Lord Deighton was lobbying support for a 3rd runway at Heathrow, He agreed to establish the group following a suggestion by the Mayor. "I am very pleased that Lord Deighton took this idea on board. It is vital for the City Region economy that we have better connectivity not just throughout the region and nationally, but throughout the world. Having a link to Heathrow would not only be of enormous benefit to businesses but would also open up worldwide destinations to local people and boost our tourism industry but making it so much easier for more visitors to come here."

Mayer Anderson called for the government to make a decision quickly about the 3rd runway. "Put simply they should stop delaying; they need to say there should be a 3rd runway as soon as possible and get on with it for the sake of the country's economy. I have been supporting the idea of a 3rd runway for a number of years, something which Lord Deighton was grateful for. He was also impressed by the growth in the City Region's economy and that we will have tens of thousands of visitors attending the International Festival for Business. However, we can accelerate that growth and attract even more businesses if we can make the link to Heathrow a reality. Lord Deighton recognises that the 3rd runway is not just an issue for the South East, it will be of economic significance to the whole country and we are trying to make sure that Liverpool is among the main beneficiaries."

The City Council has recently taken a 20% stake in John Lennon Airport. "We realised the importance of JLA to the local economy and if we can get the Heathrow hub established it will be a major boost not only to JLA, but to the whole region" said Mayer Anderson.
So what do our readers think about this decision? Please email us to:- News24@SouthportReporter.com.