Steve Hackett to release:- "The Total Experience Live In Liverpool"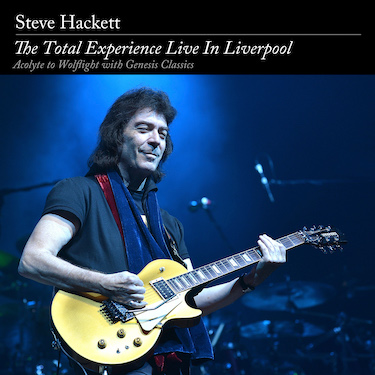 THE groundbreaking prog-guitarist Steve Hackett has announced the release of his acclaimed:- 'Acolyte To Wolflight - With Genesis Revisited Tour' as 2CD/2DVD deluxe package and stand a lone Blu-Ray and, after 3 London concert videos, he chose the Liverpool date for the recording. 'The Total Experience Live In Liverpool' will be released on 24 June 2016.

Steve explains enthusiastically:- "When Inside Out told me that I could film a gig on the British leg of the 2015 tour for release, I thought that we should do it away from London (and) I felt doing it in Liverpool had a certain ring to it. This is an extraordinary City and the Philharmonic Hall is an extraordinary venue. Besides, it's not as if Liverpool is known for having any good music; there's never been a good band from there. Ha!"

Hackett's love for Liverpool goes back to his time with Genesis:- "We played there a few times in the 70's, and the fans have always been very good to me there. And as a huge Beatles fan, I also know the landmarks there, such as Penny Lane and Strawberry Fields. I have been on the Magical Mystery Tour. So, the City means a lot to me from that point of view as well. The Beatles set the benchmark for all of us who have followed; we take our imagination from them."
Celebrating the 40th Anniversary of his 1st solo album:- 'Voyage Of The Acolyte' and following his latest:- 'Wolflight', the 'Acolyte to Wolflight with Genesis Revisited' tour was Steve's effort to represent the many chapters of his career. Featuring 2 sets; 1 highlighting his solo work, the 2nd paying tribute to Genesis; the 2 hour performance was greeted with enthusiasm by both fans and critics.

Steve commented:- "It wasn't an easy job to decide what to include, but I think there was a good balance between old and new. What I have always born in mind when choosing the songs is what they mean to the fans. Time has a way of turning them into an emotional calendar for people. These songs take on an importance and become part of their lives. So, when I do them live, authenticity is important. I am aware that what I have to do is find a connection between nostalgia and what things can sound like in a contemporary setting."

Liverpool was 1 of the dates with Amanda Lehmann guessing on:- 'Shadow Of The Hierophant', which was performed in its full version with an extended drum solo showcasing Gary O'Toole's skills, a triumphant closing to the 1st set.

A multi camera shoot, the recording was done with no prior rehearsals, but Hackett had every confidence in the people he was working with. Paul Green, who did the filming and editing, and Ben Fenner, who mixed the audio, work with Steve regularly and knew exactly what he was looking for. Steve said:- "Paul was also very innovative. He used one particular technique to show what Gary was doing on drums, and it is an unusual effect I have never seen before. The drums seem to arc, because of the lens he's using. It gives a very different perspective to the whole viewing experience."

The acoustics in the Philharmonic Hall were very impressive on the night, albeit rather challenging; Ben, who does the live sound for the band, took that challenge with superb results. What you hear in the mix, though, is exactly what the band sounded like on the night with no extensive:- 'fixing' in the studio, as live should be.

'The Total Experience Live In Liverpool' will be available as double CD plus double DVD digi pak, separate Blu-Ray edition as well as digital album including the 2 audio CD's.

'BBQ FOR HEROES 2016 – SERVING THE NATION'
HELP for Heroes (H4H) are asking that when you BBQ, you BBQ for Heroes and turn it in to an opportunity to fundraise for our wounded, injured and sick service personnel, veterans and their families. The 'BBQ for Heroes' campaign takes place, from 16 July to 31 July 2016, however if this isn't convenient please feel free to choose a date that is. To register or for more information visit:- BBQForHeroes.Org.UK or call:- 01980 846459.

Whether you invite family and friends over for a BBQ in your garden in exchange for a donation or arrange a bigger community event, it all makes a difference to the support H4H can provide. Everyone who registers and raises money for H4H will be entered in to prize draw to win a Weber 2200 Portable Black Glass barbecue, which has kindly been donated by Debenhams.

A free fundraising pack will be sent to everyone who registers a BBQ for Heroes event, to help make each event a success. The packs include collection boxes, bunting, balloons, a BBQ for Heroes banner, plus additional items.

Emma Parry, CEO and co-founder, Help for Heroes said:- "H4H is all about 'doing your bit' and this event is a wonderful example of people rallying support and having a great deal of fun while they raise money. The money you raise is needed, it is being used and it is hugely appreciated."

H4H offers comprehensive support to those who have suffered life changing injuries and illnesses in the line of duty. This is provided through grants to individuals, other charities and organisations, capital build projects and four Recovery Centres across the UK which offer support for life. The money raised by the hugely generous public has been used to support the wounded, but there is still so much more to do. Soldiers, sailors and airmen who are injured today will still need our support tomorrow and in the days that follow, for the rest of their lives. They are still battling and H4H will not let them battle alone. For more information about Help for Heroes, please visit:- HelpForHeroes.Org.UK.
12th Annual Prescot Festival of Music and the Arts Information Update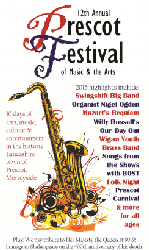 THE Arts in Prescot is a voluntary community arts group organising a year round programme of arts, music and cultural events in and around Prescot. To see the 12th Annual Prescot Festival of Music and the Arts leaflet, please click on here to download a free .pdf copy. The highlight of the year is the annual:- 'Prescot Festival of Music and the Arts' have now been released. These highlights include:-

The 'Swingshift Big Band and BBQ' takes place on Friday, 17 June 2016, 7.00pm. The band is 1 of the North West's finest big bands are joined by vocalist Chris James to pay tribute to Glenn Miller and the late, great Frank Sinatra, in what would have been his 100th year. A delicious interval BBQ is included in the ticket price and is only £8. The event takes place in Prescot Parish Church, Church Street, Prescot. L34 1LA.

'From Darkness to Light' takes place on Saturday, 18 June 2016, from 7.00pm, also at Prescot Parish Church, Church Street, Prescot, L34 1LA. This event is set to coincide with 'Prescot Remembers', singers from across the region join the Prescot Festival Chorus for this special 'Come and Sing' performance of Mozart's Requiem. In the rousing 2nd half, we look to the future with the award winning Wigan Youth Brass Band, fresh from their tour of Italy. Costs are £5, with under 16's free, if with an adult.

The 'Barn Dance and Supper' will take place on Friday, 24 June 2016, from 7.00pm. Join in or just sit back and listen to local folk group Change of Key, celebrating the 60th Anniversary of St Paul's Church. Tickets are just £7 and that includes Cottom's hot pot and dessert. This event will be held at:- St Paul's Church, Bryer Road, Prescot, L35 5ND.

'Songs from the Shows with BOST' takes place at the:- Prescot Methodist Centre, Atherton Street, Prescot, L34 5QN, on Saturday, 25 June 2016, from 7.30pm. The celebrated musical theatre company are back by popular demand with more movie, Broadway and West End favourites; plus, a few nods to Shakespeare, including classic tunes from Kiss Me Kate and West Side Story. Tickets are just £6!

The fantastic 'Regal Festival Finale with South Liverpool Orchestra' will be performing on Sunday, 26 June 2016, from 7.30pm. This will be a Proms style concert paying tribute to HM the Queen, in the year of her 90th Birthday, and William Shakespeare, on the 400th Anniversary of his death. Hope University's South Liverpool Orchestra is conducted by Rob Howard with solo trumpeter Hannah Mackenzie (RNCM), and the evening ends with such patriotic favourites as Jerusalem and Land of Hope and Glory. Tickets cost £6, with under 16's free if with an adult. The performance will take place at Prescot Parish Church, Church Street, Prescot, L34 1LA.