The Adventures of Walter Lemonface – Interactive Family Theatre!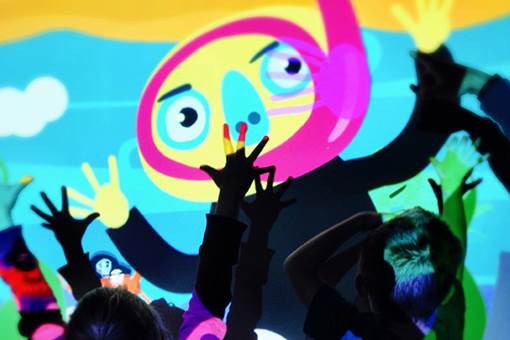 EVER wanted to control what happens in a cartoon? Now you can in this fun filled experience for the whole family; there's no such thing as too much joining in! Join adventurer, fearless inventor and connoisseur of carrots, Walter Lemonface as he hunts for Rhubarb Ogres, battles ghosts and finds a new adventure around every corner. Older than the hills around him, Walter lives in a purple shed at the bottom of a waterfall. He will tell you that he's been everywhere, met everyone and he saves the world at least once a week. But remember, not everything Walter says is true. Oh, and he has a yellow head that looks like a lemon. "Loved the interaction and live music." and "Inventive, creative, inclusive… Really lovely idea!" Sometimes scary, often touching and always with a healthy sprinkling of silly, you control what happens next and then watch in amazement as your story unfolds… A magical mix of live animation, music and storytelling for children aged 3+ and their grown ups. The Adventures of Walter Lemonface comes to The Atkinson on Sunday, 5 June 2016. Tickets are £8 (£6 children, £24 family). To book your tickets, please visit:- TheAtkinson.Co.UK or call:- 01704 533 333.
Bike theft pair sentenced for stealing almost £10,000 worth of cycles
A man, who worked as part of a 2 man crime team, stealing 15 bikes, over a 6 week period, from Railway Stations in Cheshire and Merseyside, has been jailed for 7 months following an investigation by Officers from the British Transport Police. Dale Murphy, aged 22, from Liverpool, was sentenced at Liverpool Crown Court, on Wednesday, 18 May 2016, after pleading guilty to stealing 15 bikes, along with Neil Gandy, also 22, from Liverpool. The court heard that between 20 February and 10 April 2016, both Murphy, and his partner in crime Gandy, operated in the Cheshire and Merseyside area, repeatedly targeting Railway Stations, at Widnes, Hunts Cross, Warrington Bank Quay, Warrington Central and Liverpool South Parkway, as well as committing additional bike thefts in Warrington Town Centre and the Speke area. Over the course of 6 weeks, between them Murphy and Gandy stole high value bikes, totalling almost £10,000, in some cases abandoning them at Stations if a more expensive model caught their eye, then using the Rail Network to transport the stolen property. CCTV images from the Stations identified Murphy and Gandy, as the thieves and mobile phone data placed them at the locations of the thefts. A subsequent search of Murphy and Gandy's home addresses revealed numerous bike parts. Both pleaded guilty to 15 bike thefts. Dale Murphy was sentenced to 7 months in jail and Gandy received a 7 month suspended sentence, for 2 years with a 35 day rehabilitation order, along with a 3 month curfew. Investigating officer PC Ray Williams said:- "Indisputable CCTV evidence tied Murphy and Gandy to the scene of their crimes and thankfully put an end to their crime spree. The pair clearly saw the bikes as an easy target and stole high value cycles totalling approximately £10,000, most of which were successfully recovered and returned to their owners. Given the amount of bike parts found at their homes we can only assume that the pair had been stripping some of the bikes in a bid to disguise others they had stolen. While Murphy is behind bars and Gandy received a suspended sentence, opportunist bike thieves are still out there and we would remind cyclists to always ensure their bikes are well secured in designated areas when leaving them at stations. If you have saved to buy an expensive model then it's worth investing in a top notch lock to prevent it being stolen." To learn how to protect your Bike from theft, visit:- BikeRegister.com and also go to:- immobilise.com for information and tips.

New Wheelyboats make the River Dee in Wales accessible to all for the 1st time
QUAY Watermen's Association launches new river boat service with 2 Coulam Wheelyboat V20s. The 2 brand new wheelchair accessible boats are going to play a key role in putting Connah's Quay on the River Dee Estuary at the top of the list of must see places in North Wales. What was once a prosperous port and boat building hub is due to be revived, as The Quay Watermen's Association carries out an ambitious restoration plan and gears up to launch the 2 Coulam Wheelyboat V20s, on Saturday, 4 June 2016. The boats were designed and developed by The Wheelyboat Trust, a small national charity dedicated to providing mobility impaired people with access to waterborne activities.

Honouring the area's rich maritime heritage, the boats will be named:- 'Kathleen' and 'May' after the famous 3 masted topsail schooner, of that name, which was built in Connah's Quay. Guest of honour, cracking the champagne over the boats will be Carl Sargeant, Welsh Assembly Member for Alyn and Deeside.

The keen members of the Quay Watermen's Association want to share their passion for boats and the river and endeavour to provide local people of all ages and abilities with access to the tidal River Dee; something that has not been available for many years. The Association secured a £192,000 grant from the Big Lottery's Coastal Communities Fund in July 2015 and has already used part of the sum to fund the refurbishment of a disused sea cadets' building into a new Community Centre.

But the vision is even greater, and this year almost £70,000 of the grant was dedicated to acquire the 2 new Wheelyboats. The specially designed boats, which offer safe and easy access for the disabled, young and old, were the Association's 1st choice. Reaching speeds of over 30mph, the Wheelyboats will be used on trips for schools, photography groups, birdwatchers and any other interested individuals or groups.

The Quay Watermen's Association hopes to keep alive the history of the area and envisages a permanent heritage exhibition in its new Kathleen and May Community Centre. While plans for the future exhibition are not yet finalised, a live commentary pointing out the various sites of interest along the river is already in place for the 1st passengers on the new Wheelyboats. The Association will offer 20 minute 'taster' trips, 90 minute longer trips upstream to Chester Weir and individually tailored charters.

Later in the year the operation will include trips downstream into the estuary where passengers can experience the tranquillity of an internationally important bird reserve and relive ancient battles as they cruise past Flint castle. Among the many benefits the project will bring to the region, 3 jobs have been created already, and the growth in visitor numbers is expected to be a welcome boost to the wider local economy. Jonathan Eeles, Director of the Quay Watermen's Association says:- "The Wheelyboats were a natural choice for the Quay Watermen. Like us, they are innovative, inclusive and exciting. We want everybody to come and try the new boats. Get involved, rediscover your river!"

As the latest design of The Wheelyboat Trust's seven boat models, the Coulam V20 is the most important development since the launch of the original Wheelyboat more than 30 years ago. The boat is designed for use on inland and inshore waters, powered by a 90hp motor outboard supplied by Suzuki GB and can accommodate up to 10 adults (8 on inshore waters), including 6 wheelchair users. George Cheeseman, Head of ATV & Marine at Suzuki GB says:- "We are proud to partner with The Wheelyboat Trust and provide the outboard power for the Coulam V20. The trust does a fantastic job enabling more wheelchair users to experience the enjoyment of being out on the water."

Andy Beadsley, Director of The Wheelyboat Trust says:- "We are very excited about this project as The Wheelyboat Trust shares a common goal with the Quay Watermen's Association to allow more people to enjoy taking part in waterborne activities. Our aim is to have as many Wheelyboats throughout the UK as possible and we are therefore delighted to launch 2 new Coulam Wheelyboat V20s on the beautiful River Dee as part of our growing fleet which now totals 173 Wheelyboats."

The Wheelyboat Trust relies on the support of individuals, companies and charitable organisations to fund its activities. Donations can be made in a variety of ways including online.