Police bikes recycled and ready for African charity adventure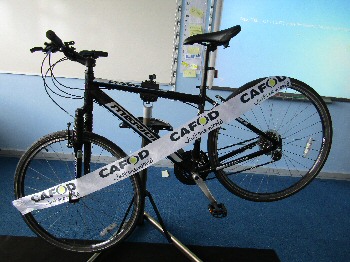 BIKES donated by Merseyside Police have been fixed up and made race ready by Savio Salesian College students to be used in an epic charity bike ride in Africa. Savio Salesian College teacher James Denis and CAFOD's representative in Merseyside Stephen Burrowes will join Team Tanken 2016 in a ride from Tanzania to Kenya, in order to raise awareness and funds for CAFOD and Medaille Trust projects. Community engagement has spread across the North West of England in support of the bike ride to Africa. Cycle Recycle, in Clitheroe, have generously donated panniers and spare parts for each rider. Knowsley Safari Park have donated sturdy helmets for each rider. Primary schools have been giving the riders mascots, so far these include; an elephant, giraffe, monkey, lion and a goat.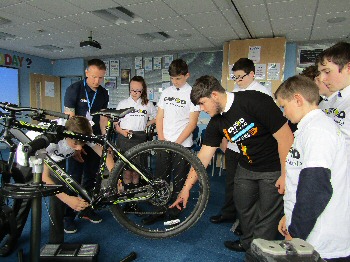 Merseyside Police Schools Officer, Constable Rebecca Snape, donated 4 unclaimed abandoned bikes. She said:- "As a Schools Officer I work closely with the staff and pupils at Savio Salesian College. So when they asked if we had any bikes they could do maintenance on as part of their Duke of Edinburgh award scheme, I checked with our property department who had four found bikes that were ideal. The pupils have done a brilliant job, and their maintenance work will really be put to the test when a teacher from the school is joined by three others to cycle them across Tanzania and Kenya. It is wonderful to think that bikes found abandoned here in Merseyside have been put to such good use, to help young people develop skills, raise money for charity and that ultimately they will be given to health workers in Nairobi."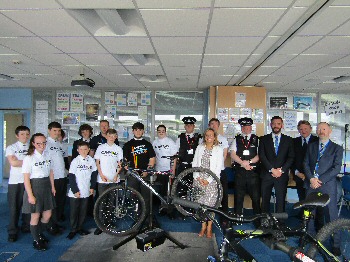 James Denis said:- "Following a successful bicycle maintenance course with pupils from the Bosco Unit at Savio, we introduced a number of Duke of Edinburgh pupils to the project as part of their Volunteer section. We are proud of these pupils, who volunteer two hours of their time each week to learn how to repair bicycles donated by the Police with the purpose of donating these to the community in Kenya."

Steve Burrowes, CAFOD Representative in Merseyside, said:- "Thanks to the Merseyside Police and the students of Savio Salesian College for their kindness and generosity, for going the extra mile to help benefit our worthy causes."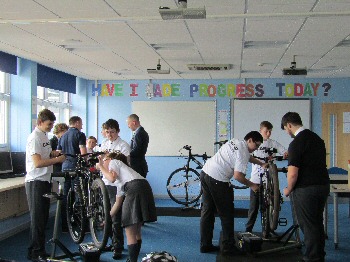 On 4 August 2016, riders from the UK and Kenya will begin riding over 200 miles, from Tanzania to Kenya. Team Tanken 2016 consists of 6 riders, including Joseph Kamau, Director of Caritas Kitui in Kenya.

Steve Burrowes, CAFOD Representative and member of Team Tanken 2016, said:- "We're all looking forward to the gruelling adventure of riding across the Masai Mara, in Kenya, we're sure it'll be great fun and the adventure of a lifetime, as well as helping people significantly less fortunate than ourselves."

There's still time to sponsor Team Tanken2016. To find our more, please click here.

1 in every 5 children in England referred to children's services before the age of 5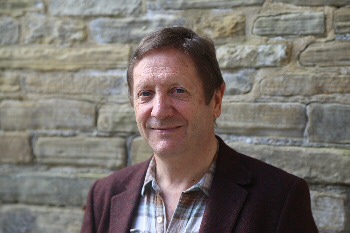 ACCORDING to research published in the British Journal of Social Work, 1 in every 5 children in England are referred to children's services before the age of 5 despite the introduction of the government's policy of providing Early Help. A Freedom of Information (FoI) request by researchers at University of Central Lancashire (UCLan) gained responses from 75% of English local authorities showing that 115,735 children, 22.5% of the over ½ million children born in 2009 to 2010 in these authorities, had been referred to children's services before their 5th Birthday in 2015. The paper shows that ½of those referred, 1 in every 9 children, were at some time suspected of having suffered abuse or neglect. Child protection investigations were carried out into the circumstances of 5.4% of all children born in 2009/10.

Whilst it is often assumed that the majority of child protection concerns relate to sexual or physical abuse, the main focus is concerns about neglect and emotional abuse; the latter often following a referral for domestic violence. National statistics on children of all ages show large increases of child protection plans due to neglect and emotional abuse in the last five years. In 2015 more than three quarters of all child protection plans were for these two reasons. In contrast, plans following sexual abuse had changed little and those from physical abuse had fallen slightly.

The lead researcher and Associate Director of UCLan's Centre for Children and Young People's Participation, Professor Andy Bilson, commented:- "I was shocked to find that at least 11% of this ½ a million children came under suspicion of abuse or neglect before they were 5. The tragic deaths of children like Ayeeshia Smith, and desperation not to be the one who misses the early signs next time, have led to a climate of suspicion with increasing numbers of children in care and adopted, and child protection investigations spiralling.

Children's services are under considerable pressure to investigate more mainly because of government, media and public responses to child deaths and an Ofsted inspection regime that is covering its back. The policy of Early Help was introduced to try to ensure children receive support from all agencies to prevent abuse and neglect but the government has reduced funding for early intervention by 55% since 2010. The introduction of Early Help against the current background of fear of blame for another tragic death creates a toxic mix in which schools, NHS staff, and police are all trying to defend themselves by passing on even the smallest concern to children's services leading to an 80% increase in investigations in the last 5 years. Social workers are swamped by this growing tide of investigative work leaving little time to support victims and help families overcome the problems leading to referral.

An increasing proportion of investigations do not find children to be significantly harmed. These inconclusive investigations have more than doubled from 45,000 to 98,000 in the last five years leading to many more families being unnecessarily put through the trauma of an accusation that they are harming their child. By 2014 to 2015 less than 2 in every 5 child protection investigations found significant harm leading to a child protection plan. There is little or no evidence that this growing culture of high levels of suspicion of abuse provides better protection for children and some evidence that unfounded investigations are in themselves harmful."

The report suggests that many parents, even those that had a good relationship with their social worker, go on to reject voluntary support following an investigation where significant harm is not found. Such unfounded investigations have the effect of alienating parents, placing additional stress on them and simultaneously reducing the likelihood that vulnerable children will receive the help they need. Professor Bilson added:- "It is not possible to estimate how many children born in 2009 to 2010 will be referred or investigated before they are 18 but, since nearly 60% of referrals and child protection plans are on children aged 5 or more, it is certainly going to be very much higher than the 22.5% seen in this study. Such high levels of referral and increasing suspicion of abuse make it difficult to identify the small group of children who are in real danger or to help those who have suffered harm. Child protection activity is concentrated in the country's most deprived areas where children are 11 times more likely to be on a child protection plan or in care compared to those living in the least deprived areas. The paper calls for a new framework for social work that provides a tighter focus for investigations and instead works on alleviating deprivation and developing family and community strengths to provide better lives for children. Children need to be protected, but there is little evidence to suggest that this is achieved by the current scale of statutory involvement which brings ever higher levels of suspicion, shame and fear on a considerable proportion of families in the most deprived areas where this activity is concentrated."

Andy Pithouse, Professor of Social Research from the School of Social Sciences at the University of Cardiff, commented:- "This exceptional landmark study puts into sharp relief the extraordinary scale of child protection referrals and investigations in England and the worrying absence of family support services for the very many children and parents whose circumstances do not warrant intervention but who nonetheless have significant needs. This picture of social work in a spiralling net widening climate of fear, suspicion and all too often unfounded concerns over child harm, is unlikely to be confined to England. It demands a response by governments across the UK to ensure that children and families get early, caring, durable support they can trust."

Co-chair of the Association of Professors of Social Work and Professor of Social Work at the University of Huddersfield Brid Featherstone said:- "This research obliges urgent debate about whether we need to re-think how the system responds to families experiencing difficulties. Are we too often reacting with an investigation when what may be needed is help?"

A full copy of the report:- 'Measuring Referral and Child Protection in England' that says:- "1 in every 5 children referred to children's services and 1 in 19 are investigated before the age of 5." is available online. It was written by the Associate Director of UCLan's Centre for Children and Young People's Participation Professor Andy Bilson and UCLan Lecturer in Social Work and Care Katie Martin.