Liverpool welcomes Prince and Princess and is due to deliver an even bigger 1 in June!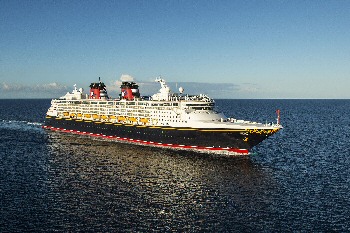 LIVERPOOL has given a welcome fit for a Prince and Princess, as 1 of the USA's most popular cruise lines visited the City on her 1st ever trip to the British Isles. The Cruise Liner, Disney Magic, has made her 1st of her 2 visits to Liverpool, on Friday, 27 May 2016. This distinctive vessel sailed in to Mersey and docked the Liverpool Cruise Terminal, in the early hours of the morning then left at around 6.15pm, with the ship blowing her special whistle on departure.

The main celebrations will take place on her 2nd visit to Liverpool, that will happen, on Sunday, 12 June 2016, when the Pier Head will come alive with music and colour in a free event for all the family.

The ship is set to arrive at 8am, on 12 June 2016 and the event begins at midday and runs to 6pm. There will be an outdoor cinema which throughout the day will show Frozen (sing a long), Finding Nemo, Toy Story and Mary Poppins in full. Plus a bandstand will be set up in front of the Cunard Building, that will play host to live music throughout the day. This will include the Royal Marines Bands playing a Disney medley and there will be performances from opera singer Danielle Thomas and Liverpool's Ukulele Orchestra. A group of young people will also be battling it out to be named Liverpool's Young Town Crier.

A Magic Garden will appear on the Pier Head, which will be the perfect space for budding explorers; young and old. Potting sheds, toadstools, giant flowers and fairy houses are just some of the things visitors can expect to discover.

Everyone who comes along to the event is encouraged to embrace fancy dress; age is no barrier. There will be prizes for the best dressed youngsters and families. Following an afternoon of fun, a fireworks display at around 10.15pm, that will signal the departure of this famous vessel sails away, happily ever after, from the Mersey. But we hope she will pop back again next year and for years to come...

Assistant Mayor and Cabinet Member for Culture, Tourism and Events, Councillor Wendy Simon, said:- "It's a massive coup to welcome this vessel to the City, particularly as it's her 1st trip to the British Isles and Liverpool is just one of two destinations in England she will sail in to. We couldn't let the opportunity pass to mark the occasion in some way, and to have a family friendly event on the Pier Head seems like the perfect thing to do. It also gives us the chance to show the 2,700 passengers just why Liverpool has the reputation for staging fantastic free, outdoor events. We look forward to welcoming her back again along with all her passengers and crew, for what is to be 1 of the highlights of the 2016 cruise season."

Facts about Disney Magic:-

► The ship boasts 11 expansive decks.
► She is 984 feet in length and 106 feet wide.
► She weighs 84,000 gross tonnes.
► She can comfortably hold 2,700 passengers and 950 crew members.
► She has 8 different eating areas / restaurants.
► There are four water areas, including the AquaDunk, the exciting drop out. waterslide, board and 2 nightclubs.

The liner will embark on a 12 night cruise from Dover and will sail to:- Newcastle, Invergordon, Kirkwall and Greenock (Scotland); Newcastle, Liverpool and Dublin. She will also call to Le Havre (France), as well as Guernsey in the Channel Islands. All of these, except Kirkwall and Dublin, are 1st time ports of call for Disney Cruise Line.

Date set for replacement of A565 bridge
WORK is to start in July on a £10 million scheme to replace a damaged bridge on a major route in and out of Liverpool.

It is the 1st stage of a £32 million project on the A565, Great Howard Street linking the City Centre, with Sefton, which is a vital route for freight to and from the new Liverpool 2 deep water port.

The bridge project will start on Monday, 4 July 2016, and mean the closure of part of the road in both directions between:- Chadwick Street and the MINI garage for around 7 months. 2 official diversion routes will be in force:-

For all traffic (including HGVs) via:- Sandhills Road, Commercial Road, Vauxhall Road and Leeds Street.

For non-HGVs only:- via Dublin Street, Regent Road, Waterloo Road and Paisley Street.

The work has been carefully timed so that it does not clash with any other planned roadworks in the area, to make sure there is no additional disruption for motorists.

Councillor Malcolm Kennedy, Cabinet member for regeneration, said:- "This scheme is absolutely essential if we are to keep the City moving and make it an attractive place to come and do business. We need to invest in our infrastructure so we are able to handle the increasing amount of businesses, freight and people travelling to and through Liverpool. This is especially important on this route due to the completion of the new Liverpool 2 deep water port which is absolutely critical to the future economic success of the City region and will help create and support many jobs."

Further phases of the scheme between 2017 and 2019 will require lane restrictions rather than a road closure, and will see:-

► The completion of dual carriageway on the A565 on Great Howard Street/Derby Road between King Edward Street and Blackstone Street and Bankhall Street to Millers Bridge.

► Improvements to Regent Road to make it more pedestrian and cycle friendly.

The roadworks will be structured to minimise the impact on remaining businesses and enable them to continue to trade while the improvements are being carried out. Letters are being sent to local residents and businesses to inform about the start date.

Councillor Kennedy added:- "The work will remove a bottle neck on the A565, by making it dual carriageway along the entire route and also make it more attractive with improved paving and street lighting. This is just 1 element of the work which will be going on right across the City, over the next few years, to fix the road network and deal with decades of underinvestment."

The scheme is being promoted by Liverpool City Council, in conjunction with its partners, Sefton Council.

Cllr John Fairclough, Sefton Council's cabinet member locality services, added:- "This is just the start of a very exciting project which will enhance the main route into Liverpool from south Sefton. This stretch of road is extremely busy and by making it all dual carriageway, it will enable greater access in and out of Sefton for all vehicles. Discussions are underway with the landowners in Sefton and throughout the whole process we will be working closely with Liverpool City Council to make this project a big success."

Funding for the project is coming from:-

► Department for Transport:- £21.8 million; of which £13.3 million is from the Liverpool City Region Growth Deal secured by the Local Enterprise Partnership (LEP).

► Liverpool City Council:- £8.5 million.

► Sefton Council:- £2 million.

Over the next few years it is estimated that around £250 million will be spent upgrading the City's Roads carrying out improvements and tackling the historic backlog of highways repairs.